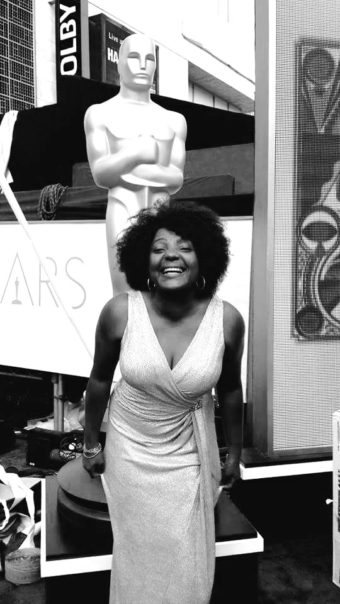 Rhonda Wilson, founder of the Star Center Children's Theater in Gainesville, Florida was honored earlier this spring with the Special Recognition Award from the American Association of Community Theater (AACT). Â Fifteen years ago, she started her program with just four children and no funds, but with a lot of hope and determination she made it work. Rhonda's mission for starting the program was to give under-served children a chance to take theater classes, an opportunity that was not possible before the program began. Since its inception, SCCT has brought a lot of people together.
The children who attend the program have put on a few different plays. "There is no such thing as a small part," Rhonda stated. Every child plays a part even if they aren't physically saying lines. We caught up with Rhonda to discuss her love for theater, her thoughts on her award win, and what children gain from learning theater.
BM: How old were you when you first discovered your love for theater?
Rhonda Wilson: I was in about second grade when I first started doing drama plays. My first real play was in the church. My first official play was "The Me Nobody Knows."
BM: What is the age range of the children that attend your theater program?
RW: The age generally starts from 5 to 18. The youngest I actually had attend was the age of 3. She was the sibling of two of the children in the theater center and since she would be there while we practiced, I let her have a part as one of the mice in Cinderella.
BM: Do you think being in theater gives children a way of expressing themselves?
RW: Yes, that's why I started SCCT in 2000. Sixteen years ago I was in working at a housing authority.  The children couldn't do the classes they wanted to do and I said if I had the opportunity, I would start a children's theater. I believe that theater does give them a way of expressing themselves. Some kids are naturally athletes, but where does that leave the ones who aren't? Some kids aren't going to be athletes, so giving them something else is a good thing. Give kids exposure to other things.
BM: What plays have the children performed thus far?
RW: They have performed a number of plays including Cinderella, The Wiz, The Wizard of Oz, Beauty and the Beast, Four Little Girls of Birmingham 1963,  The Watsons go to Birmingham, 12 Dancing Princesses, The Ruby Bridges Story, and School of Rock. The older students are currently performing Dream Girls.  They will eventually be performing the Lion King Jr.
BM:Have you ever thought of doing Fame?
RW: Yes, I've thought about it. I will possibly do it eventually, but with the older children.
BM: What is your favorite play they have performed so far?
RW:Â  My favorite is Once on This Island. It will kind of remind you of the Little Mermaid.
BM: How did you feel when you first heard you were receiving the Special Recognition Award?
RW: I was very, very, very, honored because there are a lot of people that do what I do. I was very honored that I was one of a million to get the award for doing theater with children. I thank them for giving me the honor. I was very grateful.
BM: Have you ever thought of expanding and opening another program somewhere else?
RW: I have, but what keeps me here is the community. I believe this is what I was placed here to do, to give children encouragement for the arts. The program has definitely grown since I started with my four children. My current show has 60 students, but that's just for this show. The program has 200 -300 students. Some children continue through the summer and the school year while others are only seasonal.
BM: Â What life skills do you think the children gain from being in theater?
RW:Â  They learn a couple of things, like speaking skills, since they speak to an audience. Another thing is teamwork. They also make friends because we get a lot of different kids. So most of the time, kids who wouldn't normally get to meet, actually meet each other and form friendships. They learn to get along with different types of people.
BM: Does everyone play a part in the production?
RW: Yes. I had a parent ask me if their child was in the play, and I had to ask her if she meant did they have lines, or were they a part of the play in general. She told me she meant if they had lines, and I told her they didn't have individual lines, but they were part of the chorus. Whether they have lines or not, they still play a big part in production. Tech people are just as important as those we see on stage. Everyone plays an important part.
BM: What classes do they take up?
RW: There are a few classes including dance, acting or theater, and digital media. We also have Academic components such as social studies, math, keyboard, violin, African drumming, and visual arts such as painting and drawing. 
BM: Are there any plays based on the Holidays?
RW: Yes, it depends on how the season falls. Dream Girls is taking place during Christmas time. I'm all about education, so they are performing as well as learning. We always put on a play for Black History Month. When we do it gives them a history lesson as well as an opportunity to perform.
BM: Rhonda Wilson is very passionate about what she does. She believes that your gift can open doors for you. You have to be willing to get to where you want to be. Starting out with only four children, she took her dream and built it from the ground up. She is truly an inspiration when it comes to following your dreams. She wants to eventually open up another location of her theater center.
By Tanasia Patterson