By Priyanka Hardikar
Days after she made the decision to wear a hijab to school, Guyanese-American writer and editor, Gabrielle Deonath wrote an essay that paved the way for her writing career. Choosing to wear a hijab – the head covering worn by Muslim women – is a huge commitment to make at any age, but especially at age 16.
It prompted Gabbie to write about her journey. "I was figuring out how to present myself to the world, and writing helped me process that," Gabbie said. Over time, her writing career and her spiritual journey would remain beautifully intertwined, each lending inspiration to the other. She would go on to contribute to VirtualMosque.com and SISTERS Magazine, assist in editing Brown Girl Magazine's first-ever print anthology, untold: defining moments of the uprooted and publish a journal of prayers for modern Muslim women earlier this year. She works to provide an authentic representation of minorities and marginalized communities through her storytelling. And she believes it all started with her faith.
Gabbie's Personal Journey of Wearing a Hijab
Growing up, Gabbie knew that some Muslim women wore a hijab, but she didn't know why. Gabbie's family is not conservative – in fact, her aunt was the only other person in her family who wore a hijab.
When she was 15, she learned from her faith that the hijab is not just worn for modesty but to be valued for who you are as a person. Gabbie recalls her thick black hair as her defining quality that drew everyone's attention. She wondered what she would discover about herself if she chose to wear a hijab and cover her hair.
As a teenager, making the decision to do or not do something can be daunting. She wanted her decision to come from within, and not be driven by outside influences, including her friends and family. She chose to look at it objectively and not disclose her thought process.
"The hardest thing is there are decisions you want to make for yourself, but everyone has an opinion," Gabbie said.
She came to the conclusion that it's not the hijab that can be oppressive towards women but people's opinions and biases toward them. Wearing a hijab is a personal journey and a personal choice. It is empowering only when you choose it for yourself, Gabbie explained.
For Gabbie, wearing a hijab did not feel restrictive in any way but it brought her closer to her faith in the way she desired. Her faith told her: "Every second that you are wearing the hijab is a form of worship." She found it beautiful that representing herself the way she wanted could be viewed as a blessing in her religion.
At sixteen, she became the first girl at her school to wear a hijab. Gabbie went to middle school and high school in Long Island, New York, on the same campus & with the same group of students. The beauty of her experience, she recalls, is that she had already known her peers for five years before she began wearing a hijab to school. "How I presented myself on the outside changed and that didn't really change anything," she reflected. At first, she got a lot of double-takes because people didn't recognize her but aside from that, she was well-received.
While her experience with a hijab was mostly positive, there were moments reminding her of the prejudice in a post-911 world. "I think when you wear a hijab, you realize the inaccuracies in the ways the community has been represented and you want to find the accurate representation. I want to represent the communities I'm a part of," she said.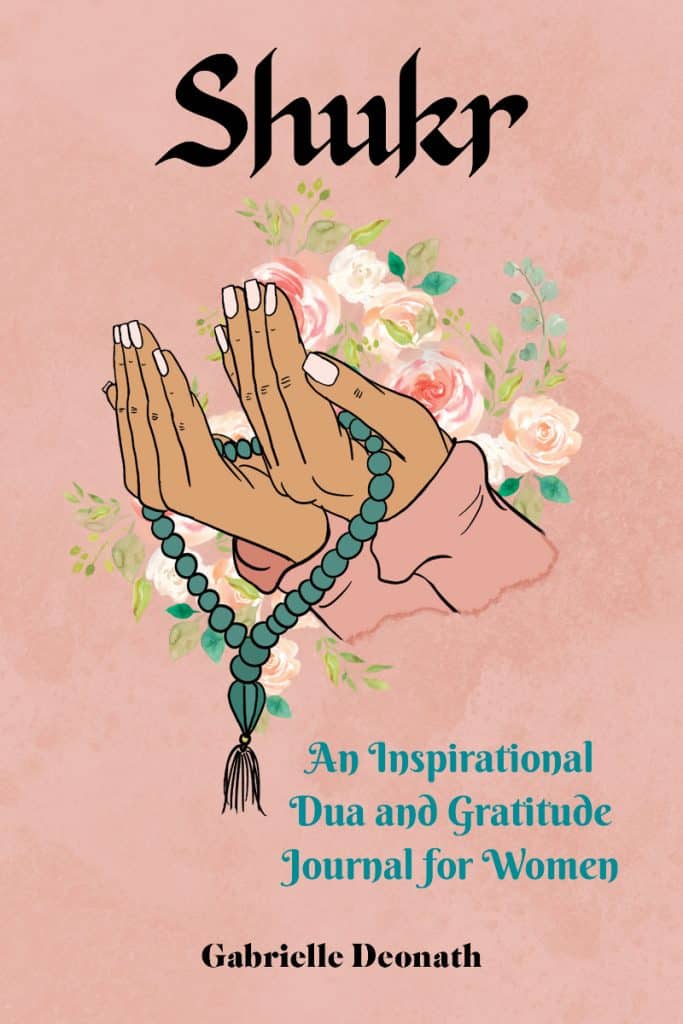 A Glimpse Into Gabbie's Prayer Journal, "Shukr"
Gabbie came across a posting from Ulysses Press in search of a writer. They were looking for someone to create a prayer journal to benefit the modern Muslim woman. Gabbie took on the opportunity and created Shukr: An Inspirational Dua and Gratitude Journal for Women for all modern Muslim women.
"I think we have so many responsibilities and roles to fulfill as wives, mothers, and sisters, and also in our professional life. When there is so much going on, we forget to take care of ourselves. Shukr allows you to work at your own pace," Gabbie said.
Shukr – the Arabic word for gratitude – is also gratitude for God. Gabbie thought the title encompasses everything this journal is, posing the question: What can you be grateful for God today? Shukr consists of five sections: Belief and Worship, Relationships, Growth and Success, Health, Community, and a sixth section on general reflections from the religious texts.
"So often when we think about religion we think about it in a historical context, but how can you take what you are learning and incorporate it into your life? When you read something, how can you put it into practice in your everyday life?" Gabbie asked.
For example, the line your smiling in the face of your brother is charity is a reminder that we can help others through our actions, by something as small as a smile. "When we think about charity, we think about it in monetary value but something as small as a smile is rewarded as charity in our faith. That is so beautiful – how can I not be moved by something like that?" Gabbie shared.
Open to New Opportunities
Gabbie has multiple book projects in the works and is employed as a writer for Girl Scouts of the USA. Her desire is to continue creating content that empowers women and to stay open to the opportunities that find her or that she finds. She wants to remind others not to limit themselves – in all aspects of life.