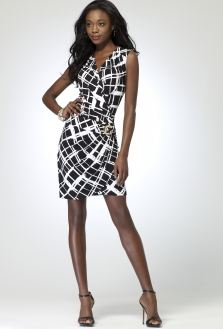 Knowing how to balance your work life and social life is imperative to your happiness. However, when you work 8+ hours a day it can become difficult to make time for yourself after work. Oddly enough, styling tips can make your social life a lot easier to attain. Instead of going home after work to put on an entirely new outfit to go out in, simply follow these simple styling tips and you can go straight from work to a night out on the town
1. It's All About the Accessories
Many people are unaware of the huge difference a small accessory can truly make.  Earrings are an especially easy way to turn a casual outfit into a stylish night-on-the-town outfit. Business professional dresses are also easy to transform into going out attire. Add a fashionable belt, put your festive, big earrings to use, and you're ready to go!
2 .Add Some Flair to Your Makeup
Hopefully you keep your makeup very natural for work. The first makeup tip is to always have makeup either in your desk drawer or purse to do touchups as needed. You can quickly turn your look from day to night by simply adding shimmery eye shadow, slightly thicker eyeliner, and a more pronounced lipstick. In a few minutes you can change your makeup to conquer the night
3. Put Those Heels to Good Use
While your kitten heels and flats may be cute and practical for walking to and from work and for an 8 hour workday, they are not the sole way to turn your outfit into a stylish night outfit. Put your stylish heels to use. An otherwise simple outfit becomes a fashionable head-turner with the simple addition of a high heel or wedge. The shoes truly do make all the difference.
4. Add a Funky Jacket
Jackets and blazers aren't only for warmth; they also add a polished, stylish look to almost any outfit. Don't be afraid of bold prints. Animal prints and tweed are timeless styles that make you stand out in any crowd.
This article was written by Caché. Caché is a specialty retailer of fashionable women's clothing for the style-conscious woman. Visit Cache.com for these stylish looks and more today.