by Tennille Price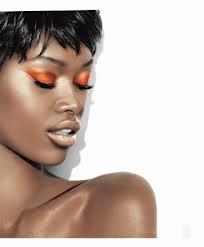 I know we've all had moments when you look in the mirror mid day to check our makeup and POOF! It's gone!  Your eye shadow that is. So, we either reapply or just forget it and try again the next day.  Here are 3 tips that will help your shadow stay put all day or at least through lunch!
The key to long lasting eye shadow is all about one word: LAYERING!
1.  Start with clean, oil free eyelids then use an eye primer. Eye primers are great and they really work! You can use concealer as an alternative as well but stay away from foundation.  It's way too slippery and your eye shadow will not stay in place.
2.  Apply a thin layer of cream eye shadow that is a color close to your own skin color. This will give powder shadow something to hold onto.  For a more vivid look, choose a cream shadow that is the same color or very close to your powder shadow.
3. Set it! Now set the shadow with loose translucent or colorless powder.  This type of powder will set your look and won't change the color of your eye shadow.
That's it!  Easy right?  Try these tips today for long wearing fabulous eye shadow!
Log on to www.essencebc.com for all your eye shadow layering products!