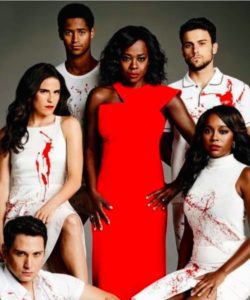 The season three fall premiere of How to Get Away With Murder starts with a jaw dropping episode. The show premiered, following the new show Notorious, at it's usually time of 10/9c on Thursday, September 22nd.
How to Get Away With Murder is Shonda Rhimes' latest addition to ABC Studios TGIT line up. The show has been on the air since 2014 and has had viewers on the edge of their seats from the beginning.
How to Get Away With Murder is a suspense driven legal drama starring the incredible Viola Davis. The show is about a group of five law students who attend Philadelphia University and study under law professor, Annalise Keating (Viola Davis). These five students, along with Professor Keating and her colleagues are constantly pulled into the entanglement of a murder plot.
A brief recap of what was learned in season two:
Wes's mother did commit suicide, but she did so to save her son from Wallace Mahoney. Frank (Charlie Weber) is the one who killed Lila, because Sam asked him to since he was the one that betrayed Annalise and caused her to lose her baby. Annalise finds out the truth and cuts off ties with Frank and he runs away. The season ends with Wallace Mahoney dying right in front of Wes (Alfred Enoch).
A look into the third season:
Season three begins with the police taking away a dead body from Keating's house, so we know a murder happens later in the year and have to put the pieces together. Frank is on the run after killing Wes' father. The school year starts with someone harassing Annalise Keating by placing flyers on campus of her with the word killer written on it. Also, viewers are filled in on what the main characters did during their summer break as the show jumps throughout the summer months.
The show continues to follow its usual fast pace and keeps audiences guessing about the dead body. The time jumps allow those watching to act as detectives while they make mental notes of key events. There is never a dull moment with the lawyers of How to Get Away With Murder.
In an advertisement for the rest of the season, every week audiences will find out who is not the dead body shown in the beginning. The only things viewers know for sure is that Annalise Keating is not dead and the dead person is someone she cares deeply about from her reaction to seeing who was under the sheet.
A new episodes of How to Get Away With Murder airs every Thursday at 10/9c.
By: Kadisha Kentish
Photo Source:
http://www.movienewsguide.com/how-to-get-away-with-murder-season-3-release-date-revealed-new-character-will-oppose-annalise/237796