By Ariel Swopes
Trying to do a full face of makeup everyday with a minimum amount of time is almost impossible. I'm a full time student, employee, and I work on multiple side projects, so I'm always on the go.
I'm happy that I found a quick solution to help me achieve a quick look that will keep me glowing and photo ready at any moment.
I use these products to achieve just that.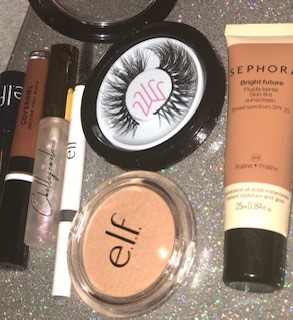 I start by using Bright Future tinted moisturizer from Sephora. I love this moisturizer because the color pigment is less than foundation and provides more hydration to my skin while still giving me a glow.
Next, I use my eyebrow pencil in dark brown by e.l.f. Cosmetics to give my brows a little more shade. Fill in how much you want. I typically do it just enough to give my brows a nice shade, yet still a natural look.
I then go on to use my elf bronzer all over my face to give me an extra glow. I don't have much time to do a nice blending eyeshadow, so to prevent my eyes from looking bare I use my favorite style, "Lashed in London" from Midwest Minks to provide me with wispy volume and length. The Covergirl melting pout matte is perfect for everyday use. While I enjoy matte, sometimes I like to add a topper for a more glossy look. Chellzjewelzzz clear lip gloss in "Queen" helps me achieve that glossy look with its creamy light texture. It also a vegan product, which I love!
All together this takes me about 10-15 minutes to do, and it's so simple anyone can attain this look.