By Jo Jo Harder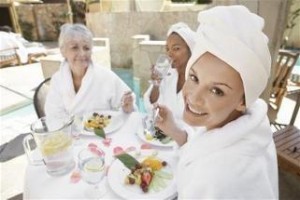 Aromatherapy is a healing art which can be traced back more than 6,000 years. Ancient Egyptians, Greeks, Persians, Romans, and Chinese burned scented flowers and herbs, and enjoyed aromatic baths, massages, and skin treatments for healing and cosmetic purposes.
Modern aromatherapy became popular in the United States during the 1980's when natural healing was introduced.
In today's hectic world, aromatherapy can be an effective way to reduce stress. And, what would be more fun then to share a relaxing evening at an aromatherapy spa party with close girlfriends?
Invitations
An evite will alleviate the fuss of creating a formal invitation. Shoot an evite to
6 – 8 close girlfriends, inviting them to your home for an aromatherapy party at 5 p.m.
You can find cute spa party invitations at www.Evite.com.
Atmosphere
Light lots of scented candles and place fresh flowers around your home to create a tranquil, aromatic, and peaceful setting. Place soft pillows, blankets, magazines, and bottled water at every relaxation station. Lay on a good soundtrack and dim the lights.
Spa Party Activities
Set the dining room table with a placemat for each guest. In the middle of the table place aromatic hand creams, a variety of nail polishes, manicure tools, and linen hand towels.
Create a relaxing, foot treatment station consisting of a comfortable chair, small side table, and foot soaking tub filled with warm, lavender, scented, water. Stack towels in a basket next to the tub and a set a pretty, jar filled with lavender foot scrub (see recipe below) on the table.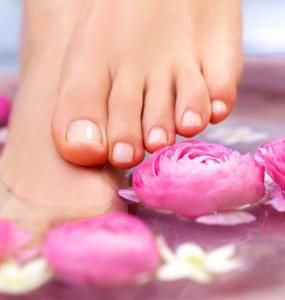 Lavender Foot Scrub
1 cup of sea salt
½ cup cold water
2 drops of lavender essential oil
Lavender is known for its stress-relieving properties. Mix all ingredients together to form a paste. Instruct guests to rub the scrub on their feet and soles in a circular motion. Rinse off with warm water in the foot soaking tub.
Set up a facial station in your powder room, including face cloths, towels, and two
homemade masques. Prepare one of the banana masques from Tropical Beauty:
https://www.bronzemagonline.com/tropical-beauty/ and this simple Strawberry Skin Freshener: Mash 1 cup fresh strawberries. Instruct guests to spread this masque over their face and throat, leaving it on for ten minutes, then rinse. Their skin will look smooth and fresh.
Spa Menu
Prepare a buffet consisting of fresh fruit, vegetable tray and dip, sushi platter, tea sandwiches, pitchers of water filled with fresh fruit, cucumbers, and mint leaves.
Clear the manicure station from the dining table, light candles and enjoy.
Spa Party Favors
Fill pretty jars with the Lavender Foot Scrub, attaching the recipe with lavender ribbon and present to each guest to take home.