By Jo Jo Harder
Santa Paws is coming to town. The holidays seem to sneak up faster and faster every year. If you are caught off guard, and you're looking for a last-minute gift for your four-legged family member or dog lover on your list, read on to discover this season's most paw-some gifts.
PUPPY PANACHE SUPERSTAR COLLAR

The Puppy Panache SUPSERSTAR Collars are hand made by skilled artisans that are committed to their craft, using techniques dating back to the Roman Empire Days. All the metal hardware used are brass and zinc alloy based, which translates into durable, rust-resistant and most importantly, "nickel" and "lead" free. The finest Italian Leather is used to create these beautiful leather collars, with over 40 manual steps taken to provide maximum comfort, strength and durability. Also, adorned on this collar are square princess cut gold pyramid studs and small round silver studs. Why not have a little "ROCK & ROLL" for your pup? (Matching dog leash's and women's bracelets/chokers are available for Twinning!)
FURRY FRIENDS BRACELETS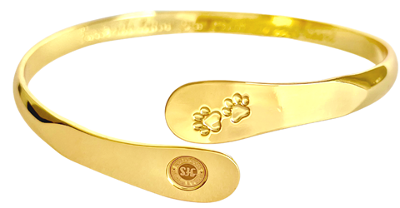 Hollywood Sensation engraved Furiends leave paw prints in your heart and paw prints bracelet, is the best gift for your dog loving friend, sibling or partner. Keep your furiend close to you every day with this Steel Paw Print Bracelet. Wear it proudly and spread the word about how great your pup is! It's more than simply a piece of jewelry but a sentimental token that will echo the love and joy of your BFF. Use code JOJO70 for 70% OFF.
DOGA YOGAFORCE MAT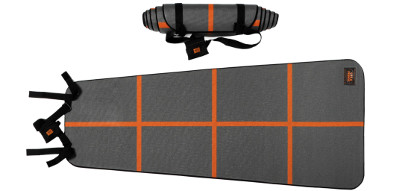 The patented YogaForce A-Line Mat helps both the dog and pupparent to align correctly in a yoga and /or doga class. The YogaForce A-Line is practical, fashion-forward and elegant — thick enough to provide a cushion for your knees and wrists. It comes with a built-in adjustable carry strap for hands-free transport and a removable wallet. YogaForce mats have been found in the offices of Google, Oracle and Facebook, as well as the best spas in the world, and even the White House! With rave reviews in The Los Angeles Times, Time Magazine and The New York Times.
ROSE COLLAR "POINSETTIA"
Rosecrochetta's beautiful holiday collar is crocheted with 3D Poinsettias made from high quality Acrylic glittery yarn, with a bead in the center. The flowers are carefully sewed on a crocheted green band, made from premium mercerized 100% cotton yarn. It comes with matching cotton ties and matching beaded ties. A rose charm with lobster clasp is attached to the band. Rose Collars are not intended to attach a lead. It´s only for use as a stylish accessory that your dog will enjoy for many holidays to come!
MACKENZIE-CHILDS COURTLY CHECK® PET DISH
This season, it's all about checks for Spot! For your furry friends, choose MacKenzie-Child's Courtly Check® Pet Dish. The heavy-gauge steel underbody is strong enough to withstand the mealtime antics of the hungriest hounds, and hand-painted Courtly Checks® are fashionable enough for the choosiest canines. With a subtle jewel-tone palette woven by an artisan's brush through the glossy, hand-painted, high-contrast checks, pups can dine in style. Comes in small, medium, and large.
SOAPY TAILS SPLASH & SHINE GIFT COLLECTION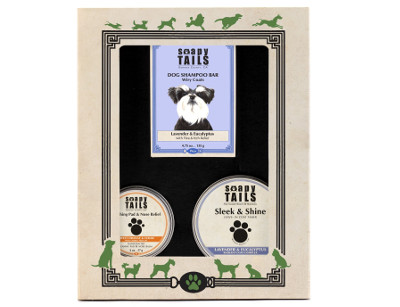 The Soap Cauldron Soapy Tails Splash & Shine Gift Collection arrives in a boxed set with everything to cleanse and groom your favorite canine companion. This curated set includes a shampoo bar of your choosing, a 2 oz. tin of Pad Balm and a 4 oz. tin of Sleek and Smooth Coat Tamer, All Over Conditioner. Clean and hydrate coats naturally with Soapy Tails bar soap and follow up with Sleek & Shine Coat Conditioner, for the ultimate treat to soften and freshen your dog's coat. Finish up with pad and nose softening balm to restore and nurture active paw pads and dry noses. The Coat Tamer is a perfect way to end a spaw day. It softens and condition all coat types as well as leave bellies ultra-soft and feeling pampered.
AMERICA'S TOP DOG MODEL BOOK OF FAIRY TAILS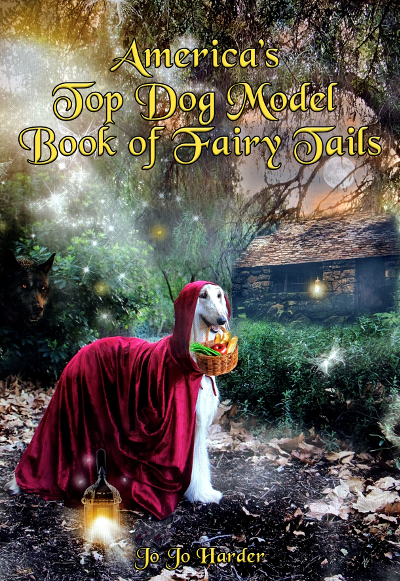 Little Red Riding Hood may have captivated children's audiences with her story of tricking the big bad wolf, but the lesson learned by Big Red Riding is just as deserving of a place in the annals of storytelling. America's Top Dog Model Book of Fairy Tails, published by TriMark Press, features the story of Big Red Riding Hood, plus eleven more tales − or tails − showcasing adorable canines cloaked as fairy tale characters living fantastic adventures worthy of kings and queens. A great holiday gift book, this compilation of creative and inspired stories illuminates the essence of twelve show dogs through photographic images in charming settings. The book follows the America's Top Dog Model ® 2020 national contest, which carried a theme of "Fairy Tails."
SODA PUP SNOWMAN CHEW TOY & TREAT DISPENSER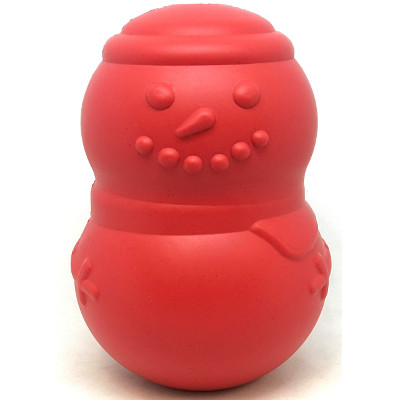 The SodaPup Collection helps soothe your pet while at home and traveling, keeping your dog at ease while on the go with innovative dog toys from this veteran-owned business committed to manufacturing all of its products Made in the USA. They will keep your dog's tail wagging with a variety of shapes and sizes, even seasonal like a Turkey, a Snowman, a Gingerbread Cookie and more. The Snowman Toy is designed to withstand most "power chewer" dogs and dispenses treats to help your dog fight boredom or separation anxiety. Fill the treat dispenser with kibble, canned dog food or peanut butter. Best results are a mix wet/dry food. Freeze with treats inside for prolonged use. Dishwasher safe and veterinarian Approved!