By Amelia "Ameliaismore" Moore
What happens when an enterprising woman whose primary business is Building Management finds it hard to find clothes that represents her as an enterprising, sophisticated, classy, fashionista?  What does she do when she loves to shop but her business acumen prohibits her from just spending money making others rich instead of her?  What does she do when she discovers a new business yet doesn't want to confuse her current clients on her primary business focus?

She opens an online boutique and names it; Hersecretvalut.net.  Patrice Jordan a true Shepreneur felt it was not enough to complain and be frustrated with her challenge to find what she calls; "proper clothing."  Instead she decided to fill the first rule of business which is supply the demand.  She felt that if she was having a hard time finding clothes that are sultry yet not slutty other women like her must have the same challenge. She found her core customer were women who wanted clothes that portray class and confidence. After enough research and sourcing Hersecretvalut.net was opened for business.  Soon after her launch she discovered she was right on the pulse of today's woman fashion demands.  Fast forward to today and Hersecretvault.net is a thriving online business ready to take the next step in consumer awareness.  Ms. Jordan felt it was time to bring her fashion from the computer screen to the catwalk.  As an event planner she knew that her event had to portray the newness of online shopping with the structure of the existing fashion industry.  On Saturday, June 17th she is launching a new way to shop.  Let's call it a "see and shop" sale.  With summer upon us Ms. Jordan felt her consumer is looking for that right bathing suit and the perfect sunglasses to match.  Her event "Dubai Dobuy" enables her consumers  to attend a fashion show then buy what they liked online.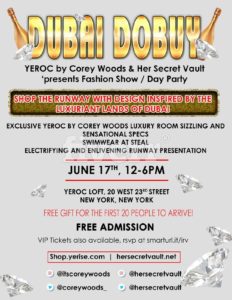 A while back Patrice met Corey Woods and discovered they were like minded.  Corey a down to earth designer who is focused on his eye wear line connected with Patrice and the two agreed that they should try to do something.  When Patrice found the "something" she contacted Corey.  Corey felt her new fashion show met with his new approach to fashion like his Yerise membership where his consumers can join and get all the latest eye wear and special pricing for being a member. Membership as it relates to Corey Woods Yeroc has it's privileges.  With celebrities like Beyonce and Plaxico wearing his eye wear Patrice knew her suits and his glasses was a perfect match and draw for an amazing event.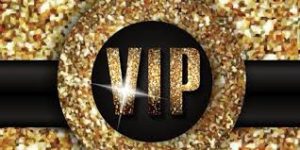 Doors open at 12 noon and the event is free.  However like all luxury lifestyle anything there is always VIP seating.   The exclusive Dubai Dobuy ticket for $100 includes 1 bathing suit from Her Secret Vault and 1 pair of YERISE eyewear from the premiere table at the event and a luxe gift bag as well as other goodies. ( Retail value over $300)The fashion starts early and after the show it's a day party networking with fellow trendsetters and fashionistas.
For moore information go to the eventbrite link: https://www.eventbrite.com/e/yerise-by-yeroc-her-secret-vault-fashion-show-and-day-party-tickets-34552785311   Be certain to visit hersecretvalut.net to find their sass of class.  Be certain to let everyone who compliments you on your new outfit that you read about it in BronzeMagOnline.com  because our identity is one of the few things that we get to keep throughout our lives. Follow us on facebook, instagram and twitter. Go to our website to stay connected to what is new and next.  PEACE!