(Excerpt from The Book Of Mayuri: Why We Can't Have Peace and How We Can Have Peace.
By Osundara Mayuri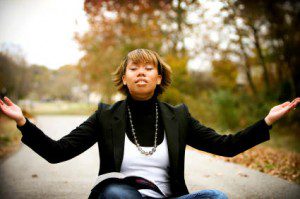 When I was sixteen, I suffered a terrible heartbreak. I loved a boy in high school who broke up with me (rejected me), after we dated for more than a year. There were a lot of factors that led to the breakup including the fact that his mother was plotting to engage him to another girl. In his mother's mind, I was not good enough. His problem was that I was not willing to completely give into his carnal desires. I had given my life to Christ when I was about 9 and planned to be a virgin bride. Ironically around that same age I was molested by a stranger. However, after the incident, I decided that I was still a virgin in spirit and carried myself that way. At an early age I had realized that I was more than my body.
When I think about the emotional attachment I had with the young man I fell in love with, it was due to kissing. We don't often think of kissing as sex, but it can create a powerful bound. As a result of the breakup, I literally cried myself to sleep every night for a year. Then one day I was suddenly delivered. I decided that I was sick of suffering. I accepted the fact that it was over. It could not be resolved and I needed to move on with my life.
Unfortunately, I entered another relationship. I married before I was completely in my right mind (I did not have discernment). I did not choose wisely. I had no real understanding of love and marriage. In a short time, my self esteem hit rock bottom and I became suicidal. While in the hospital, after narrowly escaping an attempt to kill myself, a nun spoke to me and said that I should not love others more than I loved myself. I was young and ignorant regarding relationships and in those days (60's), many mothers did not teach their daughters much about men and intimate relationships, nor were we exposed to many positive examples. So many young women, "leaning to their own understanding" made costly mistakes regarding love and marriage. Human love is generally conditional (selfish, and seeking one's pleasure or advantage). Often, females think that their deliverance from all the problems such as loneliness, financial and other deficient circumstances they find themselves in, will be solved in a flesh relationship, only to find themselves in greater lack and disappointment.
Regarding the attempted suicide, I was taking out on myself for the failure of my relationship and for not receiving what I had expected from my mate. Yet, the Lord is forgiving and eventually I was able to find my way. If you ask Jesus, He will come into your heart and heal you of your brokenness and bondage. You can recover what was lost. I learned that I needed to know the requirements for choosing a mate and having a successful marriage. I realized that a loving relationship is a relationship that fosters oneness and joy. A loving relationship is not about competition, jealousy, possessiveness, ownership and control of another person.
I want to encourage you to see that you can recover and take back what was lost, regain your joy and peace. Other people's negative attitudes, confusion and the need to control does not have to throw you off balance or out of your mind. You can move from the place of being a defeated soul to a place of victory. You can find a reason to live fully and experience "the peace of God, which surpasses all understanding, (and) will guard your hearts and minds through Christ Jesus" (Phil.4:7).
Copyright 2013 by Osundara Mayuri – Author, The Book Of Mayuri: Why We Can't Have Peace and How We Can Have Peace -Westbow Press, 2010
All rights reserved. Unless otherwise indicated. Scripture taken from the New King James Version. Copyright 1982 by Thomas Nelson, Inc. Used by permission.  All rights reserved.        aka Verano LaRue  Contact:  veranolarue@earthlink.net