By: Rashida Ashley
For health and wellness entrepreneur Hannah Bronfman, oral health is an essential aspect of self care. Since her bike accident in 2015 which affected her teeth,she has made it her mission to refocus herself care regime. This refocus has led her to partner with Pronamel to launch Pronamel Mineral Boost – a new toothpaste that actively helps replenish acid-weakened tooth enamel. "We already go to great lengths to future-proof our skin, our hair, our eyes – why not our teeth?!"
With 87% of people at risk of enamel damage, despite 73% believing their enamel is in good condition, Pronamel has made it their mission to strengthen and protect teeth from enamel erosion. Tooth enamel is vital in guarding the teeth from becoming too sensitive. If the enamel is destroyed, there will be no regrowth. That is why it is essential to take proper care when using products for oral hygiene. Pronamel Mineral Boost acts to strengthen and re-harden acid-weakened enamel for ongoing-protection against tooth erosion with twice daily brushing. It is available online and at major retail stores nationwide.
In addition to her partnership with Pronamel, Hannah has recently launched HBFit, a one stop market for health, beauty and fitness. Her products such as the brand new CBD bath bomb are sure to leave you feeling relieved of stress and tension. As Hannah diligently maintains a healthy lifestyle while keeping special attention to her oral hygiene, she also balances being a new mom.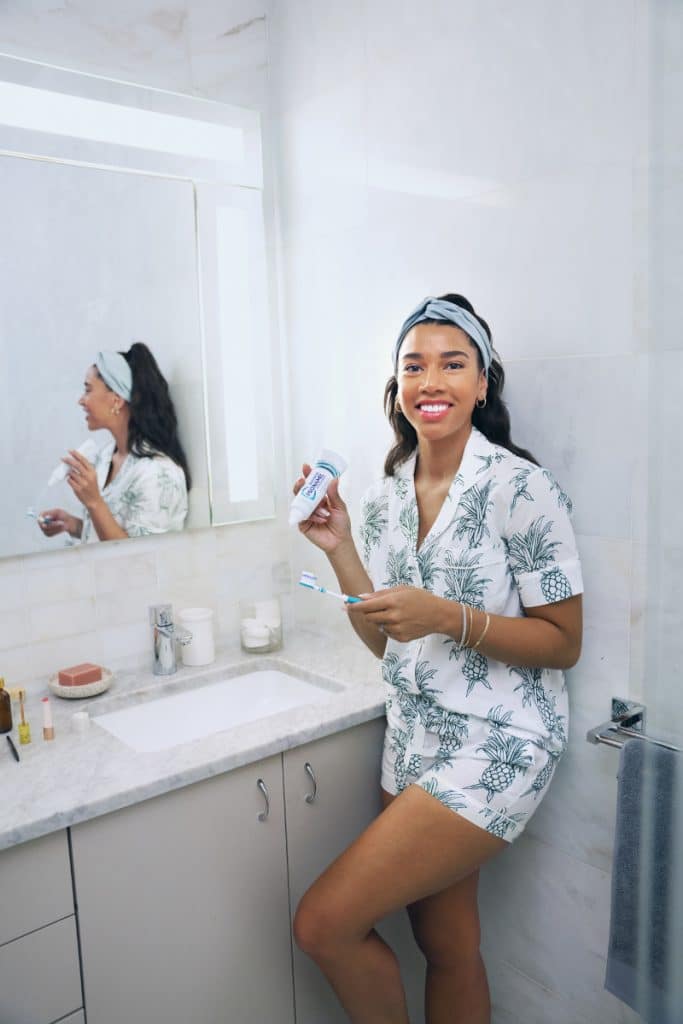 Tell us about your partnership with Pronamel and how it has impacted your lifestyle.
I was really excited to partner with Pronamel on Mineral Boost due to having been on a pretty long, oral health journey over the past couple of years. I was really excited to continue chatting about the importance of oral health, and their great products made it easy to bring that conversation back to the forefront of my community, being that it's a part of the whole wellness conversation, which I think is overlooked. Your mouth is such a gateway for the rest of your body and it should be treated as something that isn't a stand alone thing, but it really does impact overall wellness and the body, so I was really excited to partner with Pronamel Mineral Boost. It's an amazing product and I love the topic.
What inspired the launch of HBFit?
The fact that I was constantly showcasing my healthy lifestyle by using the hashtag,#HBFit. I realized that kind of conversation and that content was becoming really sticky. I took HBFit from a hashtag to a".com," and that was almost six years ago.Just this past September we launched an E-commerce platform to the site. So, now we're a content and commerce site with some products, which we're really excited about. We've got more in the pipeline, so we're really excited to have a new offering for our consumers.
Last year you welcomed your beautiful son into your loving family. What are some of your happiest moments with your son and what have these moments taught you?
Every day it feels as if something new is happening. It's just amazing to have this new person in our life who my husband and I look at and say, 'what was our life like beforehand?' It's just so crazy to us because we were waiting for him for so long. So it still feels surreal, even though we're eight months in already. It's impacted my life in away that I wasn't even prepared for. You hear all these things like how motherhood changes you; and you don't really get it until you go through it because it's so true. I feel like I'm a more patient version of myself. I'm doing things that feel inherently natural that I wouldn't have thought I'd find myself doing. It's hard to explain but it's been incredible.
What are some of your favorite mantras to live by and how have they impacted your life?
A good mantra I like is 'Your body is a temple.' It's really important that I treat my body as such. I think for me it means being in tune and listening to my body. It has impacted my life in a pretty large way regarding my oral journey. I was experiencing some symptoms that most people, including doctors were mistaking as exhaustion and burn out. I really listened to my body. I knew it wasn't as simple as that and there was something else going on.
So I took the time to find someone who could read my blood work in a way that other doctors were not. That's when I learned I had a massive infection in my mouth that was potentially affecting my ability to get pregnant. As a result, I had to undergo surgery. So something as simple as living with a mantra like 'Your body is a temple,' can have a really profound effect on your life.
What advice would you give to someone who has no history of a healthy lifestyle that either wants to or is struggling to start their own journey towards being more healthy?
I always say it's really important to just start small. If you're feeling dehydrated, start by upping your water intake, and then maybe look in to foods that are really hydrating and stick with that for two weeks. Then add in something else that you're looking to accomplish. It can be so overwhelming when people don't know where to start.
So, breaking everything down to micro tasks is probably the best way to get that foot through the door. If your objective is to workout every day, start with setting a small goal to work out for 20 minutes daily as opposed to an hour. Sometimes trying to commit early to goals that are too large can cause anxiety. So, breaking things down to small attainable goals is the best way of getting your foot through the door and starting on that journey.
Keep up with Hannah and her HBFIT brand IG: @hannahbronfman and @hbfit
This interview feature originally appeared in our August Digital Wellness Issue