Every once in a while I get lazy and don't give my hair the TLC it needs. Now that the holidays are over and the harsh winter has kicked in, my hair has been screaming for me to give it some attention. Whenever I feel I need to spend some quality time with my hair I always like to try something new to wake it up. While on a weekend getaway, I stumbled upon the ORS Monoi Collection. When this collection was first brought to my attention months ago I knew it was one I wanted to try.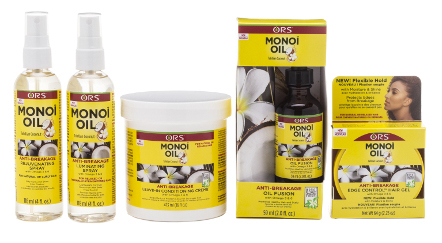 The collection offers an anti breakage oil fusion, edge control, leave in conditioning crème, a luminating spray, and a rejuvenating spray. The entire focus of this collection is to give your hair and scalp the strength it needs to stop breakage and become restored. I opted for the anti breakage oil fusion, leave in crème, and rejuvenating spray. After using the fusion oil as a pre poo (shampoo) and then adding a few drops to the leave in, my hair and scalp instantly felt soothed, soft, and moisturized. I tested the conditioning crème by using it as just that; a leave in as well as a styler. Upon air drying my hair, my curls were soft, defined, and moisturized. I added a couple of spritzes of the spray and my hair was giving me the thumbs up.
If you find yourself in need of some new pick-me-up products, this is a great collection that's affordable by a trusted brand. This collection is beneficial to all women; natural, relaxed, or otherwise.
by Rosalyn Robinson