By Chelsea Young
Celebrity hairstylist and Mogul Ashanti Lation recently spoke with Bronze Magazine about her career and her hair care product company VIP Luxury Hair.  Ashanti began taking care of her hair at a young age and at 14 she decided to teach herself how to style it on her own. "I was a teenager and I wanted my hair to be done all the time." she explained. " If I saw [a hairstyle] I liked, I would ask people how they did it and I would mimic that." As she perfected her skill, people offered to pay her to style their hair, and her journey into hair began.
Ashanti is now a licensed hairstylist whose work spans the entertainment industry, previously alongside SavagexFenty's fashion show. However, Ashanti is more than a hairstylist. She has been encouraging healthy hair since 2009, showing people how to treat their hair long-term. "I consider myself a hair coach for a lot of people." She stated.
Ashanti launched VIP Luxury Hair Care for those who are aiming to keep their hair protected, manageable, and moisturized. While Ashanti works with all hair styles from silk presses and chemical relaxers, to box braids and lace fronts, her main focus is long term treatments for her clients' hair; what she can do for them, and what they can do for themselves. In her shop you can find the hair care products, bundle and lace front collections, and brand merchandise.
Alongside the company, Ashanti started a YouTube channel that features multiple tutorials and educational videos on treating different styles of hair at home and how to use her products to maintain these treatments.
"I like to explain to people a thorough process and realistic expectations." Ashanti stated. "Really giving people an understanding of what is expected on their end of the bargain.
Ashanti ensures that her clients are still focusing on treating their hair, even if it's under a wig or braided into box braids. She confirms their long-term hair goals and makes sure they understand that hair treatment is an everyday at-home thing and not just a scheduled visit to the salon.
"What you do at home can make or break what you do at the stylist." Ashanti emphasized.
This ideology is followed by her staff and stylist working under her to ensure that every client is establishing a hair journey with the stylist that will get them to whatever their hair ambitions are.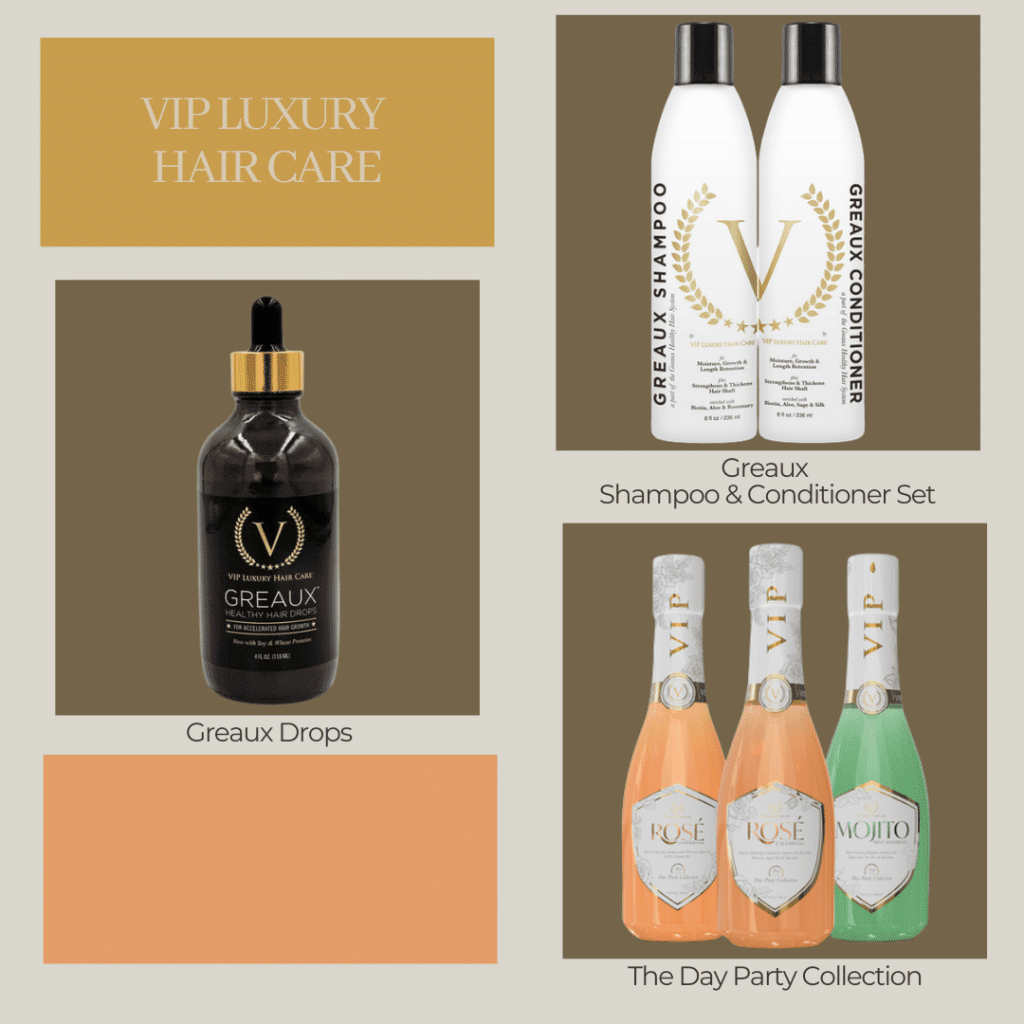 To aid in this routine, VIP Luxury Hair sells numerous products aimed to grow and rejuvenate hair, starting with their best seller Greaux Healthy Hair Drops, a liquid growth accelerator.  Ashanti began creating this formula in 2009, experimenting with different techniques to ensure its efficacy,  and completed it in 2016.
"I explain it to people like this," Ashanti elaborated. "When you have fruits and vegetables and put them in a blender with ice it makes a smoothie, but when you put them in a juicer, they're broken down to it's smallest element. So, if you really want to absorb all that nutrition and break it down to it's smallest element, you use a cold press process."
This process of cold press juices is similar to how she creates the Greaux Drops formula, ensuring that all the elements are being instantly absorbed into the hair and scalp instead of weighing one's hair down with oil. This product can be used daily or every other day, and twice a day for people targeting problem areas.
Along with the drops is an entire set, The Grow Healthy Hair System  that includes a shampoo and conditioner to assist in the effects of the drops.
Other best-sellers  from VIP Luxury Hair include a deluxe detangler leave-in conditioner and a pro-long oil. More products include  The Day Party Collection including a shampoo and conditioner meant to maintain moisture, The Silk Shot System  involving a silk shot serum and spray, and the Mardi Gras Moisture Whip which can be used for one's edges and even skin. The company will also be launching new products later on in the year.
At the beginning of 2020, Ashanti and VIP Luxury Hair had plans to go on a healthy hair care tour. These plans were diminished with the onset of COVID-19 and like many other companies, they had to come up with different methods of reaching their clients.
This sudden change of direction led to Ashanti starting online consultations for clients all over. By clicking a link in her Instagram bio you can sign up for a consultation and pay a fee. During this consultation Ashanti will assess your hair, discuss your goals, and give clients a regimen to stick to. With this regimen the client is given goals to reach in three, six, nine, and twelve months with instructions to take and email Ashanti a picture of the process.
If you're looking to set up a consultation with Ashanti, or check out the products mentioned previously you can find Ashanti and VIP Luxury Hair on Instagram and make sure to subscribe to the YouTube channel to gain knowledge of hair treatments.