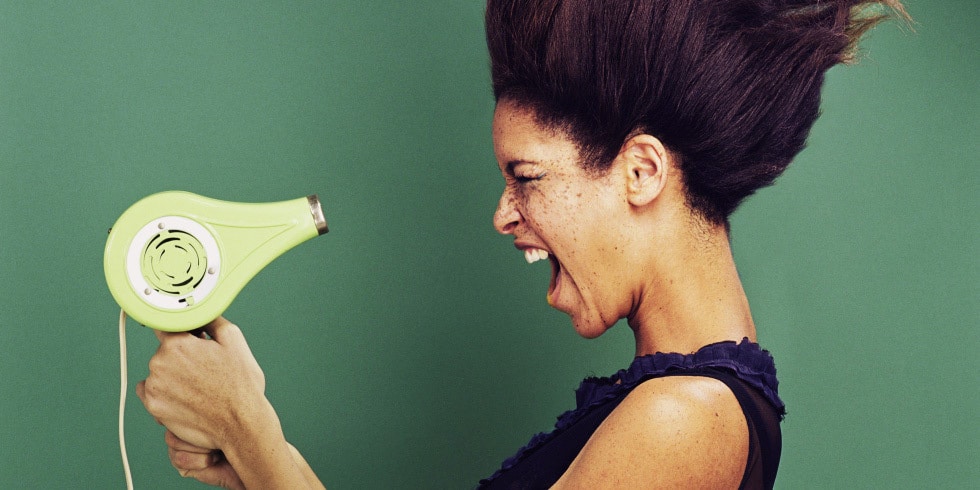 This may not be true for everyone, but cold weather doesn't exactly make everyone love the idea of air drying their hair. But adding heat every time you wash your hair isn't necessarily the healthiest strategy either. In any case, here are some measures you can take to make sure you take proper care of your hair even when you choose to put heat on it.
When you finish washing your hair, try not to dry it out too much with a shirt (yes, a shirt!), because the water is essential to your hair.
It might be better to do the steps below in sections to ensure that all of your hair gets enough attention:
Section your hair into as many sections as you like and place your products in one section at a time; then dry one section at a time.
The order in which you place your products is very important. You might know this as the LOC method. L for liquid (water) and leave in conditioner, O for oil, and C for cream.
Before adding in the oil to your LOC method, make sure to add in a good amount of heat protectant.
The key is not to add too much product so your hair isn't weighed down, but enough so that you hair won't be dry and brittle.
After or while applying your products, be sure to detangle your hair.
There are a few ways you can go about drying your hair with heat:
You can just blow dry it as if you were going to straighten your hair, or you could blow dry it enough so that it is dry but not very straight. This is best achieved with a wide tooth blow dryer comb.
You can band your hair by wrapping hair bands around sections of your hair from the root to the tip. Then you can either hold a blow dryer to your hair, or sit under a hair dryer.
You can do whatever style you usually do when you air dry your hair and just sit under a dryer instead; blow drying doesn't have to be your drying method if you don't want it to be.
By: Kadisha Kentish
Image Source:
http://www.marieclaire.com/beauty/news/a13765/blowdry-mistakes-you-need-to-stop-making/