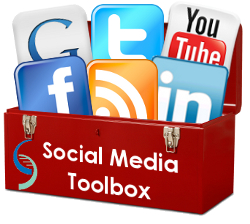 In today's economy, a low cost and effective marketing strategy for your business is more important than ever. Many business owners use social media as part of their marketing plan.  The question is, 'Are you using the right tools to effectively manage your time and reach your target audience?'
There are literally thousands of tools available!  So many that It can become a daunting task to research and select the most efficient ones to manage a solid social media presence.  So, what's in your toolkit?  From my toolkit to yours, here are 11 essential tools to consider:
Business Blog
Social Profile
Business Profile
Photo Sharing
Project Management
Listening Tool
Social Bookmark
Social Conversation
Search Tool
Video Hosting
Automation
In conclusion, by selecting the proper tools to fit your needs, will allow you to leverage your time and online activities.
WANT TO USE THIS ARTICLE IN YOUR E-ZINE OR WEB SITE? You can, as long as you include this complete blurb with it:  Sylvia Browder is CEO of Browder Consulting Group, a virtual small business consulting firm.  In her role, she helps Women in Business grow and succeed. She is also founder of National Association Women on the Rise, a virtual community for aspiring and established women entrepreneurs. The association's mission is to provide professional and personal resources while uplifting and empowering women entrepreneurs through collaboration, education, mentoring, spiritual and peer support, leadership and networking. She has served as an online volunteer SCORE counselor since 2004.  For FREE weekly articles go to Sylvia Browder's Blog for Women Entrepreneurs, www.sylviabrowder.com.  She can be contacted at info@nawomenrise.com.