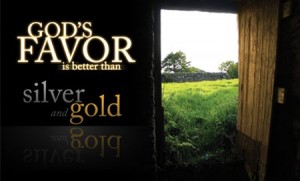 Have you ever been in the super market with long check out lines and as soon as you walked up a new line opened? Have you ever lost your wallet and had someone mail it to your house with all of your belongings still in it? Have you ever left your cell phone in a store  only to find that someone turned it in to the lost and found? Have you even gotten a job that you weren't qualified for? If so, that's favor and there's nothing like the favor that God bestows on his children.
I'll never forget the first time that I learned about the favor of God. I was working for a temp agency in 1999.  I got called for an assignment that was only suppose to last for 30 days and in 2004 I was offered the position as a permanent employee.  But here's the kicker, in 2002, the company had undergone major organizational changes which included the elimination of my position and everyone including my boss knew that my position had been eliminated. So for two years I worked at a job that didn't even exist and what was suppose to be a thirty day assignment turned into a ten year position. Often people would ask me questions like "How were you able to be a temp for that long?" and How did you get that job without a degree?" and my response would always be "It's the favor of God." So as you can see favor opens doors that normally wouldn't be open to the child of God and it also causes seeing eyes to not see.
Favor is also the extension of God's grace and salvation of man. God, sent Jesus Christ to save us even when we were not worthy of that salvation and if that isn't an undeserving privilege then I don't know what is. Because while we were yet sinners not fit for and unworthy, God still had special regard for his children. He demonstrated his love for us by dying on the cross and now eternal life is our gift and there's nothing that we had to do or could have done in order to earn or obtain this favor from God.  All we have to do is accept it and who wouldn't accept a favor from God? And once the favor of salvation is received unmerited favor encircles the life of the believer and can I tell you that this favor will put you in front of the right people, at the right time, saying the right thing because with the favor of God comes the wisdom of God.
There are so many benefits that the child of God can experience when they have the favor of God and if you are still unsure as to what favor is, it's you picking up a check from your lawyer and having him say "As a courtesy to you I reduced your legal fees, so that you could have more money." Favor is finding a house that exceeded your budget only to find it still on the market a year later at a reduced price just for you. Favor is an added benefit to the child of God that walks in obedience. Favor is peace, joy, victory, freedom and mercy. There's nothing like having the favor of God and now that you know exactly what the favor of God is look back on your life and ask yourself "GOT FAVOR?"
By:Â  Phaedra T. Anderson