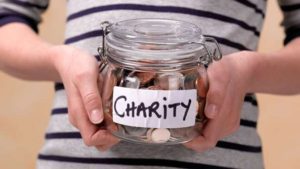 The season of giving is upon us. No matter what you celebrate this season you'll have a chance to give back. Perhaps that chance will come in the form of a donation. For a busy shopper, someone collecting donations can be a quick way to help those in need. But how do you know where the money is going? How much do you know about the organization? Bronze Magazine knows you're busy, so we've compiled some facts for you to avoid being caught off guard. Here's your speedy guide to being the greatest giver.
Be cautious when it comes to names this season. Many "charities" function as profitable scams collecting money but not allocating those funds towards the programs. These fake charities go by similar names to reputable organizations in order to easily trick those donating money. An efficient place to start is the 2015 article, Best and Worst Charities For your Donation by Catherine Fredman for Consumer Reports where she covers a list of highest and lowest rated charities. Fredman also covers tips for avoiding scams like an instance where the charity cannot explain where the money goes.
Some charities may check out in terms of money but not in morality, depending on your personal beliefs. You may be used to seeing the classic Salvation Army volunteer with the red bucket and bell around this time of the year, but their policies might not be as familiar to you. The Salvation Army has been a staunch supporter of limiting L.G.B.T (a.k.a lesbian, gay, bisexual, transgender) rights citing religion as a reason for this discrimination. This anti-LGBT history has been reported far back and into the current day.
It can be tough to figure out the true goals of a charity and access how they fit int with your view. Even one of the most well known organizations, Susan G. Komen for the Cure, which funds breast cancer research, was under fire in 2012 when it's CEO decided to pull it's grants for breast cancer screenings from Planned Parenthood. This choice was so disputed that protests from donators and Planned Parenthood supporters ensued. The decision was reversed and the CEO eventually stepped down, making way for the current CEO Dr. Judith Salerno, who earns $475,000 a year (40% more than the former CEO). Perhaps the salary of those on top matters to you?
Although it may not be the easy way out, consider donating your time. It doesn't have to be a holiday tradition since the holidays often find us at our most stressed for time. Instead, make a vow to give back and follow through when you can, knowing from firsthand experience that the help you give will be well received. Donation of resources (such as food, clothes, or even your blood) can also be of immediate help. Of course, this is not to say you won't ever open your wallet to help. When you do, I hope you find you've become an informed giver. There are many causes out there with low funding that could benefit from generosity. Happy helping!
By: Bethany Thomas
Photo Source: Getty Images