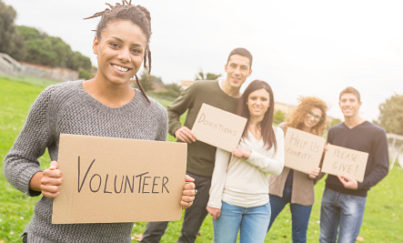 It seems that most of us have the best intentions when it comes to being a "good person." Although that may look different depending on whom you ask, it is universally understood that helping others is part of what being a "good person" entails. We want to give back in ways that we were once helped, to be a light to those in need. One highly effective way to do this is volunteering.
The benefits of volunteering extend far beyond the cause. Those who volunteer experience better all-around health. According to Psychology Today some of these benefits include decreased depression/anxiety rate, lower suicide risk, and increased social competence and self esteem in teenagers. Perhaps some of the comfort found is in part because working with other people with the spirit of giving can lead to friendships. Some volunteers also experience a visceral sensation known as the "volunteer high" similar to a runners high. Even from a practical standpoint, volunteering makes sense as it either widens our base of job skills, or furthers our current knowledge. Kindness costs us little, but pays generously.
Once you decide to give back there is a plethora of choices to be made. Each choice is then met with various options. It can be daunting deciding which cause you care most about, which organization is legitimate, and how much time you truly have to dedicate to volunteering. How do you find your calling? Rest assured, it is possible. One easy way to start your search is Volunteer Match.org. On Volunteer Match you can input your location and interests in order to find local opportunities. Â This free service boasts over 100,000 organizations involved as well as 11,472,450 volunteers matched. Another option for those more certain about their mission is to go directly to the source and offer your assistance.
Who needs your help? Animal shelters, elderly homes, schools, annual events (such as runs for a cause), homeless shelters, and many other worthy organizations. It's interesting to note who is currently volunteering. The Bureau of Labor reports that as of September 2015 the rate of men in the U.S volunteering had not changed from 21.8 %, but the rate of women had decreased from 28.3% to 27.8%. Among ethnic groups 26.4% of Caucasian Americans volunteered, 19.3% of African Americans, 17.9% of Asian Americans, and 15.5% of Hispanic Americans. You could play a part in improving these statistics. In the end, these numbers represent an organization waiting for assistance. Perhaps the decrease in volunteers led to a shortage of staff at your local animal shelter, or maybe the responsibilities fell onto other employees who now maintain longer hours to make sure everyone at your town shelter is well fed and has a place to sleep.
Too often, in an attempt to rationalize why we have not stepped up to help we claim that our work would not make a dent in the issue at hand. Not only is this claim ignorant, it is dangerously false. Each person that thinks this way is part of a group that could be changing the world if only they took action. In the immortal words of Margaret Mead, "Never doubt that a small group of thoughtful, committed citizens can change the world; indeed, it's the only thing that ever has."
By: Bethany Thomas
Photograph Source:
http://www.care2.com/greenliving/helping-others-is-good-for-your-health.html