By Meagan Bess
Cover photo: Kerby Jean
New York native Anastasia Linkpon, along with the help of her mother Adriane Mack, serial entrepreneur and CEO of Mack Enterprises and Curated Culture, are doing some good work that other young girls as well as adults can admire. Together the two co-own BoujFleaMarket, a kid curated upscale flea market filled with fun accessories and self-care items. Through business ownership Anastasia is empowering other young black girls to reach their goals and dreams.
What do you enjoy most about what you do?
Anastasia: I love being creative. Especially when it comes to naming the products and being a creative director for our product shoots.
Why will Anastasia's story continue to inspire young black girls and even black women who want to make the same step or are just hoping to make positive choices in life?
Adriane: Everyone needs to learn financial literacy and creating generational wealth.
What has driven you to keep the business going so that Anastasia will continue the creation into her later years?
Adriane: I am inspired about creating generational wealth and spending quality time with my daughter. The business will take on its shape as she continues to mature. BoujFleaMarket will be what she makes of it.
Do your products ship internationally and how will that inspire other young girls to ally with your daughter and her business?
Adriane: Yes! We have already shipped to the Philippines! We want her to connect through social media and her travel experiences. We know as her business continues to grow and we get the word out about mindfulness and creating generational wealth other children will become inspired to live their dreams and work hard.
What's your favorite item(s) and why?
Anastasia: My favorite product is our Mango Lip Balm and our body creme. I have sensitive skin and I can use both without it being itchy.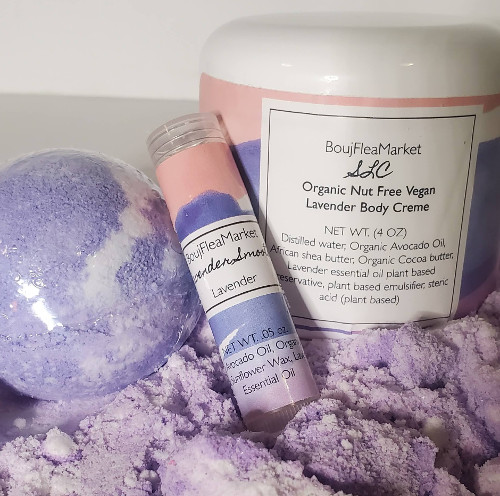 What inspired the bath bombs and what do you like most about using them?
Anastasia: I love to take bubble baths and bath bombs make it fancy. I can relax and be warm.
What motivated you to start your business online?
Adriane: We live in a virtual world now. If we want to prepare ourselves for the future, we need to create e-commerce businesses. I was excited to hear Operation Hope and Shopify created a partnership to support black-owned e-commerce businesses. We jumped at the opportunity.
How does Anastasia being homeschooled help with the exploration of new items to add to the flourishing collection?
Adriane: Homeschooling allowed us the time to be creative on our own time. Anastasia and I talk about the next bath bomb scent we want to launch. We talk about sales and marketing. We also talk about product development. We have slime kits coming out in the Fall!
Who in the limelight inspires you to keep pursuing your career at a young age and why?
Anastasia: Simone Biles. I love gymnastics and I take gymnastics on Saturdays. It's hard work just like running a business.
What do you plan to do when you're older in relation to your current career, outside of it, or alongside it?
Anastasia: I want to own a dog walker business. I want to open 2 more businesses before I am a grown-up. I want to be rich and give money to the poor.
Visit BoujFleaMarket.com
Follow @BoujFleaMarket on Instagram
This article also appears in our June 2021 digital issue.