By Tiarsha Harrison
Actress and General Hospital star Sydney Mikayla plays Trina Robinson on the award-winning series, which is currently the longest-running daytime drama. The humble and creative phenomena is a triple threat in three areas: acting, voiceovers and dancing. Her big break was in the Lifetime movie, The Gabby Douglas Story, where she portrayed the first African American ever to be named Individual All-Around Champion in artistic gymnastics. The rising star recently sat down with Bronze to discuss her love for acting, voiceovers, and dance while also providing encouragement for young girls wanting to embrace their courage and pursue all of their worthwhile dreams.
What is your favorite part about playing Trina Robinson on the award-winning daytime series General Hospital?
What I love about playing Trina is the versatility that she has on screen. Although she does have dramatic moments where she's crying because she's been kidnapped or she's found out her father has come back to life, she also has those regular teen moments, like when she gets into college.
What was the process like as an actress to evolve from being the token best friend to now having a pivotal role in the show's current storyline?
It's been pretty incredible. When Frank Valentini, our producer, told me that I would be getting my own storyline I was super excited, and I wanted to get more training right away. I've had so much fun preparing for the role of Trina, taking extra acting classes and creating a community that has really helped me to be the best actress I can be.
What do you like most about creating voiceovers for shows?
I think the best part is that I get to do and say things that I could never do on screen. I always tell people if you can do the voice, you can be a voiceover artist! I also like that I don't have to memorize the lines and I can submit my auditions from my home studio in my pajamas.
What was the experience like playing the role of Wolf in Kipo and the Age of Wonderbeasts?
Wolf was an awesome role to play! I never would've imagined myself being able to do ten backflips or having ninja level fighting skills, so being able to portray an action packed superhuman 10-year-old has been a wild adventure and an honor.
How was it playing Gabby Douglas, Olympic gymnast and the first African American ever to be named Individual All-Around Champion in artistic gymnastics in The Gabby Douglas Story?
Honestly, it was exhilarating. Not only did I get to work with Ms. Regina King and Gabby Douglas, but I also got to learn Gabby's Junior Olympic routine. Although I was only in fifth grade, it was this project that really made me want to continue and make my acting career a priority in my life.
How did you feel earning the Young Artist Award for Best Performance in a TV Movie?
I was truly stunned. The competition was so fierce, so to be able to be nominated and win was a blessing!
Out of all your notable guest-starring roles, what were some of your favorite characters to play and why?
I always say my role in Fuller House, and I really mean it. Especially because of COVID-19, live studio audiences are a real treasure and rarity. As an actor, being able to know in real time that the audience is enjoying your performance just pushes you to give your all. I loved performing in front of the live studio audience.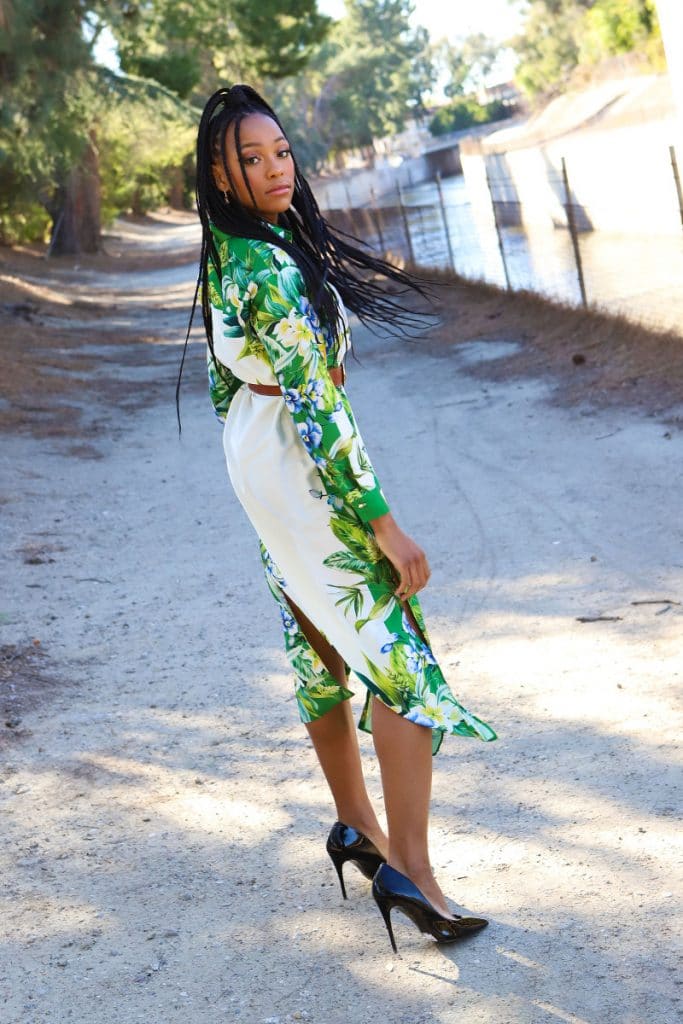 How was the experience like training at the Amazing Grace Conservatory under actress Wendy Raquel Robinson, as well as at the Debbie Allen Dance Academy?
Ms. Wendy is really an incredible teacher and mentor. Although she can be tough, her love and passion for the arts really pushes each of her students to be the best artist they can possibly be. As for Ms. Allen, being part of her Hot Chocolate Nutcracker was extremely fun, and an experience I would recommend for any dancer.
Out of contemporary ballet, contemporary, tap and hip-hop, which dance genre do you enjoy the most?
I would say I love contemporary the most. Unlike the other genres, I really feel like it's an ever-changing dance style that really can be whatever you want it to be.
What are some goals you are looking forward to accomplishing?
I hope to be a successful producer one day, and I want to produce and act in my own projects in the future.
Who is your biggest motivation?
I would definitely say my mom. She's really a superhero and super woman, and I hope to be even half as amazing as she is.
What would you say to a young girl struggling to find her voice and confidence to follow her dream?
I would say don't let anyone stop you. You really must create a strong opinion of yourself that can't be shaken by others, because the world, the media, and even your loved ones may not always be supportive. However, you must believe in yourself and remember how POWERFUL you are.
What do you like most about being an inspiration to young girls your age?
Hopefully, I inspire young girls to believe that they never have to put themselves in a box. They can truly be whatever they want to be however they want to be, and they don't have to do or say only one thing. I hope I inspire young people to truly be themselves and believe anything is possible.
What are some of your upcoming projects that you are excited about?
I have some incredible projects coming up, but in the meantime, you can check me out as Maya on Craig of the Creek on Cartoon Network and as Olivia in The Barbarian and the Troll on Nickelodeon.
What are your social media platforms you can be followed on?
You can find me on Twitter @sydneymikayla and Instagram @officialsydneymikayla.