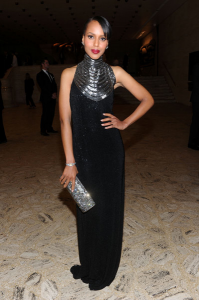 Kerry Washington was Red Carpet Glamorous at an evening with Ralph Lauren hosted by Oprah Winfreyand presented at Lincoln Center on October 24, 2011 in New York City.
Wearing a shimmering Fall 2011 black Ralph Lauren gown adorned with metallic rings that gave the impression of intricate sculpted jewelry, Kerry Washington was absolutely stunning.
Washington's public persona truly embodies Hollywood glamour; she is the woman to watch.
Red carpet appearances require long-wearing makeup that defies heat, lights and yet looks sublime.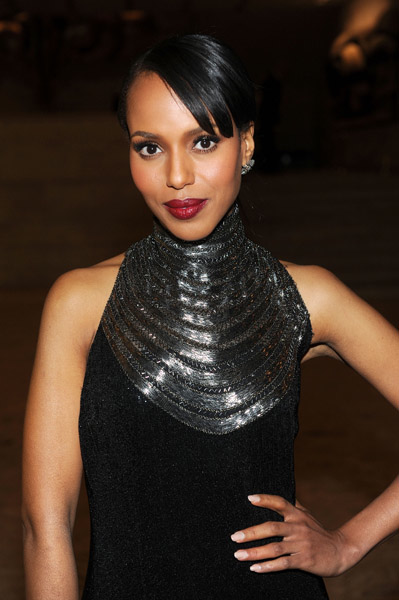 Our choices for achieving a long-wearing red carpet look like Kerry's:
1. Â Prime Skin
Using a primer before foundation application insures that skin does not absorb foundation and retexturizes skin for a flawless finish.
Try: Murad Hybrids Skin Perfecting Primer Dewy Finish 
What it is:
A two-in-one, problem-solving primer that creates a smooth, resilient canvas while promoting even texture and tone.
What it is formulated to do:
Minimizes the appearance of pores while balancing oil production and refining skin texture. Light-enhancing minerals impart a dewy finish and a radiant glow.
2. Â Perfect Complexion
Use a sheer foundation that insures long-wear coverage and holds up to paparazzi flash.
Try: Smashbox Studio Skin 15 Hour Wear Foundation SPF 10 $42

What it is:
A long-wearing, oil-free, hydrating foundation with UVA/UVB SPF 10.
What it does:
Stay flawless for 15 hours with this photo shoot secret for picture perfect skin. Â Its sweat-free, transfer-proof, humidity-resistant formula keeps skin hydrated and shine-free all day.
3. Â Color and Highlight Cheeks
A sweep of sheer red blush across cheeks with a touch of golden bronze highlight on the top of cheekbones.
Try: NARS Blush Exhibit A
What it is:
A soft, sheer pressed powder blush.
What it does:
NARS Blush offers a range of translucent, natural shades, each with a subtle pink for natural blush undertone, created to highlight the complexion.
Try: Yves Saint Laurent Limited Edition Highlighter Palette $65
Limited Edition Yves Saint Laurent Fashion Croisière collection highlighting powder enhances the complexion—result is skin that looks soft and radiant.
3. Â Define Eyes
Illamasqua Eye Brow Cake $20

What it is:
A pressed-powder eyebrow enhancer.
What it does:
Shapes and defines your eyes by framing with a perfectly shaped brow.
Hourglass Calligraphy Liquid Eye Liner $32
What it is:
A moisturizing water- and smudge-proof felt-tip liquid liner that contours and lines the eyes with precision.
What it does:
Calligraphy Liquid Eye Liner creates strikingly definitive eyes with a waterproof formula that offers all-day staying power. The line dries quickly to prevent streaks, smears, and transfers.
Eylure Eyelashes
What it is:
Ready to Wear pre-glued lashes.
What it does:
 Ideal for beginners and semi permanent lash solutions for longer lasting wear.
5. Â Red Carpet Lips
Deep red lips spell glamour like no other color.
Try:  Guerlain KissKiss Lipstick Exces De Rouge 523 (intense berry red)
What it is:
Radiant color for lips
What it does:
 Fun-loving, sexy, and provocative, lipstick that is the ultimate in modern luxury.
Shop the look:
By Tracey Brown, Editor of Blinging Beauty