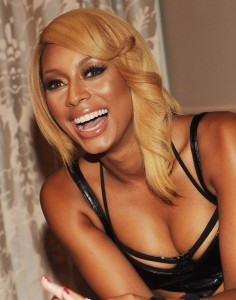 Blond Bombshell Keri Hilson was the epitome of a blinging beauty babe at the Moet Rose Lounge on August 7th. The host went glam for the cam with a bedazzling blast of bronze and rose gold. Bronzed lids, 24K cheek bling and gold-tinged peach lips — this is a pretty girl palette we can rock with!
Another reason why we're so smitten with this look is because it employs three of the top trends for Fall 2011: metallic eyeshadows, graphic eyeliner and loads of lashes. We love how well these three elements work together to create the ultimate set of sultry bedroom eyes.
Wearing that hot-to-trot, cutout croc top, we're loving how this bronze girl worked the crowd and gave great face!
To get Keri's complete look, we recommend the following: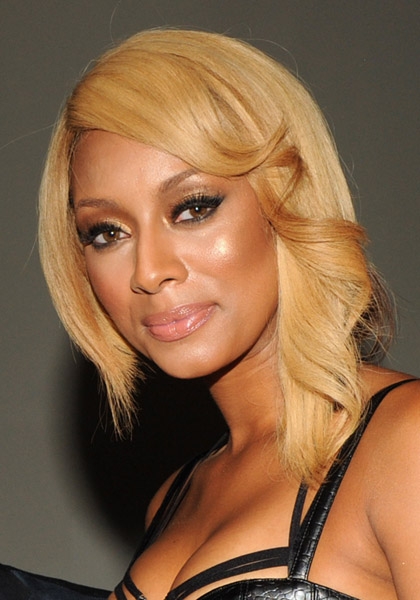 1. Fancy Face
Try: Make Up For Ever HD Invisible Cover Foundation, $40
What it is:
An oil-free medium-to-full-coverage liquid foundation that covers skin imperfections flawlessly while remaining invisible on-screen and in real life.
What it does:
This foundation creates a soft-focus effect, which is designed to meet the coverage concerns of those in the spotlight. It leaves your complexion with such a flawless finish, it can withstand bright or harsh lighting.
2. Enchanting Eyes
Try: Stila Eye Shadow Trio in Gold Glow, $28
What it is:
An eyeshadow trio is baked on a terra cotta disk for a sheer, never chalky, application
What it does:
Offers features three different tonal shades that can be used wet or dry as a base, crease shadow, and eyeliner.
3. Chrome Cheeks
Budget Try: Nyx Cosmetics Ultra Pearl Mania Loose Pearl Shadow in Yellow Gold, $3
What is it:
An ultra-shimmering loose shadow powder.
What it does:
Combines intense color and shimmer to create a flawless effervescent pearl effect.
Organic Try: Jane Iredale 24K Gold Dust in Gold, $12.50
What it is:
A shimmering accent that loves candlelight.
What it does:
Provides glamorous gilt to eyes, cheek, lips and anywhere else you want to glow.
4. Luscious Lips
Try: NARS Sheer Lipstick in Belle De Jour, $24
What it is:
A beautifully sheer formula infused with ingredients to improve the condition of the lips.
What it does:
Sheer, long lasting color pigments have been suspended in this translucent formula to provide a sophisticated shine.
Lakish Campbell (LA) is the editor-in-chief of the beauty blog Blaq Vixen Beauty (http://blaqvixenbeauty.com/)
Lakish is also the beauty director for Kouture Magazine's online beauty department
Shop the look: