Banging Kelly Rowlandcelebrated at the Moet Rose Lounge with eyelash grazing bangs wearing a Fall 2011 dress from Cushnie et Ochs and Alejandro Ingelmo pumps. Her shiny, sleek hair was the perfect acessory her nearly perfect physique. Â  Kelly is definitely one Blinging Babe.
We love her style—edgy without being over the edge, trend-setter, not trendy.  We enjoy her drastic changes as much as the subtle ones—short hair to long, curly hair to straight, hot pink dress to basic black—they all work.
And of course, we love the makeup. Â The vibrant blue liner under her eyes, paired with pink eyeshadow on the upper lash line was new take on a traditional look. Â Keeping the lips soft and subtle let her eyes do the talking.
We have a few suggestions for achieving Kelly's look:
1. Â Flawless Matte Skin
Try: Smashbox Photo Set Pressed Powder $29
What it is:
A creamy pressed powder housed in a mirrored compact with a sponge applicator.
What it does:
The glare of studio lights and long hours on set make touch-ups essential to keep skin looking fresh and flawless. This creamy formula infused with micronized pigments and antiaging Vitamins C and E provides lightweight coverage that minimizes imperfections while keeping skin looking natural and smooth.
2. Rose Glow
Try: Tarte Amazonian Clay 12-Hour Blush $25
What it is:
A long-wearing, solar-baked blush that lasts up to 12 hours.
What it does:
Infused with natural clay harvested from the banks of the Amazon River and naturally baked by the sun, this nutrient-rich blush benefits all skin types for a fade-free flawless finish for an amazing 12 hours.
3. Â Put Eyes in Focus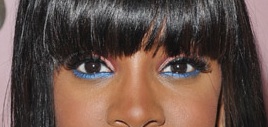 Pink eyeshadow options:
Budget Try: Black Radiance Artisan Color Baked Eye Color—Pink Parfait $3.99
What it is:
A silky smooth, highly pigmented formula that blends easily.
Prestige Try: Napoleon Perdis Loose Eye Dust—Pink Mocha $25
What it is:
A highly pigmented loose powder in a canister that depenses just the right amount of powder each time.
What it does:
Provides brillant shimmering highlights for the eyes, cheeks and body.
Organic Try: NVEY ECO Eyeshadow—Pink Carnation $25
What is is:
Organic eye shadow infused with skin-loving ingredients, finely milled with an extra soft base of corn silk and jojoba oil.
What it does:
Chamomile and vitamins A, C, and E make for a smooth and soft formula excellent for dry and sensitive skin.
Blue eyeliner options:
Budget Try: Iman Luxury Liquid Liner—Sapphire $10.99
What it is:
Inspired by the finely faceted look of crystals, Luxury Liquid Eyeliner is enriched with Vitamin E and enhanced with sparkling gem-toned micro-pigments.
What it does:
Defines the eyes with the dramatic glimmer of fine metals and precious jewels.
Prestige Try: NARS Eyeliner Stylo—Bayou Blue $27
What It Is :
A felt-tipped eye liner pen.
What It Does:
This liquid eye liner pen allows for maximum control during application—ensuring a precise, even line with just one stroke. It delivers a high dose of pigment and intense color in a long-wearing, quick-drying formula.
Organic Try: Jane Iredale Mystikol—Lapis Lazuli $20
What it is:
A creamy powder formula that won't fade, crease or smear.
What it does:
Creates definition around the eye for a soft, smoky eye effect.
4. Pouty Pink Lips
Try: Bite Beauty Lip Shine $20
What it is:
A glossy, translucent lip tint in illuminating colors ranging from blush nudes to vibrant, color-rich reds.
What it does:
This high-tech gloss infused with time-released jojoba beads and antioxidant resveratrol complex imparts soothing hydration and intense shine. Each lip shine contains the amount of resveratrol found in five glasses of red wine.
By Tracey Brown