By Serghie Faustin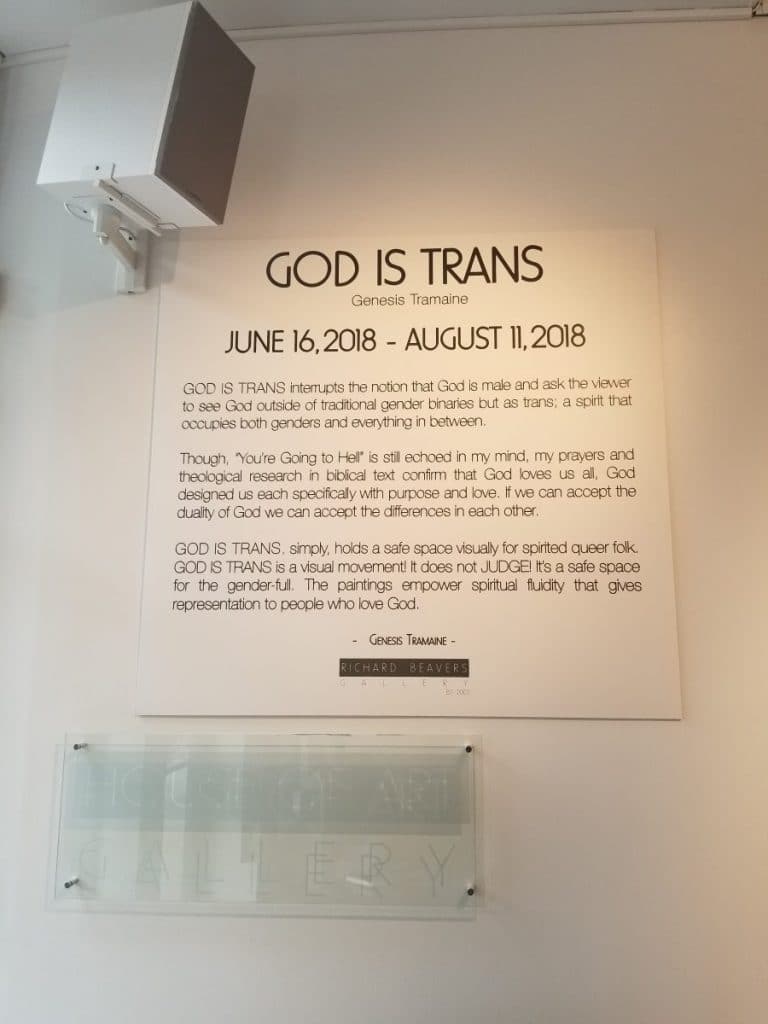 Last month on July 6, I attended a private showing at Richard Beaver's Gallery in Brooklyn, New York to witness Genesis Tramaine's solo art exhibit called "God Is Trans." The title of the exhibit alone will capture your attention, but the artwork lined up against the walls of the gallery need no help in amazing an audience. I was lucky enough to be able to speak to the African American artist and ask her questions regarding her artwork, influences, and life experiences. Genesis Tramaine's artwork is detailed yet abstract, so be mindful to capture all elements as you're creating your own interpretation. In her own words, "I'm sure you missed something. Look again."
What influenced you to create all these pieces?
I got baptized a year ago and re-entered the church. This rekindled me and gave me a spiritual jolt. I was welcomed with open arms. I asked if I could paint there and I was told that I could.
Why do you think God and Jesus have always been depicted as being a white male?
Colorism has shaped religion. I think the time that the Bible was written in is also a factor. The original kings were women. People just read the Bible instead of dissecting it.
A lot of your pieces are probably able to be depicted in multiple ways. Did you do this intentionally?
I don't think it's my place to tell my audience what to see. I'd be thankful for anyone to find something in my work. It's not about influence, it's about inspiration.
What forms of media do you use to create your art?
I paint with spray paint and oil sticks. I dumpster dive, I shop at 99 cent stores, and I try not to shop at traditional art stores. My favorite is using oil pastels on canvas pads. I like painting on denim, wood, linen, canvas, and cotton. I enjoy using my hands in my work. I like to break, rip, and recreate.
Whom are your artistic influences?
Derrick Adams, Romare Bearden, and Fela Kuti.
There is a picture that is repeated in four of your pieces. Who is it and why did you pick this person's picture?
It's Jesus. It's what I depict that Jesus looked like.
Photo Credit: Serghie Faustin
Genesis Tramaine photographed in front of a few of her pieces.
Genesis Tramaine is a self-taught artist whose past experience with church didn't deter her from her artwork being centered around Jesus and God. Genesis was not always welcomed in the church community in her youth. Coming out as gay caused her to receive negative treatment. After all this, she still sees church as being a refuge. She has a love for gospel music and her favorite gospel singer is Mauret Brown Artist. She is planning on applying to Yale in order to get into the MFA program. More of her artwork can be found on her Instagram listed below!
Instagram: @GenesisTramaine
Email: GenesisTramaine@gmail.com