By Shawn Stuldivant
Feature Image Credit: Samantha Sophia/Unsplash
Hey Bronze beauties, it's a Galentine's love fest! Celebrate the beauty of LOVE + FRIENDSHIP this V-Day without getting caught up in the hype that you need to be boo'd up to exchange gifts for the holiday. Instead, show your closest girlfriend(s) how much they mean to you with a gift from the heart.
Ocio Leisure – Classic Collection
Inspired by real people, real life, real bodies, this size inclusive loungewear brand is perfect for the gal pal who wants "comfort, uncompromised." Their Classic Collection is designed for a semi-fitted, refined look that flatters where you want it. Mix and match pieces include the Classic SoftCore Jogger, the Classic SoftCore Hoodie, the Classic SoftCore Crew, the Classic SoftCore Short, and the Double Scoop Tank.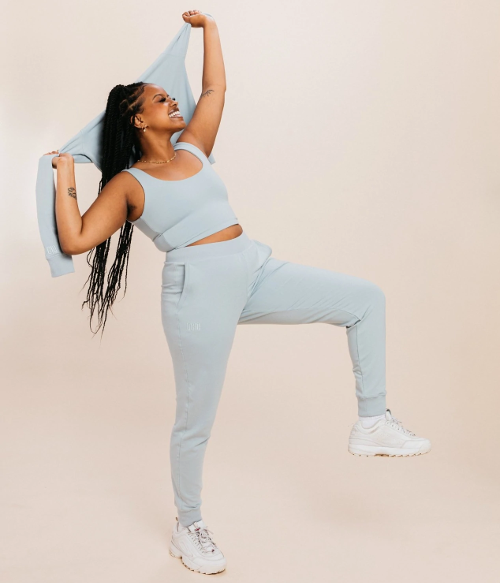 Perry Boyce – Scented Candles
Give your bestie the ultimate gift for setting the mood of loving self-care. This new Brooklyn based, black-owned hand-poured candle company was founded by Tracey Boyce. Candles are available in a variety of amazingly rich scents including Concrete + Jungle, Amber + Wood, Saffron + Ginger, Green Tea + LemonGrass, Fireside + Chill plus more.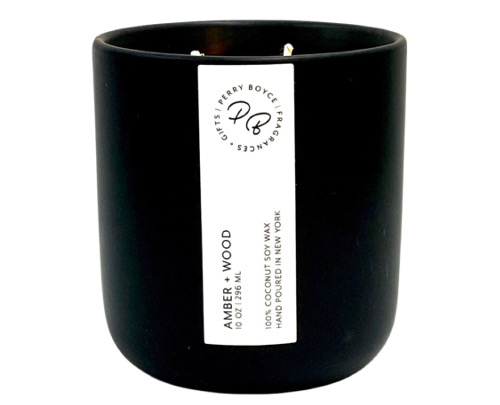 Liquid I.V. – Hydration Multiplier
Does your girlfriend's skin need an extra boost? Hydration Multiplier has the solution. Hydration Multiplier is a great-tasting, daily electrolyte drink mix that utilizes the breakthrough science of Cellular Transport Technology® to deliver hydration to your bloodstream faster and more efficiently – all in 9 incredible flavors Hydrating faster than water alone, Liquid I.V. will keep her skin glowing and those fine lines from showing no matter how many chocolates she indulges in this V-day.
Dove – Body Love Body Lotion & Body Wash
Your besties will feel instantly nourished with Dove Body Love Body Lotion and its unique Restoring Ceramide Serum and Dove Body Wash with its signature Moisture Renew Blend. This dual action pairing helps your skin to produce its own ceramides, strengthening skin from within, replenishing moisture and protecting against dryness. Add a pair of cozy pajamas and socks, and a silk pillowcase for the ultimate bedtime experience to ensure sweet dreams.
Find Your Happy Place – Wrapped in Your Arms
Inspired by special moments between best friends, this collection transports you to a Love Mindspace with scents of Blush Rose & Magnolia. The full collection includes bath and shower gel, body lotion, hand wash, whipped scrub, bath bomb, hand cream, and a scented candle.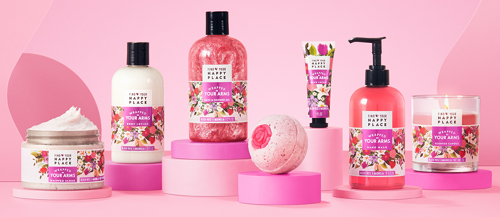 Cocotique – Makeup Lovers Box
Get a quarterly subscription for you and a gift subscription for her! Cocotique, the original beauty subscription box for WOC, has launched its first MAKEUP LOVERS quarterly subscription box. It's a $145 value for only $35 each month with free shipping. A yearly subscription is also available.
Cocotique teamed up with with influencer Monroe Steele, to co-curate the inaugural box. Inside each box you'll find one premium facial sheet mask to prep your skin, and six premium full-size makeup products to fall in love with and get you and your bestie runway ready. A black-owned, woman-owned brand.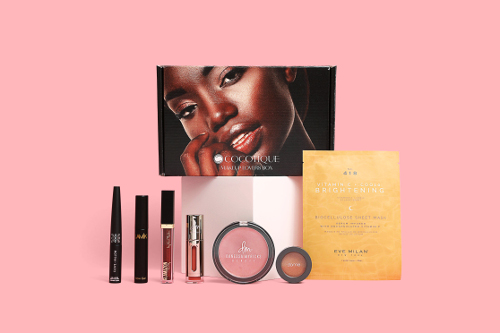 Dove – Body Wash Reusable Bottles + Concentrate Refills
The perfect gift for the girlfriend who cares about sustainability or the one who is reusable curious. This premium refillable body wash starter kit containing one refillable, infinitely recyclable aluminum bottle and one Daily Moisture Body Wash Concentrate refill will help her get started on her journey towards using less plastic. The moisturizing body wash is 4x concentrated. Just add water and enjoy the Dove care experience!