"Jewelry is usually the first thing you take off at night and the last thing you put on in the morning. It's an important piece of your wardrobe that should always be considered."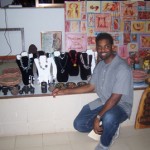 The Eric Green Collection is custom-made jewelry and has been featured in runway shows, private exhibits and fine art galleries throughout a variety of cities around the world, including New York, Atlanta and Ghana, West Africa – to name a few. Eric's philosophy is based on the belief that individualism defines true beauty and through self-assurance one can realize exceeding beauty.
"The Eric Green Collection began in 2002 as an idea from a friend who encouraged me to learn the basic principles of beading and use my creativity to build a business. Instead of buying the objects and men's accessories I wanted, he pushed me to create the visions I dreamed of. Excited about my new adventure, I started to practice; beading turned into designing jewelry for men and women, which multiplied into manufacturing one-of-a-kind pieces for stores and boutiques. I never imagined it growing, but I was determined to make it happen and sharpen my craft."
Both men and women are in awe of the impeccable workmanship used in Eric's designs; each piece is one-of-a-kind: The Eric Green Collection.