Kevin Jones, founder and CEO of KJE, Inc. has an inspiring story like no other. After turning a car-washing gig from his youth into a successful auto detailing business, Jones developed another idea: teaching youth how to start a business of their own. Within the past few years, Jones has created a non-profit organization entitled "Business in A Bucket, Insistute" (BIBI). BIBI educates and trains youth on the key components of starting a business, with the ultimate goal of empowering teens to make positive life choices and to be self-sufficient. Located within the southern Los Angeles area, BIBI has made an impact on many teens, already having received positive feedback from several teens within the community. Bronze Mag got a chance to chat with Mr. Jones about his accomplishments and future plans within the organization:
When did you know you wanted to become an entrepreneur?
I was hanging out on the streets of New Orleans until a man by the name of Mr. Moses Bonds took me under his wing and asked me if I wanted to learn how to detail cars. He took me down to his detailing shop and started teaching me about the auto detailing and business. I loved it and became confident that I wanted my own business. I began going around to the different neighborhoods asking people if they wanted their cars washed and waxed. Finding success in that, I became an entrepreneur.
What steps did you take to make business ownership possible?
After discovering that the ".com" web address was available for Business in a Bucket, I bought it. Next, I started the process of obtaining my legal business name by getting incorporated. Knowing that I wanted to expand my program to different cities, I started the Trademark process for Business in a Bucket because I was not going to put in the hard work and have some big corporation take my Name (I have seen it happen to some Businesses and they have never recovered). Next came my website and the social media, as well as putting out a nice Press Release to get the buzz going about my program.
How did your Business in a Bucket concept come about? What is its mission?
Finding a job in my adulthood was hard; my wife saw the passion I had for detailing cars. Eventually, she encouraged me to start my own detailing business. It started out with friends, and then I sought out clients. Later, I became a legal business. When family and friends started asking me for tips on detailing, I came up with the idea to write a book. Two years later, after I decided to go over the notes I wrote for my book that was stored away all that time, I was introduced to Dumas Martin Jr., the president of The Idea Club. Mr. Martin taught me how to get my book "The Owner's Guide to Auto Detailing" copyrighted. By using this book to teach the youth detailing, I knew if I added some products along with the book, the youth could have a business they would be proud of; thus "Business in a Bucket" was born.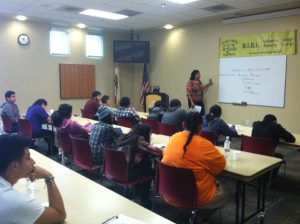 What types of challenges have you faced along the way and how did you overcome them?
There are times when you just want to give up, like when you call news stations and newspapers but no one seems to be listening to you about your program. When people tell you that it's not going to work, you can do one of two things: get busy living or get busy dying. I remember what my grandmother once said: "You can't always see the dream-stealer coming, baby, because he comes in all shapes and sizes! The only way you know he has been there is because when he leaves, your dreams have just left with him." Surround yourself with positive people who believe you.
Tell us about the non-profit component to Business in a Bucket called The Business in a Bucket Institute. What success stories can you share with us as a result of this component?
The organization is geared in hopes of empowering young teens to make effective and positive business choices; to learn about business and to be self-sufficient. The organization indicates an end to poverty, drugs, gangs, violence, underachievement woes, unemployment rates and all those things that hinder a community, as well as for youth to flourish in their life.
What type of feedback is your mission receiving from youth? The community?
The Urban League had this to say: "This year's program features 27 Students from the Greater Los Angeles Area. The response to Mr. Jones' visit was positive. LeeAnn Sanchez, 18, was the proud winner of an essay challenge posed by Mr. Jones. The essay highlights Mr. Jones' visit and the information that she found to be the most vital in starting her business." LeeAnn wrote: "Motivation and commitment are two of the main points that he stressed. He stressed them because without them it will be difficult to maintain your business. Mr. Jones taught me that motivation doesn't have to only come from within, but from the people around you. He was motivated by a man whom he worked for. I am motivated by my mother. Mr. Jones also did a good job at expressing that commitment starts with you because, it is your business. It takes commitment to keep something going, to help believe on your vision, and carryout your mission."
– LeeAnn Sanchez, Student LAUL "Biz Institute"
LeeAnn took home Mr. Jones' signature "Business in a Bucket," a bucket filled with car detailing supplies and a how-to manual full of helpful hints for detailing vehicles and time saving techniques. She plans to utilize the business to help support her financially as she prepares to enroll in UCLA.
What is the main lesson or message you want youth to receive from your program?
Believe in who you are and don't let anyone tell you what you can't do, it does not matter where you come from. If you have a dream, go get it.
Do you have any plans to expand beyond the Los Angeles area?
We know we can help create jobs across America. Eventually, we'd like to set up entrepreneurial training programs in various cities to educate our youth on the steps to owning and operating their own business.
How can youths get involved with your program/mission?
All they have to do is go to our website: www.businessinabucket.com . If they are under the age of 18, they can have their parents contact us about the program through our website.
What advice would you give others who are looking to serve their community in some way but may not know where to start?
Start by volunteering with the community centers in your area. Also, use Facebook and LinkedIn to find non -profit organizations you would love to work with.
What can we expect to see in the future from Business in a Bucket?
We are looking to grow our program nationwide and to implement our curriculum into schools.
By: Ashley R. Cottrell