By Marion Nimoh
Shahidah Foster is a multilinguist born and raised in Brooklyn, NY. Currently residing in Germany since the age of 13, Foster's passion for multilingualism fueled her desire to build a sense of community for Black multilingual women and led her to establish Black Girls Learn Languages, an online community that caters to Black girls by encouraging them to share and become fluent in different languages. In this Q&A, Foster shares her journey to multilingualism, the connection between race and language, and how multilingualism creates a pathway to a global career for Black girls.
Bronze Magazine: How did your love for being multilingual begin?
Shahidah Foster: My love for being multilingual began with the very first father figure I ever had in life. As a toddler, my mom and I lived with her boyfriend, Jose who was Puerto Rican. He and I were very close, and he became my Godfather. I would hear him speak Spanish with the neighbors, his friends who would visit, and his daughters. He'd also have Spanish speaking television networks like Telemundo or Univision playing on the TV. We even ate Latin foods like bacalaito, arroz con pollo, and pasteles. There was so much Puerto Rican language, culture, and music around me, that I even became a huge fan of Menudo, a musical group from Puerto Rico who was very popular at the time. Although Jose didn't teach me Spanish, I caught on to repetitive words and phrases and would ask him to explain what they meant. Hearing and seeing him communicate in Spanish sparked my desire to learn another language.
BM: What led you to create Black Girls Learn Languages?
SF: Ever since I could remember, I had a spirit for learning different languages, learning about other cultures and seeing different places. This led me to continue and study French passionately throughout junior high school and high school. I noticed whenever I would voice my sincere interest in French and Spanish, and wanted to talk about languages in general, people would dismissively shrug me off with, "You know, black girls don't learn languages." Even though I didn't have proof that there were people who looked like me who were multilingual, I knew what they were saying to me was not true. Black girls don't learn languages was THEIR own limiting belief and not the reality.
Flash forward to a few years ago, I started to get back into language learning again and was looking for a "Black Girls Learn Languages" type of community, only to find no one ever created one. When I saw that after all these years no one created the community I so desperately needed, I knew it was up to me to do it. The multi-platform digital community BGLL is a little over three years old now and has grown to about 9,000 social media fans worldwide. 
BM: What do you want Black girls to get out of Black Girls Learn Languages?
SF: I want Black girls to get a sense of community; that they are not alone. As a black language nerd and language geek, I was made to feel like I was weird. It was a very isolating experience, not being able to identify with anyone who was as passionate about languages as I. After creating this community and connecting personally with many of the members, I realized that we all shared that experience at some point or another. We were looked at as weird only because we are black and passionate about languages like Korean, Japanese, or even Italian. I want all my community members to know that there is nothing wrong with them for loving language, or for enjoying learning about new cultures and traveling. In a large community of black women who are passionate about languages, they will never have to feel alone.
Another thing I want for Black girls to get out of Black Girls Learn Languages is the inspiration, motivation, and encouragement to become fluent and to know that fluency is attainable. I celebrate and highlight black multilinguals both on my website and in interviews on my YouTube channel to show others that people who look like you are not only mastering more than one language, they are also doing great things with their language skills.
I want all my community members to know that there is nothing wrong with them for loving language, or for enjoying learning about new cultures and traveling.
BM: What is the connection between race and language in America compared to the countries you have lived in?
SF: The connection between race and language in America and how it looks outside of America is very interesting. Language is what distinguishes different cultures from each other, and because our creole-based language (referred to as African American Vernacular English (AAVE)) is not seen as a valid language, it doesn't serve as a gate keeper for our culture. I believe this is what makes our culture so easily accessible to culture vultures, and why they feel so comfortable to steal and appropriate. We don't have language as a barrier to our culture like our counterparts who speak Spanish, Haitian Creole, or Patois.
I find that even though we have a lot of pro-black movements going on, many of us still struggle to distinguish ourselves and our culture from mainstream American culture, unlike Mexican-Americans, Jamaican-Americans or other cultural groups with recognized languages. I've also noticed that in the U.S., there's this idea among the mainstream that, as a black person, if you speak our creole-based language, you're either uneducated or have a low economic status. That couldn't be further from the truth.
But, outside of the U.S., I've noticed the connection between race and language is different. Many black people are from countries with a language that is different from the majority language of the country they live in. So, it is easier for them shape their own identity, distinguish themselves from the majority culture as well as gate-keep their culture from culture vultures.
Additionally, if you do not speak the standardized language of the country you're living in, it's not necessarily seen as a marker of economic status as it is in the USA. The deciding factor of your economic status is always your native language (e.g. what country did you originate from).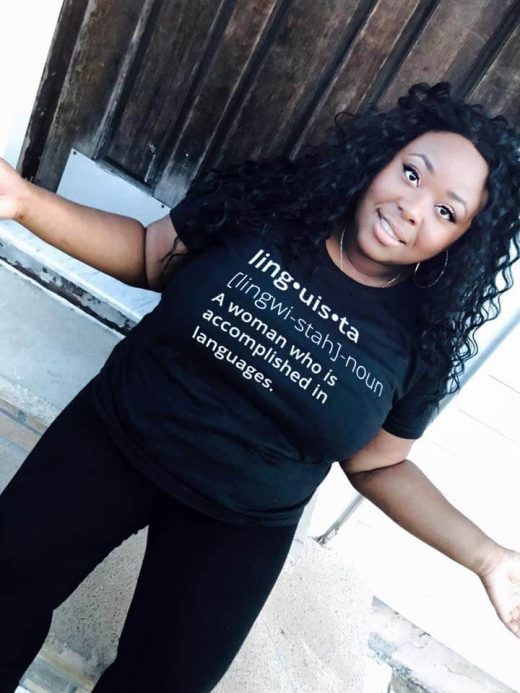 BM: How have you commanded others to acknowledge Black women as part of the language community?
SF: The name Black Girls Learn Languages alone commands acknowledgement of black women as a part of the language learning community. When people see the name, they automatically want to find out more about the platform. Therefore, my content is equally focused on helping black women on their journey to multilingualism as well as celebrating black multilinguals. The representation is needed.
BM: How can Black girls use language and college/university to spread awareness and make an impact in their world?
SF: It's not for black women to shoulder the responsibility of spreading awareness that black multilingual women exist. Language should empower them to build connections with organizations that spread the awareness and it should also empower them to take on opportunities that allow them to create solutions that are game changers. Being an example, a visible example already makes an impact.
BM: How have you used multilingualism to help pave the way for a global career path for Black girls?
SF: By using my experience in multilingualism to empower other black women to do the same. I've noticed an increase in black women that want to either move abroad or engage in a career path that utilizes their global skill set. I'm currently offering workshops and a career boot camp to help black women who need assistance finding global career opportunities (including how to approach the job search, identifying their value offering and their unique selling point, etc.).
BM: Why is multilingualism important, especially in the Black community?
SF: I believe it is important to be multilingual because it opens so many opportunities that we normally never would have access to. There are so many academic and professional opportunities out there waiting to be taken advantage of, including the opportunities we could receive on a personal level. When we speak multiple languages, we can connect with more people than we normally connect with and gain access to networks and information that we normally would have no access to.
I believe it is important to be multilingual because it opens so many opportunities that we normally never would have access to.
SF: With learning multiple languages, and the knowledge you have acquired, what advice would you give to your younger self?
I would tell myself to practice with native speakers as much as possible! One hour with a native speaker is equivalent to 5 hours spent in a language course or 10 hours of self-study. You improve so much more quickly when you practice listening and speaking with a native speaker (or even an advanced speaker) as often as you can. Even if it's just a few sentences here or there and the rest in English, or you insert a lot of English words where you don't know the translation; get started right away!
BM: Do you believe you are walking in your purpose?
SF: Absolutely, I get confirmation almost every day. So many times people reach out to me for consultation and to give positive feedback on how they are so thankful for the safe space that I've created (in the form of a private Facebook group for black women only). They also tell me they are so glad to have found Black Girls Learn Languages on Instagram, Facebook or Twitter, because they now see that so many other black women are passionate about languages just like them. It validates their experience and encourages them when they lose focus or motivation.
BM: Find out more about Shahidah Foster below:
Website: www.blackgirlslearnlanguages.co
FB Public Fan Page: facebook.com/blackgirlslearnlanguages 
FB Private Group: https://www.facebook.com/groups/1242254575810250
YouTube: https://www.youtube.com/languagebae
Twitter @blacklinguistas