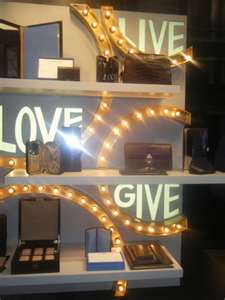 We live day in and day out constantly bombarded with unsettling news. Is Herman Cain in or out? Is Eddie Long's divorce off or on?  Is unemployment up or down? Is Newt Gingrich gaining ground? Is a pregnant Kourtney Kardashian "shocked" or not?  Never mind the health, financial and family issues in our own worlds. It's a wonderful life, right?
So how do we encourage the hope that this season is intended to inspire as well as find a little piece of magical hope for ourselves? How do we make ourselves joyous enough to survive this season of joy? My advice is to take time to take pleasure in the things you know you can depend on – whether it's time spent with a child, whipping up your favorite sugar cookie recipe, indulging in a yummy seasonal treat, a casual stroll through your local botanical gardens, or stealing an extra hours sleep on a chilly weekend morning.
Whatever happens there is one thing that is certain; no matter how insane or stressful this month becomes; no matter how many get togethers you attend; no matter how tall the tree, elaborate the décor, or sumptuous the hor dourves, some of the most cherished and significant memories of this holiday season will be the moments you spend in the comfort of home and the closeness of those you love.
It doesn't matter if you run from store to store chasing the elusive "perfect" gift. What matters is that which you give is given in love. Because at the end of the day, there is no greater gift than to spend the next several days ahead with the people you love, who fill your heart to overflow and make you laugh to tears. The gift of time will leave you – and them, with a holiday to remember.
And the Grinch, with his Grinch-feet ice cold in the snow, stood puzzling and puzzling, how could it be so?  It came without ribbons.  It came without tags.  It came without packages, boxes or bags.  And he puzzled and puzzled 'till his puzzler was sore.  Then the Grinch thought of something he hadn't before.  What if Christmas, he thought, doesn't come from a store?  What if Christmas, perhaps, means a little bit more?  ~Theodor Seuss Geisel

Sondra Wright is a Midlife Transitions and Personal Development Coach, author of the bestselling 40+ and Fabulous: Moving Forward Fierce Focused and Full of Life, and founder of Forty Plus and Fabulous, LLC. The company is a provider of group and one-on-one coaching services, information products, bootcamps, workshops, meetups and excursions to assist women in removing any obstacles that would keep them from living out loud in mid-life and beyond! For more information on how to live "40+ and Fabulous," visit http://40plusandfabulous.com/