By Patrice Rivers
Omar Tyree is more than an author with a vivid imagination. He has a way of painting a story that is realistic. He is the author of the Urban Fantasy, "Flyy Girl" and its sequel, "For the Love of Money," followed by the trilogy "Boss Lady," which all focus on a hot Philadelphian named Tracy Ellison. He is also the author of several other books such as "Capital City," "Just Say No," "Leslie" and others. Tyree has just released the screenplay to "Flyy Girl" back in March and is working towards the "Flyy Girl" movie.
PATRICE RIVERS: "Flyy Girl" is still surfacing in the literary market. Even though the story takes place in the '80s, what was the inspiration behind it?
OMAR TYREE: The inspiration for writing "Flyy Girl" was all about documenting the 1980s culture that I grew up with in the 1980s of Philadelphia. As far as urban materialism was concerned, it was nothing like the 1980s for young Black America. The 1980s was that first generation of hip-hop era that was popular for breakdancing, popping and locking, graffiti, gold jewelry, designer clothes, brand name shoes, fancy hairstyles and haircuts, sweat suits, drug dealing, crack cocaine, stick-up kids, overdoses, territory warfare, Crips and Bloods, crime and jail time, house parties, block parties, rec center parties, playground parties, skating rink parties, MCs and DJs, and city to city rap music. I mean, the 1980s was popping all over the place, and the young bucks today will still love it. So, now it's time to read and support the "Flyy Girl: The Epic Screenplay" by Omar Tyree online and get this long-awaited movie produced…
PR: A lot of people are talking about this great film for "Flyy Girl." Is there an anticipated date of when the film will be out?
OT: Well, we can't put a film out without financing it, casting it and producing it first. So, that's what we're working on by selling the "Flyy Girl: The Epic Screenplay"online. We're building capital and momentum at the same time to push the project forward and get it done.
PR: I actually got a chance to read the book and now I'm reading the sequel, "For the Love of Money," which is really good, by the way. Tracy Ellison is a great character and I could tell you took some time creating a person like her. Do you find people saying that Tracy is one of their favorite characters or they were able to relate to her in any way?
OT: Actually, I didn't have to spend much time creating Tracy Ellison at all, because she's an element of the 1980s era, where dozens of girls were that fly and that spoiled, particularly in the Germantown, Mt. Airy and West Oak Lane neighborhoods of Philadelphia. And yes, a lot of young women are now hooked on Tracy's boldness, but I look at it as the boldness of the 1980s culture in general and not just one particular character.
PR: As far as the film goes, who will actually play Tracy? Back in 2015 you mentioned Sanaa Lathan. Now, I'm hearing it'll be Yara Shahidi. Will they both be in the film? Like one actress as the younger Tracy and the other as the 25 year old Tracy?
OT: Originally, LionsGate and CodeBlack Films agreed to take a stab at the older stories, "For the Love of Money" and "Boss Lady" in the "Flyy Girl" trilogy, because they didn't want to deal with casting a young, unknown black teenager. That's where Sanaa Lathan came into play. They wanted to bank on her name instead. But once the directors of Hollywood all balked at producing an older "Flyy Girl" story of Tracy instead of the original teenage book, LionsGate and CodeBlack had to reevaluate their vision of the project. And they didn't even have a screenplay for the younger vehicle. Well, now I do, and my personal choice to play the teenage version of Tracy Ellison has been Yara Shahidi, ever since I first saw her on "Black-ish" several years ago. She just fits the role. And I would teach her how to execute the Philly speech and attitude. And my personal choice to play her mom in the role of Patti Ellison is Halle Berry.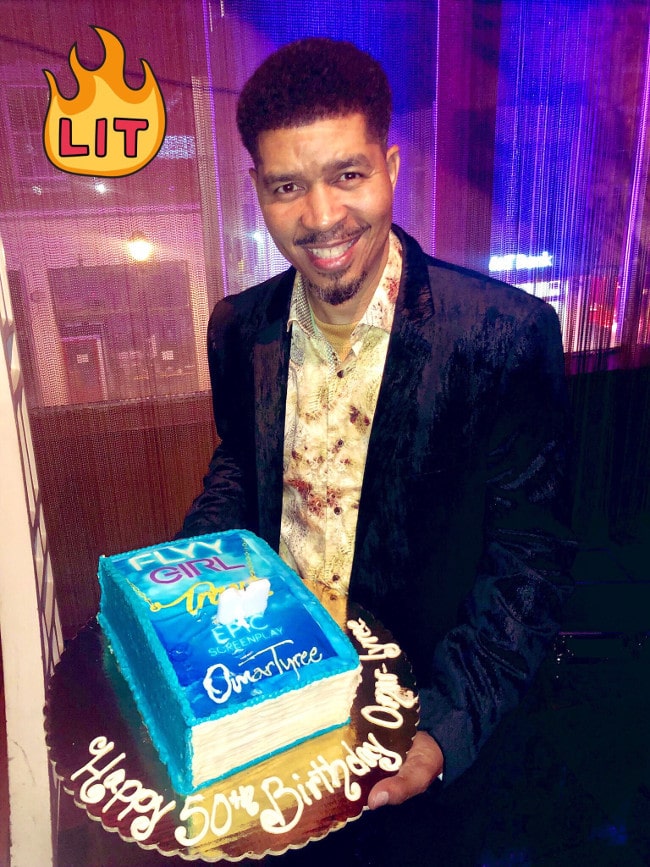 PR: Is this the 26th anniversary of "Flyy Girl?"I saw a picture of you with the "Flyy Girl" cake. Were you also celebrating your birthday as well?
OT: Yes, indeed. "Flyy Girl" was first released 26 years ago in April 1993, and I traveled to a Philadelphia Black Expo event back then at the old Convention Center near the campus of University of Pennsylvania and Children's Hospital and made a good $1,800 in book sales back then. Now I want to generate $150 Million+ on a worldwide film execution and 25-city/international tour. That's what I'm excitedly working on right now. And yes, my birthday is also in April, so I celebrated my 50th birthday as well. All of us 1980s era teens are hitting the 5-0 mark now, including Jay-Z, Puffy, Jennifer Lopez, Ice Cube, Tyler Perry, Bobby Brown, Wyclef Jean and more, all born in 1969 like me.
PR: Are you originally from Philly? How is the lifestyle living there? You painted a great picture in the book.
OT: Yeah, I was born in the bottom of West Philadelphia and moved up to Mt. Airy at age 9. So, I'm like a tough inner-city mind who learned how to dream and go after whatever it is I want out of life. Philadelphia is also a communal city where we understand how important it is to be authentically you. That's why the book was written so well. I want to be right about my city and any other place I choose to write about.
PR: Now, about the epic screenplay you wrote of "Flyy Girl" that was released in March on Amazon. Is there a difference between the screenplay and the book?
OT: There is no way you can screen a book that is 400 pages and heavily detailed like "Flyy Girl," so the screenplay can only choose the best scenes. I also added some scenes that are all about the 1980s culture that were not in the book. But since I know the characters, the 1980s culture, and the city of Philadelphia so well, I can make those changes for intensity purposes and have it all fit right on in with the flow. So yes, the screenplay is definitely different from the book in a great way, where I won't have to listen to people complain, "The book is way better than the movie." With my epic screenplay, that conversation won't happen. They will LOVE what I wrote and how we execute it! Guaranteed!
PR: Are you currently working on any new projects? If so, what are they?
OT: All of my new projects are film ideas and music now, no more books. This generation wants that audio/visual story now, so I'm preparing to give them that with as many as 3-4 different film projects a year, and 100 songs a year. Some of these projects will be from my past books like "Leslie," "The Last Street Novel," "Sweet St. Louis," "Just Say No" and others that are original film stories, including a Jamaican comedy with a crazy dope soundtrack, and a Dominican comedy starring Cardi B, who wants in on the movie game now. So, I'm quite busy creating more material. Definitely!
PR: How can readers connect with you? Social media links? Websites?
OT: My social media links are all Omar Tyree and @Only1OmarTyree on Instagram, which seems to get the most traffic. I can also be found on Facebook, Twitter, LinkedIn, SoundCloud and YouTube all under Omar Tyree or Hot Lava Entertainment, which will be my film and music brand. And my websites will be rebooted shortly with all new designs and information at www.OmarTyree.com and at www.HotLavaEntertainment.com.
---