By Grace Galarraga
Mind-body balance is a huge part of Adylia-Rhenee Gutierrez's life mission. She's the founder and creator of Yhorlife, an online community platform that works towards improved wellness in various ways. The newest addition to Yhorlife is the Wellness Collection, which includes four different soaps and a Daily Gratitude Journal.
After a lifelong battle with eczema and rosacea, Gutierrez learned to create her own skincare and has worked to create various soap blends that aim to calm and uplift. The soaps are each delicately and intricately crafted to help lead its users closer to achieving mind-body wellness balance. Every product is natural, vegan, cruelty free, paraben free, non-GMO and eco-friendly.
The four soaps in the collection include Cuddled, Unicorn, Clarity and Self-Love. On behalf of Bronze, I was able to both try the soaps and talk with the creator of Yhorlife for an interview about the new collection. 
What does having a mind and body wellness balance mean to you?
I think it first starts with knowing what makes you happy, whatever that is. I don't care if you sing at the top of your lungs or dance even if you're not a good dancer.  Those types of things that are true to you and bring you pure joy make you the best person and I think that's so important.  I think it's about getting to a place where you aren't chasing anything, you just are.  You're content with who you are, you like who you are and you can't like who you are if you don't know what brings you joy.  It's no one's right to dictate what brings you joy.  It's those little things that are so important to maintain.  When you're in balance and you feel good and content, you're much more adaptable to whatever life has in store and you're able to tackle it versus if you're feeling off and not aligned, it seems like doomsday.  It's a little harder to handle.
When would you say your journey with mind and body wellness began?
I was in fourth grade. I actually have eczema and rosacea and that's why skincare has been so important. I'm a skincare junkie. I would have outbreaks at the worst possible spots: On the creases of my arms, the backs of my legs, and my neck. When you're a kid in California and it's super-hot, it gets really itchy. I was obviously teased about it. It was so traumatic because the most relief for it was scratching but you couldn't scratch because that was the worst thing you could do for it. 24 years ago, all you had for skincare options for this were Cetaphil, Aveeno and oatmeal baths and that was it. No one talked about eczema. My grandma went to her doctor in Beverly Hills – I think she was just sick of me crying about it, and she came back with a list of all the foods that were triggers. It was everything I loved. I couldn't have cheese, and Mac and cheese was my favorite. These were trigger foods and I didn't know how I was going to eat. She told me I had to commit to it or I was going to continue having these outbreaks and she was just very matter of fact about it. She told me that if I wanted to change then the diet was what I had to follow to get my body under control. I was devastated, but it worked, and I haven't had an outbreak in 15 years. At around 11 she took me and my brother to learn how to make our own soap and lotions. It was also important for me to figure out what triggers my skin when it comes to skincare so that's when the interest in skincare developed. 
How do you make sure to take care of yourself (mind, body and spiritual wellness) after a particularly busy day?
People will sometimes say I'm self-centered but I don't think I am.  I know what makes me happy. If it's been a long day and I don't have a lot of time, I'll watch one of my favorite TV shows I haven't seen in a while.  I'll eat something really good, and I'll get prepared for the next day.  It's small things like that but they make me feel so much better and unwind.  If it's been a crazy few weeks, I'll disconnect.  I'm very rarely on my phone unless it's with my family.  I'll do my baths, I'll meditate, I'll go out on a walk and breathe in the air.  Nothing too fancy or major.  I'll read a good book, and that's really what I do.
How do your four wellness soaps contribute to your mind, body, and wellness initiative?
In our Wellness collection we have the soaps and the journal.  The soaps are each different; we have Unicorn, Cuddled, Clarity and Self-Love.  Each soap is made with Oud and essential oils.  Unicorn makes you feel special, and I think we all need reminders sometimes that we're all okay how we are.  Clarity is a more complex scent.  It makes you feel connected with your intentions.  Cuddled provides more of a safe feeling of protection.  Self-love reminds you that you're great just the way you are.  That's how we came up with the names.  There are gemstones in each soap, and they all have ocean jasper.  People know about the mainstream stones, but I wanted to go a little bit deeper.  I wanted ones that were a little bit more powerful but a little less commercialized and more potent.  When I saw ocean jasper and that it gets its power and properties from water I thought it was so cool and perfect especially for soaps.  Each soap has their specific stones that aid in different areas.  When you're in the shower our minds wander and it's a perfect time to set our intentions and really think about things. With the oud and the essential oils, it makes you feel good about yourself.  I'm a firm believer in gemstones and protecting yourself so it really aids people in that, and it sets a foundation. It's to make you centered, to feel good and it's a foundation.  Oud is one of the most luxurious oils on the market today and what better way to start your day and know that you're worth it and can achieve anything you want to achieve than knowing your foundation is luxury.  Unicorn is oud and eucalyptus.  It's open and knowing that you're worth it.  You have something that makes you feel better.
We learned that you were able to study with a perfumier to figure out "how scents affect the psyche." Can you tell us more about that? What was that experience like, and can you dive into what you learned?
My brother did an apprenticeship for seven months, so he did the work. Scents carry memories and associations.  If someone smells rose, they might think of their mother or another memory.  We wanted something that automatically evoked calmness and happiness, which made our scent choices very important.  We played around with tobacco.  I might like the scent of tobacco and have a great memory associated with it, but other people might have a negative connotation with it.  Even though it makes a good scent, it couldn't be used because not everyone would smell it and feel happy.  We used lavender essential oils to make some of the soaps, which is used for calming and it's used specifically in the Cuddled soap.  With Clarity, you're supposed to feel recharged after using it.  It's very complex, which is kind of what having clarity is- to be complex and to be open.  We used a lot of scents that would awaken the senses like citrus, which wakes you up.  With Unicorn we used Eucalyptus, which is supposed to open you up and make you feel good and unique.  We wanted to invoke positive imagery and from there we figured out the bases and the rest of the soap.  We wanted something calm, not too overpowering since some people don't like super strong scents, but they still want a scent.  A scent that's strong but still barely there.  For some of the soaps, like Clarity, some people might get notes of cinnamon, or someone else might smell just the Oud.  The more you use it the more scents pop out. 
What is Oud?
Oud is the most luxurious type of oil that is on the market.  Most people know it from Tom Ford's Black Orchid. It's a strong scent. There are different types, but we used a Middle Eastern Rose Oud. Straight Oud smells smoky, woody and strong. Infusing rose in the oud made it more of a feminine smell but still kept the musk that regular oud has. It's so expensive, if you have a few millimeters of it, that could cost you a few hundred. It's very concentrated and thick. That's why I always call it liquid gold, because you don't see too much of it except in Tom Ford and when you think of Tom Ford, you think of luxury. We wanted to keep the soaps at a price point that everyone can afford but for it to still feel luxurious. The soap scent can stay on you for a while, and that's because the Oud is almost binding, and it will hold on to you for dear life. You can leave a room and people will still smell you. I use Oud that I got from the Middle East as my perfume, and that's when I thought about translating the scent into a soap. We also really wanted to separate ourselves as a company by having a soap that smells like no other, one that's super complex.
Why is the Daily Gratitude Journal included in the Wellness Collection and why is it important for self-wellness? How does the Yhorlife journal stand out from others?
I absolutely love our Daily Gratitude Journal. I love it because it's undated so literally, you can start whenever. When I was growing up with dated journals, I felt like I was forced to complete an entry. There are some days you feel like you don't want to start. This one is undated so you can go at your own pace. I love it because it includes so many different quotes and it holds you accountable. We have quotes from Audrey Hepburn and Oprah and then it asks questions like, "what's your goal today? What's your to do list?" Anything from your fitness or financials, it's all encompassing. It's supposed to be engaging and fun. I think sometimes journals can seem a little ominous, especially with the ones that just have blank pages with nothing else on them.  If you're not much of a writer, you're not going to know what to write. We also include your daily water intake, because water is a big deal.
With the journal it's almost like I took parts of something I used to do when I was younger called the feelings chart. I had to wake up and say how I was feeling with three feelings like, happy, anxious, or mad. That's part of what I used to create this journal. It's important to write about your main goals, your fitness, your happiness scale. It's interactive and it's supposed to be fun. I'm super proud of it and I love it. You'll start journaling and you won't even realize that you're actually journaling. I've heard so many people talk about how many empty journals they have lying around, or how once you read back what you wrote you'll get discouraged. This journal keeps you on track, setting monthly goals with fitness, relationships, career, finance and self. There's also a section about rewards because it's important to remember to reward yourself. It's supposed to make you feel like you've accomplished a lot. It's a six-month undated journal, and at the end of it you'll find that you've gotten used to it and developed a great habit. It's almost like having a life coach in a journal for six months.
Are there going to be any new products coming to Yhorlife soon?
Yes, so we're going to do bath bombs next in a couple months and a digital journal. The digital journal is the same exact journal but you're able to work on it on your digital devices. The launch for that will be in February, just in time for Valentine's Day. 
Grace's Review of Yhorlife Soaps:
I was able to try Unicorn, Clarity and Self-Love from Yhorlife's Wellness Collection. All the soaps are unique for two reasons. They all have various, small gemstones within them that you can collect after using the soap. The soaps are also made with a base of Oud, which is a type of luxurious, strong oil not commonly used in soaps.
I've never used soap with gemstones before and it was definitely an interesting experience. It's nice to have a small memento after using an item, sort of like those bath bombs that dissolve to reveal a little prize inside, like a ring or a piece of jewelry. However, since the stones are so small, they easily slip out of your fingers and can wash away with the rest of the suds, which is unfortunate.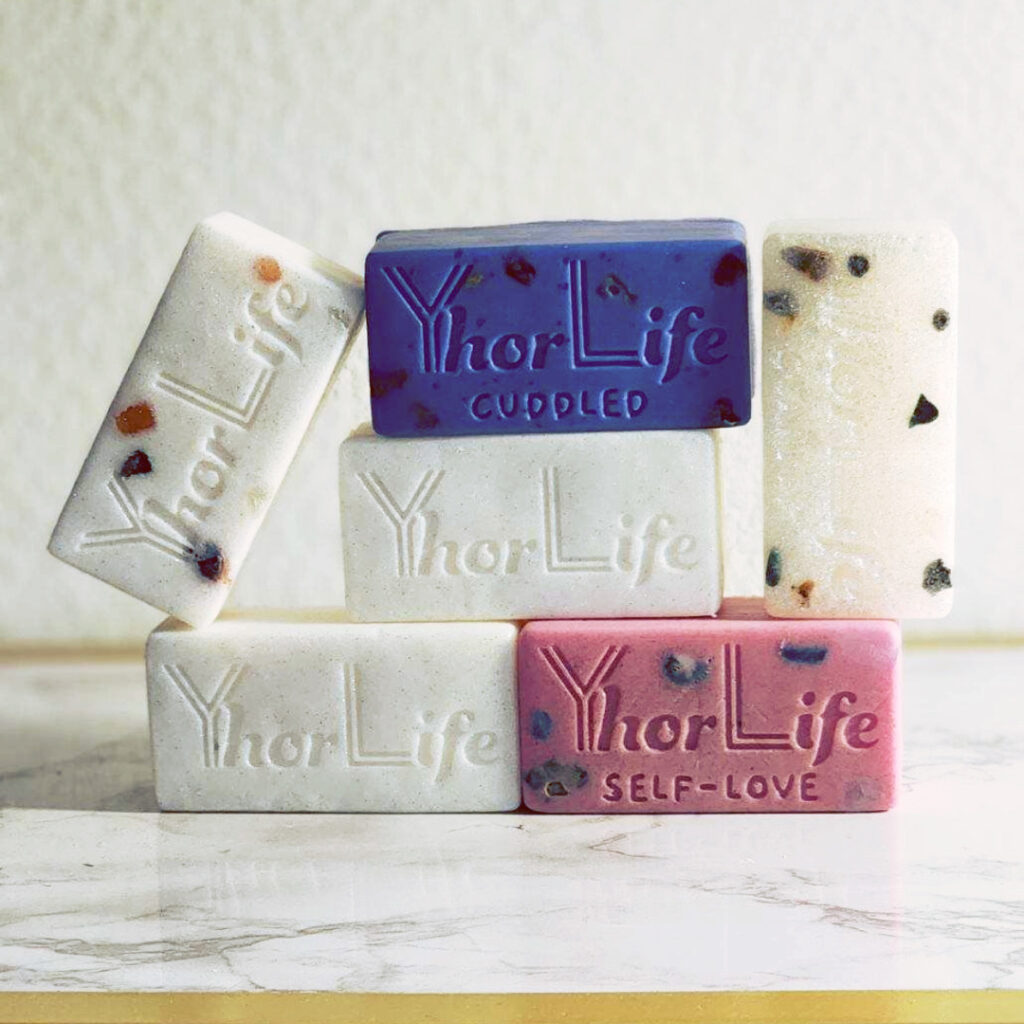 After finding out the meaning behind the different stones, it became clear why they were important to Yhorlife's message. The soaps included different types of stones, but Gutierrez revealed to me that every stone used in the soaps is able to charge and activate in water. If you're an avid gemstone and crystal lover, you'll geek out over this fact. Each soap uses a stone that coincides with its title and what it's supposed to bring its user. Clarity, for example, uses Pyrite, which is said to bring abundance, confidence and protection. Unicorn is supposed to highlight your own unique magic, so it uses Red Aventurine which is said to make dreams come true. Moments of reflection and thinking often happen in the calming, steamy getaway of your shower time, so nestling stones within the soaps that can achieve their ultimate power in the water is a perfect concept. And if you're not a gemstone person, at least it's something pretty to keep with you afterwards in the cotton drawstring pouch Yhorlife provides with every soap purchase.
As for the scents, all the soaps have a pleasant yet distant smell to them. It's a smell that dwells on the skin but doesn't necessarily overpower or underpower. I was informed during the interview that this was exactly what Gutierrez was going for when making the soaps, which makes sense. Ideally, a soap should suit anyone. Like the stones, certain scents are included in the soaps based on its purpose.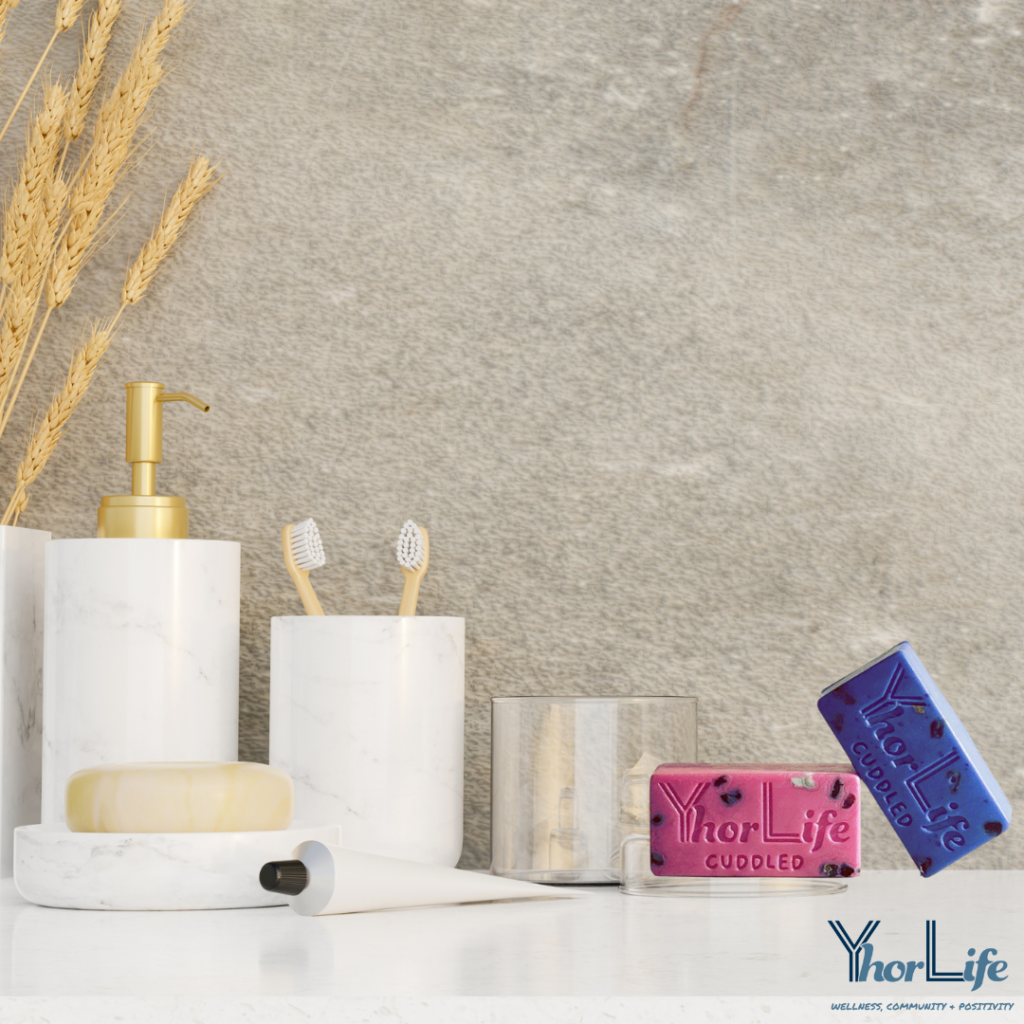 Self-Love is meant to boost your confidence and remind you to take the time to appreciate yourself and your body. The scent is something along the lines of a floral oatmeal, with a light dusting of cinnamon that escapes the more you use it. Clarity is hard to capture, but it has notes of citrus and florals, almost like the scent of a nice cup of herbal tea. My favorite scent was the one attached to Unicorn. It's positively bright, hitting you with a pang of minty Eucalyptus as you use it. Unicorn and Clarity both feature vegan glitter- and for all the glitter haters out there don't worry, it washes away pretty quickly but it's still nice to look at.
Overall, the soaps are delightful and bring a smile to your face while using them. They offer a reminder that achieving mind-body wellness balance is about taking care of yourself.