By C. Scott
Being a mother is a rewarding journey in a woman's life. Watching your child grow is a daily reminder of their precious gift of life. But we all know that every developmental stage of parenting comes with some challenges. For some moms, the challenge may be hair care. Courtney Smith discovered this challenge with her third child, Cristina.
"Shortly after having her, I noticed that she began to suffer greatly with severe cradle cap and eczema. Being a licensed esthetician and knowing the side effects that come with using sterile creams and medications, I decided to take a more holistic approach," Courtney shares. From there she birthed her holistic hair care brands for kids that is widely known as Cristina's Curls. As you get your little one prepared for the holiday photoshoots, family dinners and even school pictures; Courtney shares some amazing tips to consider: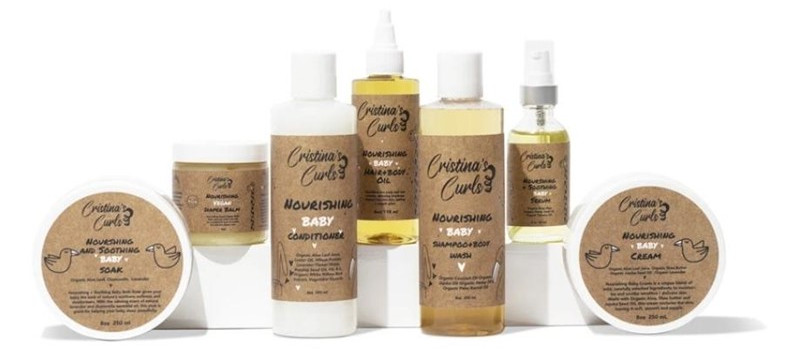 What are some healthy hair care tips for kids?
"Cleanse Hair & Scalp Regularly: Healthy hair requires a clean, healthy environment from which to grow. A dirty scalp full of buildup can clog pores/ follicles and essentially slow down growth.
Use Sulfate-Free Shampoo: Shampoo containing sulfates strip the hair of its natural moisture. Using shampoo without sulfates for natural hair can improve hair texture, prevent hair breakage and help grow long, healthy hair.
Gently Detangle From End to Root: Curly and kinky hair needs lots of TLC. When getting the tangles out, start from the very ends then slowly and gently work your way up to the roots.
Wear Protective Styles: Tucking the hair away in styles that require little to no manipulation for a few days or a few weeks, will help retain length."
The holidays are approaching. Which style trends are you seeing for kids this year?
"I am seeing a lot of protective styles such as braids and two strand twists. This is a great way to protect the hair strands during the cold, winter months."
What products would you suggest for manageability and moisture?
"I would recommend the Nourishing Conditioner and Nourishing Detangler from Cristina's Curls. The conditioner will add moisture to the hair and the detangler will melt tangles and knots away."
The winter months can produce less moisture for some hair types. However, many parents need quick and on the go styling needs. Which quick styling tips would you recommend for families?
"My go to for Cristina is two French braids. They are so versatile and easy to maintain. You simply undo the braids, add some moisturizer to the hair, seal in the moisture with an oil and rebraid it. Another quick style is a high bun. Again, you add moisturizer and oil to the hair and tuck the hair away."
What advice would you give to others about embracing their hair texture and natural hair?
"My advice would be to learn your hair. Learn your child's hair. Try different products until you find what works and then implement a good hair care routine. This will make wash days and daily hair care less stressful on mom and your child."
Cristina's Curls will help your family discover their natural beauty and healthy hair care routine. Think less stress and tears with more curls and maintenance. "Beauty is being comfortable in your own skin," Courtney continues. "Great hair care will make your natural hair journey more enjoyable," she adds. Connect with the luxurious hair care and skincare brand of Cristina's Curls by following @cristinascurls_ on Instagram. Shop their specialty brand online by visiting www.cristinascurls.com.
Writer, C. Scott is an authorpreneur, mom, and social worker who can be followed on Instagram as @curls_coils.