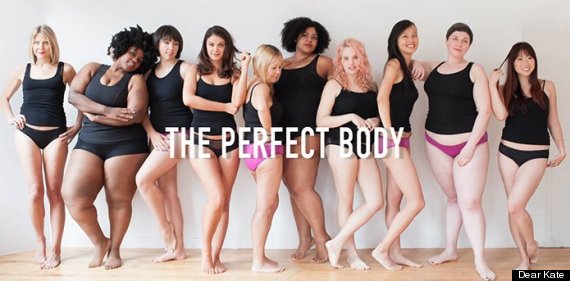 Can you recall how many advertisements you've seen so far today? Yankelovich, a market research group, estimates that the average person sees about five thousand ads a day.  We are so accustomed to seeing various forms of product marketing that some aren't even processed in our minds, while others seep in, but without our full knowledge. If you're a woman, chances are these ads are reminding you of what you need- the latest lipstick to make your lips look fuller, the most successful Spanx to keep you from looking the shape that you truly are, or tanning lotion, because the color of your skin simply isn't fashionable. How do we find #bodypeace in a society built to bring us down?
Contrary to popular belief, body peace does not start from the outside. When we feed our bodies healthfully we have more energy, the ability to ward off or lessen symptoms of illness (even mental illnesses such as depression, anxiety, etc), live longer lives, and even maintain clearer skin and a healthier weight. Even those challenge seekers on a mission to improve their health can find peace with their existing bodies. The more we respect our bodies, the more we come to love them. When health is the focus, everything else seems to fall into place. Out of all the various challenges to finding body peace, eating well and finding workouts you enjoy are perhaps the most refreshingly controllable.
What we feed our minds is just as vital to loving our bodies as what we put in our mouths. It is important to consider the source and whether or not the intake is voluntary. When it comes to ads, entertainment, and any sort of product marketing, it can be affirmed that money is the motive. Do not allow companies that are trying to sell you a product make you believe you are flawed.
Women have long become dismayed with the physically impossible standards of beauty that are being forced upon us every single day. It is our right and our duty to oppose these dangerous images and ideas that have led to a body-hating epidemic. When we remove ourselves from the negative media that surrounds us, we see with clearer eyes that our bodies are amazing, just the way they are.
Alternatively, the motivation for money sometimes leads companies in a more positive direction. Just a couple of years ago in 2014, Aerie Real campaign was started, featuring women who have not been airbrushed in any of its ads. Since this change Aerie's sales have rose by 32% in the first quarter of the 2016 fiscal year. Similarly, Dove's new campaign entitled #MyBeautyMySay which launched July of 2016, is encouraging women to refute the sexist comments made by the media referenced towards female athletes and bring the attention back to the athletics. The recent 2016 summer Olympics was sadly a perfect representation of this sexism as many of the Olympians were called out for their hair, makeup, and body shape instead of their skill. Our support of campaigns showing women as they naturally exist is both empowering and business changing.
At times you may feel discouraged on your journey. You may be tempted to compare yourself to the latest model, a friend, or even the old version of yourself. Remember, your body is perfect just the way it is. Never forget all that your body does for you, even throughout the course of a single day. Your body is the vehicle through which other people have the opportunity to share your heart.
Ultimately #bodypeace comes with the realization that the body is far less important than what it holds, the soul.
By: Bethany Thomas
Information sources:
–http://www.nytimes.com/2007/01/15/business/media/15everywhere.html?_r=0
– http://livewell.jillianmichaels.com/psychological-benefits-eating-healthy-5062.html
– http://www.huffingtonpost.com/entry/aerie-photoshop-sales-growth-2016_us_573d35d6e4b0646cbeec260c
–http://mashable.com/2016/07/26/dove-women-in-sports/#A_Fofo6zzqqx
Image source:
– Courtesy of The Girls Girls Show https://pbs.twimg.com/media/CnwJfYrUEAEJ6ES.jpg