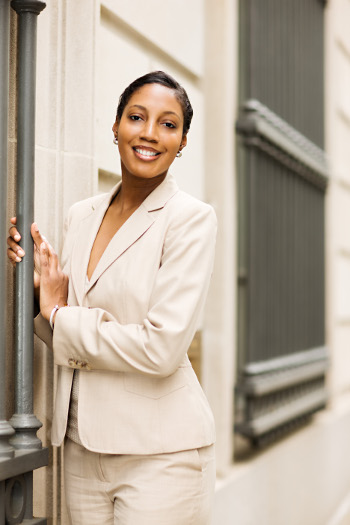 Jennifer Streaks is a financial and affordable lifestyle expert, writer, and commentator that is extremely passionate about helping people live fun and financially stable lifestyles.
Currently residing in Washington D.C., Streaks has reached a very happy place in her career, but finance was not always her passion. Born and raised in Charleston, South Carolina, she admits to having a very ideal background and upbringing. "I had strong family values- we went  to church on Sunday. I went to high school there, and I went to college there. I love Charleston." For Streaks, being a grown women with a very busy schedule does not stop her from visiting home often.
When Streaks was younger she recalls that she wanted to be a lawyer. "Math was the vain of my existence, so if anybody were to have ever said to me that I would be working in finance, personal finance, or that I would have an MBA,  I would have laughed them out of the room. I hated math- Algebra, chemistry, pre-calculus; anything that had numbers I hated it. So to be sitting here now and doing what I do, it's definitely heart felt and it's definitely a calling."  After graduating high school she continued her education by attending The College of Charleston where she studied political science. She then furthered her education by attending Howard University to obtain a law degree. Even after two degrees she noticed that she was still missing the passion and fire for her chosen career field. "I practiced for a while and said, Is this it? Is this really what I'm going to be doing for the next 40 years? Pouring over documents and those kind of things." At that moment in her life she had to sit down and refocus  her interests. She started to get involved with the financial security side of the law and enjoyed it, but still, she felt like something was missing for her to be completely happy with her chosen career path. "I enjoyed it, but there were so many numbers coming at me, I felt like I needed to have an MBA to understand what I was doing." After completing her MBA she realized that she really enjoyed the work she had done to receive it, and the opportunities that opened up by her receiving this degree.
For Streaks, her career took off in around 2008 with the financial crisis in the United States. She began to receive phone calls from people who were going through financial turmoil. "When there is a financial hiccup it hurts the everyday Joe, and the public." During this time she was able to offer financial advice and strategies to get people out of credit card debt, help people save their homes, and teach people how to manage their money. Streaks believes that it is her warm personality and non-judgmental nature that allows her to connect with her clients. "I understand that people want to live their lives. Nobody just wants to pay bills and die. That's not the purpose of being on this earth. So because I come at people like that, they like it, because it's almost like a relief. No one wants to talk about money, so when they are going through a financial issue, they are embarrassed and don't want to let you know." She always reassures her clients that they can fix whatever financial trouble they are in. By doing this, different types of opportunities started to open up for Streaks. She was featured on numerous  media platforms like television and radio shows, and was able to write financial articles for many media outlets. From there, her passion and business continued to grow.
Streaks was able to take her passion and personal financial coaching style and create a book titled "Thrive Affordably." The uniqueness of this book stems from the fact that it is not only a book, but a workbook as well. "The book is based off the months of the year and it tells you per month, basically how you should be handling your finances. You also have space to write down any questions or issues one might be having. I left blank pages for those who want to take pictures out of magazines and place pictures in there. It's a chance for people to sit down and be real about their finances." With this book she is able to give individuals the keys on how to live a very successful and fun lifestyle.
Streaks sincerely enjoys helping people reach their financial goals to better their lives. One piece of advice she wants to offer readers is to understand the importance of building an emergency fund. "Most people, when they are working they live from pay-check to pay-check, or they are one financial disaster away from financial ruin. So I say you have to get this emergency fund together just in case you get a flat tire, or your water heater goes out, or if you have to go into the hospital. That's what gives you piece of mind." She also stresses the importance of having a side-job to help create financial stability. "I have people tell me all the time, they can't afford to save. If you are working and can't afford to save, you need to bring in more income. I say everybody should have a side-hustle."
In the future Streaks sees herself having her own television show, whether its dealing with affordable lifestyle  or finance. She wants people to know that they should not be embarrassed when it comes to finances. "There is always a way out of debt, but you have to deal with it. You can't sit here and not live your life because of debt. You have to make a plan based on what you can afford." In 2017 she plans on releasing  her second book titled "Thrive Lifestyle." She wants readers to remember, "You don't have to have a lot of money, you just have to manage the money you do have well."
By Alexis Alfred
Follow Jennifer Streaks on
Twitter: @jstreaks
Instagram: Jennifer Streaks
website: www.JenniferStreaks.com
Facebook: Jennifer Streaks