By Brianna Bush
Detroit-native Lauren McGrier is reshaping the landscape for women in the nightlife and entertainment setting. Her empowering event Twerk x Tequila, which was founded in 2018, provides a safe space for women to "connect, network, and be liberated." Bringing in almost 4,000 attendees in the cities of New York, Detroit, and New Orleans, McGrier gives our readers the story behind the event's curation.
Can you explain why Twerk x Tequila was created?
I created Twerk x Tequila after already working in the music industry, supporting and managing artists coming out of Detroit. I always wanted to jump into the event planning scene and start curating experiences. When I finally started to get involved, I realized that the industry was male-dominated, unprofessional, and honestly challenging to participate in as not only a curator but also as a woman. My experience in the party and entertainment industry further motivated me to create a space where all types of women can have a fun and safe time. At that point, I decided to start by planning just one event – I didn't expect it to turn out so successfully but it completely sold out! After that, I knew that I had something and I needed to keep going.
What is the mission of Twerk x Tequila?
The mission of Twerk x Tequila is to create a space where all women can be and feel liberated in a safe environment. My events have drawn women from all walks of life – doctors, lawyers, teachers, and more. Everyone is there to have fun, without judgment, take up space, and most importantly, take ownership of their bodies. If you've ever been to the ladies' room after a long night at a popping party, then you know the women are giving each other compliments – my goal is to make our events feel like the positive conversations women have with each other in the bathroom after a long night at the bar. Men are also invited and encouraged to attend Twerk x Tequila.
Tell me a little about yourself and your connection to the brand you created.
I was born and raised in Detroit. Growing up, I attended a performing arts school, which really sparked and cultivated my creativity. I originally wanted to become a publicist but ended up getting involved with artists like Big Sean and Early Mac, which eventually led me to support and manage projects in the music industry. That experience really motivated me to create a space for women because we truly set the bar when it comes to our work ethic. When I pull together a team to help execute Twerk x Tequila events, I make it a priority to hire women DJs, photographers, videographers, set designers – you name it. This is an experience for women, made by women and I'm very proud of that.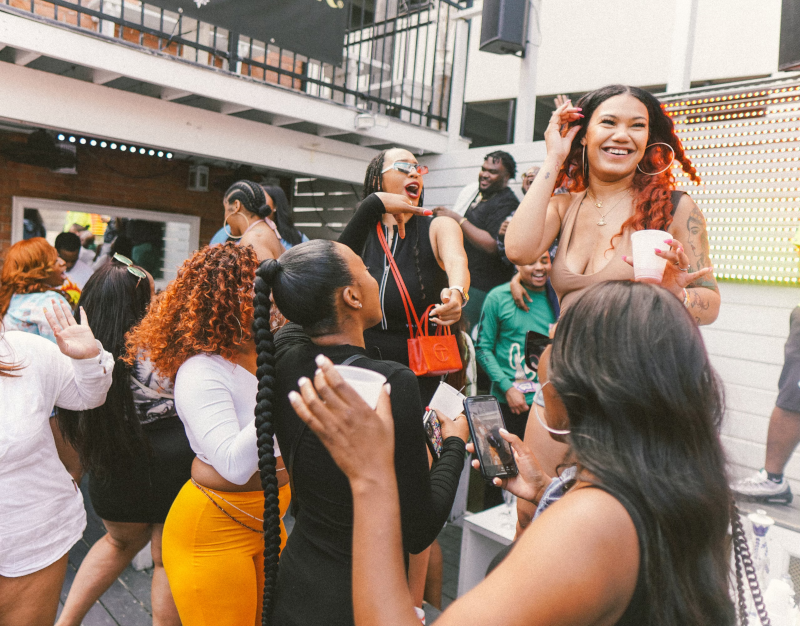 How was it partnering with brands like Bumble etc.?
Partnering with other brands like Bumble and Hornitos Tequila has truly made it easier for us to curate Twerk x Tequila events. Bumble played a big role in helping us sustain our engagement throughout 2020, which was a very hard year for most people in the party and entertainment industry. They sponsored our virtual events when we couldn't host in-person experiences, which helped us get creative and really take our online engagement even further. Having the support of sponsors like Hornitos Tequila helps a great deal because it allows us to create bigger and better experiences for our attendees. We're currently looking to work with more sponsors that can support our upcoming events and tour dates.
Tell me more about the upcoming tour – what are you looking forward to/hope to see at the events?
We've already started our summer tour and have had events in both Detroit and Chicago. As we head into the fall, I'm looking forward to partnering with more brands that will help us expand our reach to additional cities like New Orleans, New York, Los Angeles, and more! Like anyone in the entertainment industry, I hope that we completely sell out all of our upcoming dates; not just for the money but because I want people to experience Twerk x Tequila. We really have something special here and I can't wait for more people to get the opportunity to see it for themselves.
How have you navigated the pandemic while trying to maintain the success of your brand?
Whew! Navigating the pandemic has been rough. 2020 was probably one of the hardest years for me in business. As you can imagine, I wasn't able to curate any Twerk x Tequila events for the entire year. Even when I thought the pandemic was subsiding and I started to plan for something to take place, I had to cancel because COVID-19 cases started to tick up right before the event. It was too much of a challenge to curate events during that time so we sustained the business by hosting virtual events across the Twerk x Tequila online platforms. Once 2021 came around, we hit the ground running and had some of the most successful events we had seen in a long time.
What is one piece of advice you would give young women trying to start a business?
One piece of advice I would give to young women trying to start a business is to stay consistent. It takes years to become an overnight success and everything isn't always as it seems. So focus in on your plan and stay consistent until you find what works for you or you have your breakthrough.