Do you have fond memories of a favorite food your mom or caregiver used to make? A dish so delicious that it made you feel really good inside?  In honor of this coming Mother's Day we invited our readers to share their favorite "mom" recipes with us. Happy Mother's Day!
Chocolate-Covered Strawberries by Jill Williams
When I was a child my mother always made desserts with fresh and frozen strawberries.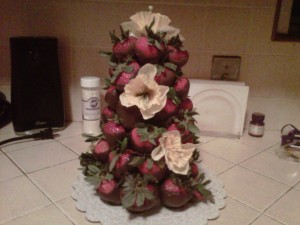 1lb of fresh strawberries(washed&dried)
1lb of chocolate candy melts(merckens or wiltons)
Dip strawberries in melted chocolate.
Place. In frig until chocolate hardens.(10 minutes).
Place on silver platter or decorated plate and serve.
(Decorate with flowers) my twist(lol).
Mom's Best Recipe- Vegetable Soup by Beverly D. Chandran
Hearty, nutritious, and delicious every time!
My soup is not a fancy recipe, but it sure is delicious and filling anytime of the year, and for any occasion; appetizer or entre, says grandmother. You won't be disappointed!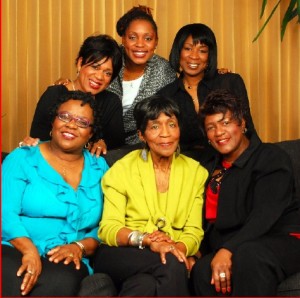 Prep time, 1 hr., cook time, 30 min, servings 10
Ingredients
1 rotisserie or cooked chicken
1 medium to lg cabbage
1 lg onion
1 lg green pepper
1 lg bag frozen green beans
1 lg bag frozen sweet corn
1 lg bag frozen mixed vegetables
1 lg bag frozen okra (optional)
1 lg can low-sodium chicken bouillon
2 cups water
1 tablespoon olive oil
1 lg can peeled and diced tomatoes
1 lg can tomato sauce
1 lg can tomato paste
1 lg can tomato puree
Mrs. Dash lemon pepper to taste
Mrs. Dash extra spicy, salt free seasoning blend
1/2 teaspoon basil
1/2 teaspoon oregano
Directions
Cook cabbage until done (do not overcook)
Cook in water with 1 tblespoon olive oil
Cook other vegetable separate until done
In a large stock pot, cut chicken into chunks
(remove skin)
Add all ingredients
Stir
Simmer for 20 minutes
Serve with cornbread
Ready to eat. Enjoy!
Dr. Gwen's Fish Chowder by Gabrielle Thomas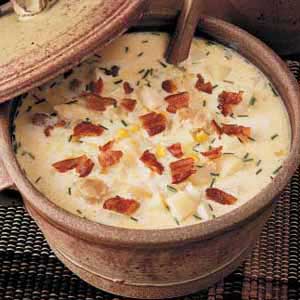 5 strips bacon
1 sm. onion, finely chopped
1 clove garlic, minced or finely chopped
1 (8 oz.) bottle of clam juice
1 (8 or 12 oz.) can baby clams
1 1/2 lbs. of fresh cod fish
2 lg. potatoes, cut in 1/2 inch cubes
3 to 4 lbs. fillets rockfish
1 tsp. chicken bouillon
1 c. each Half and Half and milk
1 lb. cooked baby shrimp
1 c. water
1 pinch parsley, cilantro
2 tbs. Hot Sauce- chipotle
In a large soup kettle, cook bacon, then remove and set aside. Leave two tablespoons of bacon grease in the kettle and use to saute onions. Add water, clams juice, chicken bouillon, garlic, parsley, and potatoes. Simmer for 12 to 15 minutes or until fish is white and starting to flake. Add Half-and-Half, milk, shrimp, clams, and chopped bacon. Increase heat and serve when steaming, with patty of butter and paprika on top. French bread goes well on the side.
Tamale Pie by Kendra Carter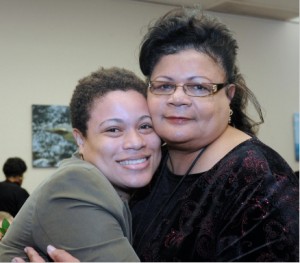 My relationship with my mom is very important to me, and I am glad that my mom and I are close. I am blessed to have a mother like mine; I do not know what I would do without her.
Tamale pie is our favorite recipe to make together:
First cook and season the ground beef.
Then you cook the corn tortillas.
Grate some cheese.
Put some tomator sauce and corn in a pot and let it simmer for a few minutes.
Then add the ground beef to the sauce.
Then get a pan to put it in and start to layer the dish.
First put the tortillas in the pot.
Then put sauce and cheese on top.
Keep layering about four or five times.
Then place the dish in the oven and let it cook for about 20 mins or until the cheese is melted.
Dump Cake by Tracey Sykes-Ambrose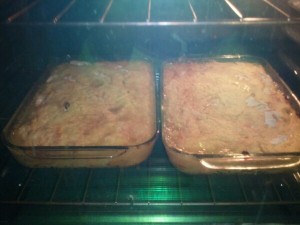 Preheat oven at 375 degrees
Crushed pineapples
Peach or apple pie filling
Yellow cake mix
1-2 sticks of melted butter
Do not mix all the ingredients together. Just "dump" and layer on top of each ingredient.
Bake for approx 20-30 minutes (depending on oven settings) at 475 degrees until golden brown
Be sure to check on dish approx every 10 minutes to prevent burning
Buffalo Chicken Dip Appetizer and Chicken Alfredo by Michelle Person
Buffalo chicken dip appetizer
 2 cans of chicken in water
 1/2 package of cream cheese
 To taste add Franks Red Hot Sauce
 1/2 cup of blue cheese salad dressing
 Mix in shredded mild cheddar cheese as much as u like
 Mix together u can also add cheese on top
 Add to small pyrex type dish heat Oven @375 degrees
 Bake for 20 minutes or until sizzle in oven
 You can cut the recipe in ½  it will serve about 10 people.
 Serve with crackers.
Yummy!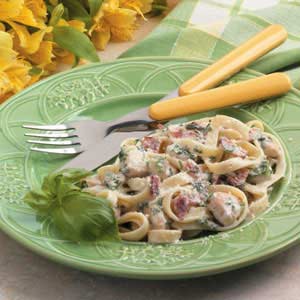 Chicken Alfredo Recipe
Ingredients:
½ lb. medium Seasoned Shrimp Steamed
1 package of Perdue "short cuts" buy the "Roasted Garlic & White Wine" flavor (heat in microwave for about 1 minute or so)
1 crown of broccoli florets "blanched" ß (using hot tap water)
1/2 stick of butter
1 teaspoon of minced garlic, 3 or 4 Sun dried tomatoes cut-up (optional)
2 cups of heaving whipping cream (I have tried numerous brands, however "Great Value" by Wal-Mart is the best!)
1 cup of parmesan cheese
Salt & Pepper
Old Bay (optional)

In a medium sauce pan melt butter on low, add minced garlic and sauté
Pour in heavy whipping cream, let simmer for about 2 min, and then gradually add parmesan cheese a little at a time. Whisk mixture after about 2 to 3 min. Whisk until it starts to thicken up, add chicken strips, sun-dried tomatoes, broccoli and shrimps. If allergic to seafood just omit. I have also used lumped crabmeat as well.
Add salt, pepper, and old bay (optional) to taste
 Let simmer on "low" for 5 minutes… serve over pasta linguine recommended, however spaghetti will work too!  Sprinkle parmesan cheese on top…viola…delish… Enjoy!