No matter what silhouette you choose, this is the time to infuse a little glamour into your everyday wardrobe. To avoid being New Years Eve flashy, balance is key! Mixing and matching is a MUST.
Sequins balance each other out when mixed with simpler pieces, making them appropriate for daytime wear. It's important to understand which pieces are appropriate for day wear and when it's appropriate to wear for evening. Sequins are beautiful, but don't go overboard. If you're rocking your favorite sequin mini, you don't need to also wear a sequin top, belt and clutch! Less is more with this trend. Sequins head to toe can be a big DON'T.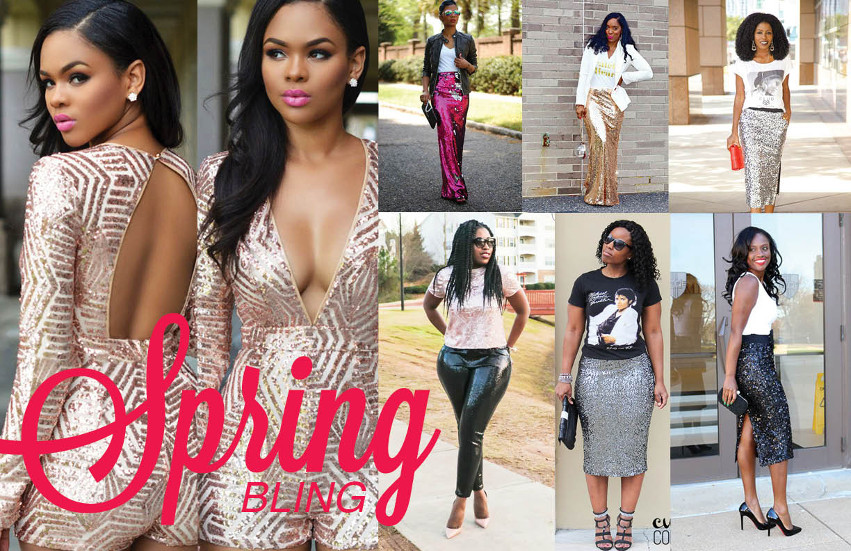 If you're afraid of sequin overload, accessorizing with your favorite headbands or statement heels is never wrong! Spice it up, but feel comfortable with what you're wearing. Do play with color! It's fun and gets most women out of their comfort zone (which is also fun). Sticking to classic colors like black are not required, but don't try every color of the rainbow.
Difficult shapes and silhouettes can be hit or miss. Lines should be simple and flow together. So, be careful when choosing complicated structures.
Pictured from left:
http://stellalamoda.com/lookbook/1971-gold-sequin-playsuit.html#/size-l
@youngatstyle https://youngatstyle.com/2015/04/12/casual-sequins/
@stilettosandpearls http://stilettosandpearls.com/sequins-overdose/
@styleandpoise http://www.stylenpoise.com/2016/01/grateful.html#.VzL-Yr775u0
@CurveeBeauty http://www.curvesandconfidence.com/2016/03/sequinpencilskirt.html
@stylepantry http://stylepantry.com/2014/02/21/graphic-tee-sequin-midi-skirt/
@prissysavvy http://www.prissysavvy.com/2015/11/sequins-and-wine.html?m=1
By Shuntega Meadows