The 90's fashion trends have been creeping their way into the 21st century. Everything from overalls to platform shoes to cut up jeans have been roaming the streets. Choker necklaces have become the new recycled trend, and everyone is wearing them. Whether laced, plastic, or leather, chokers are a staple piece for every outfit. But with everyone jumping on the bandwagon, how can you be different? Well, you can be creative and make your own.
You can use any materials you find laying around in your house, just make sure that it is safe and long enough to wrap around your neck.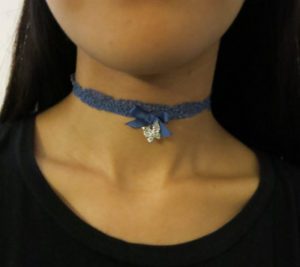 Undie Choker
Yes! You read the title correctly, I made a choker out of underwear! Simply grab a pair that you don't use, it can be any pattern or color of preference, but make sure that it looks good enough to wear outside. I chose to use a pair that was both laced and had a butterfly jewel attached to it. Once you've found the right pair, use scissors to cut along the waistline of the underwear. Make sure to measure your neck so that you don't underestimate how much material is needed.
You can also use the extra scraps to create a braided neck choker.
Braided Choker
Depending on how you decide to wear your hair, you have a few options on how to tie your choker. If your hair is worn down you can simply just knot the two ends together. For up-dos you can do the same thing, however, it looks much neater if you sew the two ends of the choker together.
Ribbon Key Holder Choker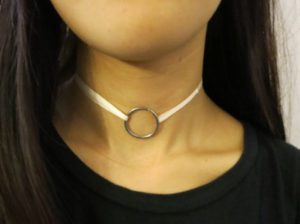 Another creative choker design involves using a key ring and ribbon. You can buy ribbon from a fabric or crafts store, but if you would rather save your money, I suggest using any ribbon you see attached to cards or clothing. For this look, I used detachable ribbons from old birthday cards. As for the keyring, you can easily find one attached to your house keys.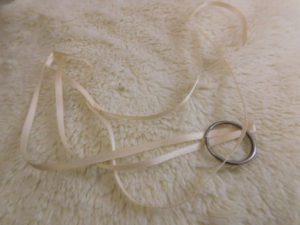 Once you have all the necessary materials gathered, run each ribbon through the loop of the ring on opposite sides. Position the choker to where you want it to rest on your neck, and then tie the ends in a bow or a knot.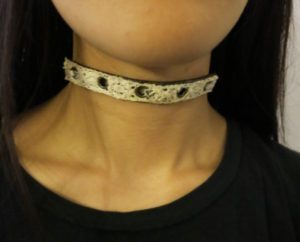 Belt Choker
If you happen to own a few belts and don't mind cutting them, then you're in good shape. Although you can use a thick strapped belt, you'll have an easier time working with the thinner ones. Again the style/design of the belt all depends on your preference.
The belt I used had a mixture of leather and lace. I specifically cut towards the end of the belt so that the holes would be visible. It added some edge to the whole look. I looped ribbon through one end of the belt and then out the other. Finish with either a knot or a bow. These homemade chokers will give you a jump start on this trend, but more importantly it gives you an upper-hand for being different.
By Jamelia Thompson