The idea of wearing double denim (Denim²) is a bit intimidating to most women, but the trend is quite easy to pull off. This trend has been passed down from season to season and it's quite amazing to watch women style it their own way! One way to style your look is to play with colors! Light washes usually create a slimming effect.
Ashleigh, style blogger  from The Daileigh (center), pairs a light wash button down with a distressed denim skirt. Making the look pop even more, she adds a mint, Love Cortnie clutch and matching shades. She keeps it subtle on the bottom with nude pumps. You don't want to appear too matchy-matchy, so staying away from looks of the same wash and weight is a MUST!
Fashion and Beauty  blogger, Shirley Eniang from Shirley's Wardrobe (lower far right corner), nailed the look also known as the #canadiantuxedo, with those amazing skinny jeans. The cut-out knees are  the best part. Patchwork detailing is also another eye catcher when styling this trend. You can always elevate your look by throwing in some outerwear. Accessorizing is key! A nice trench or a chunky statement necklace could take your look from dull to over-the-top fabulous in seconds. Try it out!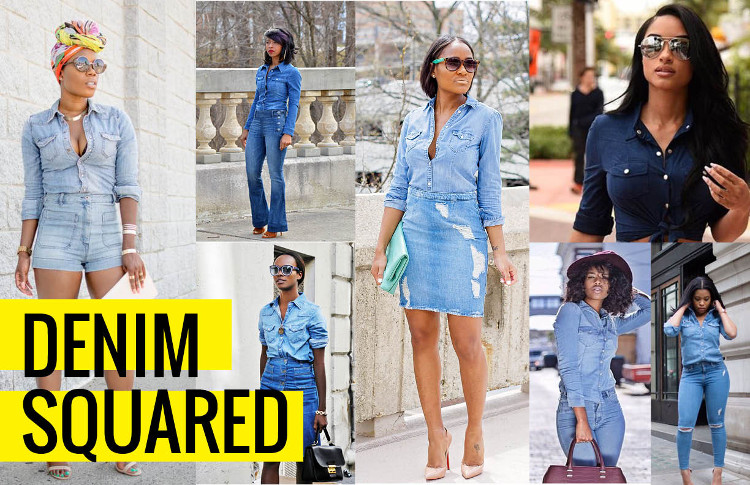 pictured from left:
@islandchic77 http://islandchic77.com/2015/07/look-fab-even-on-a-bad-hair-day/
@sweeneeystyle http://www.sweeneestyle.com/2016/03/flare.html
@shalamonroque
@thedaileigh https://thedaileigh.com/denim/
@ShirleyBEniang http://shirleyswardrobe.com/2015/06/canadian-tuxedo/
By Shuntega Meadows
Proofread by: Victoria Krute