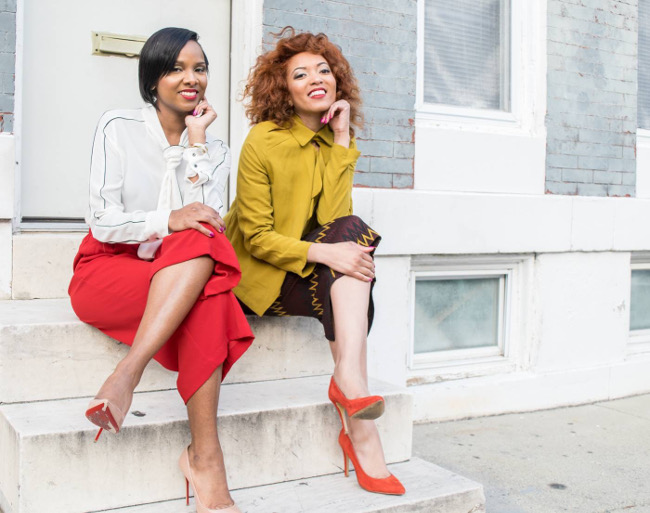 For entrepreneur Tammira Lucas, the passion that she has for helping moms comes from her seeing her single mother struggle when she was younger. Lucas was the first college graduate in her family so she felt the pressure to succeed because everyone was watching. Growing up in Baltimore City when she was younger, her educational goal was to graduate with a bachelor's degree. She is now working towards a doctorate degree and wants to let people know that the road to success is often filled with disappointment and failure. After receiving a full ride and  flunking out of a predominantly white institution, Lucas was very disappointed in herself. Standing on her own because her family really did not know how to emotionally support her in this space, she realized that her failure came because she was not prepared. After flunking her first full year of college, Lucas decided to transfer to Coppin State University, a historically black Institution. " I felt like the worst person when I flunked out of college. I was depressed and couldn't believe that I did it. I couldn't foresee the future so I did not know at the time that it would be one of the best things to happen to me." It was at Coppin State University  that she first got to experience entrepreneurship and the business workplace. From there she was able to find her passion in life and open up a business consulting firm and a workshop to help mothers in the Baltimore community.
Q: Growing up did you know you'd want to become an entrepreneur?
A: I really wasn't interested in entrepreneurship. Actually if I were asked years ago, "What would I be when I grow up," I would have told you I would be a computer scientist or graphic designer. I am not doing any of those things now, but I appreciate my trying to step into that arena.
Q: I see here that you are the President of The Business Dr. Consultancy. Tell me how that came about.
A: I realized I was really infatuated with social media. Social media was something that I was introduced to early in college, because of course when I was in college you had to have a college email address to be on Facebook. I literally watched it evolve. Eventually, once I completed my MBA I realized that this phenomenon of technology is really taking over the way that businesses are doing business. So I really started researching social media marketing. I realized small businesses were big business. They weren't actually leveraging social media the proper way. Everyone is on social media whether it's your grandmother or your little sister. So it's really important to figure out how you can leverage technology to add revenue to your business. I created The Business Dr. Consultancy first as just a resource, but then I realized I was good with the information I was giving out, so I decided to created a whole marketing agency.
Q: Tell me about how Moms As Entrepreneurs (MAEs) came about.
A: Moms as Entrepreneurs is another one of those ventures in life I just came about. When I graduated from undergrad I was pregnant and I was very excited to be pregnant. I was in a very happy place. When my daughter was born she was born with no hair, so I thought to myself, "We are going to have to jazz these outfits up." So I started to create these headbands for her. Then my husband suggested that I start selling them. Then I realized that being a mom and entrepreneur is  hard. You have to figure out what are you going to do with your child and what are you going to do with your business. I realized there were not a lot of resources out there geared toward mom entrepreneurs. Then I would hear a lot of moms say they wanted to start a business but couldn't because they were moms full time. I was introduced to Jasmine Simms, who is owner of a boutique in Baltimore and  we decided to do a podcast. Moms as Entrepreneurs actually started as a podcast just to provide resources to moms wanting to start their own businesses, but people wanted more. So we did a conference and it was very successful but then again people wanted more and more.
Q: Wow! So tell me a bit about what exactly Moms As Entrepreneurs is.
A: What it is is an 8 week entrepreneurship training academy that goes through the the mindset all the way to the launching of a business. We teach mothers everything they need to know and build the community of mom entrepreneurs so they can have their resources to support, and knowledge to launch, support, and sustain their business. We take their ideas, and we help them identify whether it is a sustainable one; in other words, we see if their idea can become a growing business. Then we take them through how to start their business, how to grow their business, and how to manage their business. Basically, everything they need to know about is what we pretty much cover. We can't go over everything in 8 weeks but this is why we build this consortium of moms so they always have access to various resources. At the end of the 8 weeks we have an expo, and at the expo we allow the moms to display their product to the community. We also have 4 to 5 judges come in and walk around to speak with each mom. At the end of the expo, 2 moms are given investments in their businesses.
Q: Amazing! It looks as if you are creating a community of mothers to support each others business. Was that the intent?
A: Yes! We also have business owners and other small businesses that want to invest into the academy. One way to do that is to sponsor a mom to attend the class and we started to encourage the same mom who was sponsored in one cohort to sponsor another mom. So that way it keeps going and going, and they understand the importance of investing not only into themselves but into other people.
Q: Where do you see yourself and Moms As Entrepreneurs a few years from now?
A: I see this being a nationally recognized program, considering we created our own curriculum and were able to show the success of our curriculum too. I can see it really going nationally, and people using the curriculum to impact their communities. For myself, honestly I could see myself teaching  entrepreneurship around the world in different countries and helping moms in different counties learn the power of entrepreneurship. I really see myself as spreading my gems around the world moving forward.
Q: What words of wisdom do you offer those who want to start their own business, or moms who are on the fence about it?
A: Fail. Try to fail. That's the biggest fear that a lot of people have, but especially our moms have because they know they have a little person depending on them. Fail so you know how it feels. You have to be ready and prepared to fail. Don't be scared to fail. Failing will boost your confidence and show you that you are able to endure things that you wouldn't think you were able to endure before. You can try to fight it, but you can go back into that cycle of feeling like you can't do it anymore.
Follow MAEs on:
By Alexis Alfred

Edited by Victoria Krute
Layout Design by Renita Singleton