By Aisha Powell
One of the better parts about coming from descendants of different cultures is the amazing foods! Whether your family is from Ghana, Asia, Italy or Venezuela, the traditional foods that brew in countries all around the world are a delicious reminder of where you came from. The problem with ethnic foods, especially ones from Africa and the Caribbean, are that they are loaded with sodium, saturated fat and fried entrees. When you try to remake these meals in America, the problems arise more with the quality of American produce. Â 60% of Americans daily calorie intake is from processed foods and most starches (like corn, sugar beets, soybeans and corn) are genetically modified, which is when an organism's DNA has been altered in a way that doesn't occur naturally.
Thankfully, you can keep your family's recipes and make them healthier! Here are a few recipes that will transform some of your favorite recipes to healthy. Now you can make your grandma's famous meals, but healthier.
Healthy Stir-Fry –
This recipe is easy and perfect for Asian food lovers and people from East Asia that want a healthier option. The key ingredients are whole-wheat vermicelli, low- sodium teriyaki sauce and replacing the meat/seafood with tofu and having more vegetables than any other ingredient! Sauté all ingredients in olive oil (not vegetable oil), add small amounts of the teriyaki sauce before adding all the pasta. Then add more just for taste. Remove all food from pan and add tofu to sauce pan! Top with sesame seeds and enjoy.
Ingredients:
Organic Stir-Fry Blend
Mushrooms
(Low Sodium ) Teriyaki Sauce
Whole Wheat Vermicelli
Organic Tofu
Sesame Seeds
Chili Powder
Garlic Powder
Onion Powder
Ground Mustard
Ground Pepper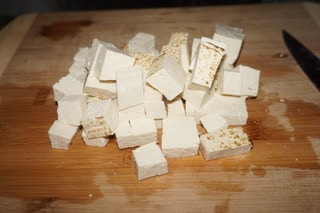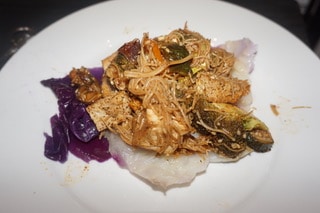 This recipe is from Woke Foods! Woke Foods is a company ran by two Afro-indigenous Dominicans who believe that food is medicine and want to share vegan and vegetarian food practices within their community. In one pot add sazon sofrito in olive oil on medium heat, add plantains, yam, cassava, Malanga, pumpkin and corn. Sauté for another minute or until foods are covered with seasonings, then add vegetable broth or water. Cover until vegetables are cooked through, add cilantro, salt and pepper for taste and lime on side or you can add brown rice!
Ingredients –
Large pot (caldero)
Cutting Board
Knife
Serving Spoon
â…" cup of oil
6 cups of water or vegetable broth
1 cup of sazón sofrito
2 green plantains cut into ½" slices
2 cups of yam  (peeled and cut into small pieces)
2 cups of cassava (yuca) (peeled and cut into small pieces)
2 cups of malanga (yautía) (peeled and cut into small pieces)
2 cups of auyama (pumpkin)Â (peeled and cut into small pieces)
1 corn the cob, cut into ½" slices
A bunch of cilantro, chopped
1½ teaspoons of salt (or more, to taste)
½ teaspoons of pepper (or more, to taste)
1 teaspoon of vija / achiote (optional)
Lime to serve (optional)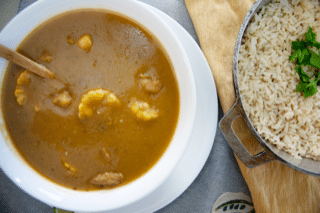 Gbegiri Soup and Bread –
This is one of the easiest recipes and you will love this Nigerian soup. For this recipe all you need is a container of Egunsi's and whole wheat bread. Egunsi is a food brand, available in Whole Foods, dedicated to making consumption of West-African dishes healthier and easy. There are 5 featured soups they have including Groundnut Soup, Egunsi Soup, Obe Ata Soup,Ata Din Din and Gbegiri. For this recipe, all you have to do is warm up the soup, toast the bread and start dipping!
Ingredients –
Egunsi Gbegiri
Whole Wheat bread
(Optional) Olive Oil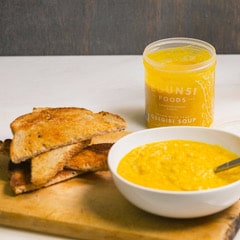 Sos Pwa Nwa and Diri –
For all my fellow Haitians, sos pwa nwa or black bean sauce, is a staple in most households. This meal is actually one of the easier ones to transform into a healthy dish. The only substitute that needs to be made is by replacing white rice (diri) with brown rice (diri). The change is simple but could make a massive difference in your consumption of processed rice. Sauté onion, scallions and garlic in olive oil before adding black beans and water. Heat over medium high heat for an hour and half to 3 hours, covering pot with lid completely. Make sure at all times the beans are submerged in water before adding mixture into a blender or food processor until it is smooth. Pour puree through a strainer to make sure mixture free of lumps before returning to pot on stove to cook more. Add almond milk, parsley and seasoning to pan. Usually a tablespoon of butter or a bouillon cube is added, however, you want to avoid the extra sodium and saturated fat that comes with those. Instead, mix your favorite spices together and add. Pour onto brown rice and add cooked vegetables or tomatoes into dish!
Ingredients-
Onions
Scallions
Garlic
Organic Black Beans (dry)
Olive oil
Almond milk
Favorite Spice blend
Ground pepper
Fresh parsley