By Jaukia McConeyhead
Photos by K. Jamaal Photography
Last weekend, I had the opportunity to attend the 2nd annual "Essence of a Boss Conference" (created by Jody Prendergast), where over 250 women of color packed the Crowne Plaza Hotel in White Plains, NY. It was nothing short of amazing to be surrounded by Boss Women of all industries. Key note speakers included Vivica A. Fox and Vanessa Simmons. Rolonda Watts served as the awards dinner host. Special guest speakers included Teresa Weatherspoon (Hall of Famer – WNBA, New York Liberty), Charreah K. Jackson (Author, Boss Bride), Tracey Baker-Simmons (Television Producer), Lucinda Cross (Author, The BIG Ask), Sherkera Green (Chase Bank), Selena Hill (Black Enterprise), J. Bolin (Celebrity Stylist), Karri Turner (Author, She's Lit! and Girl Bible), Dr. Arabia Mollette (ER Physician) and other powerful business women in beauty, health & wellness, technology, entertainment, media and public relations.
Each panel dropped gems from their industries, which varied from entrepreneurs, health & wellness, entertainment/media, beauty and tech. The conference host was Sharon-Frances Moore, Chairperson of Entertainment Creative Collaborative Outreach Program (Obama Administration). When she first greeted us for the day, she inspired us with six things she wanted us to take away from the event. To be present, be in the moment, be introspective, pay attention to detail, be honest and last, to be willing to be the change we want to be.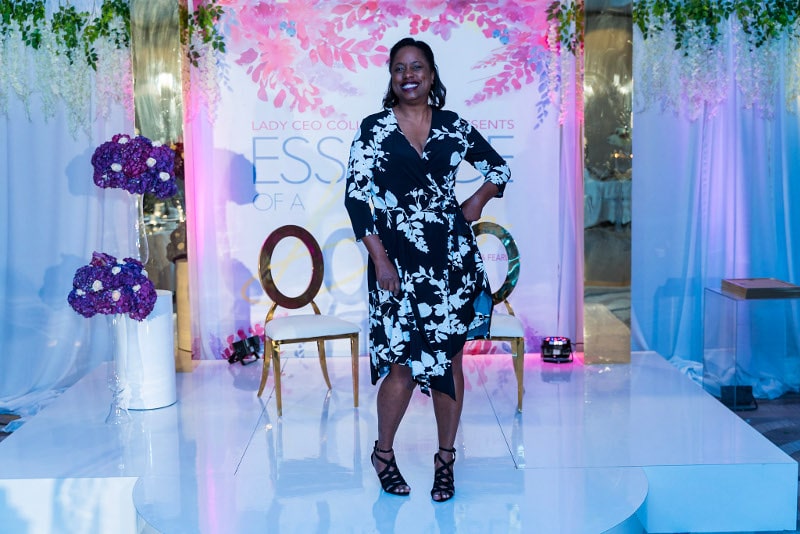 The first speaker of the day was Charreah K. Jackson, Author of "Boss Bride" and Senior Editor at Essence. She stated that "When you show up, your energy shifts." Jackson stressed for us to "Never apologize for our growth," and to "Own our goals unapologetically." She left us with VIP. V is for Vision: you always need to have a vision. She challenged us to ask ourselves what our goals are for the next 6 months and 6 years? I is for Implementation: what is our strategy to reach our goals, and last is P for People: Who calls you? Who can you call? Having a network of people is crucial. We were left with the quote, "The bigger you serve, the bigger you succeed."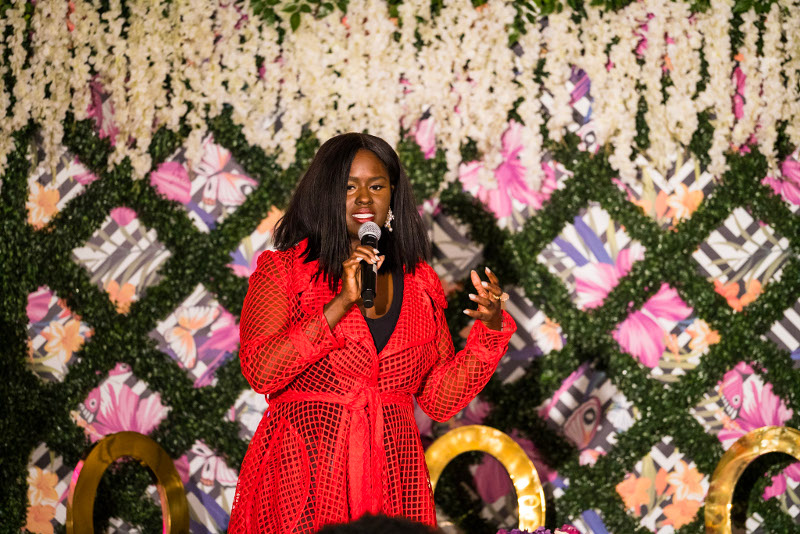 The first panel of the day was Boss Women Entrepreneurs. The panel was introduced by Ebby Antigua, Founder of Ebby Magazine. My takeaways from this panel were the following daily mantras: To keep going, and everything happens for a reason; there is nothing that you cannot achieve; when things don't go right it's not about me; what is here to teach me; and last, if there is someone working in a career that I want to follow and they have accomplished it, so can I!
Ebby Antigua

Boss Women Entrepreneurs panel
The Boss Women in Health & Wellness panel was introduced by Kahshanna Evans, Wellness Expert & Founder of Kissing Lions Public Relations. During this panel we learned how important self care is. Many of the doctors on the panel explained how they pray every morning before work to set their days off in a positive light. I also learned that we need 13 hours of sleep to function, and how stress is the cause of all diseases. Relationships with ourselves set the tone for how it will be with people, health and wellness shapes our lives and "God will never give you a vision without a purpose."

Kahshanna Evans


Boss Women in Health & Wellness panel
The Boss Women in Entertainment, PR and Media panel was introduced by Kym Swain, VP at Jig Media Group LLC and Brooklyn Free Speech/BRIC TV. Since this is the industry I want to make a career out of, the gems I received from these ladies were crucial. For the most part, the panelists spoke about personal experiences in their lives to transitioning to where they are now. Key takeaways were: we're to create own platforms, support our friends, educate and nurture ourselves, make relationships personally, trust god (patience and humility ) and last, faith makes it possible.
Kym Swain


Boss Women in Entertainment, PR and Media
The Boss Women in Tech panel was introduced by Robin Kurian, Entertainment Host for "The Run it With Robin Show." Ironically, this had to be the panel I enjoyed the most. At first, I felt like I wouldn't learn much since tech isn't something I'm interested in, however, the women on the panel spoke with so much grace and intellect, that I was tuned in the entire time. They were each asked for two pieces of advice they would give to women making their way. One of the panelists, Jade Anderson left us with, "There is always someone rooting for you and always do things 110%. Tasia McLeod left us with, "You're the CEO of your life and do the work, it will come back," and Candace Amos left us with, "Be confident. When you're confident you speak up more, and make a great impression on everyone you encounter. Also, work hard and impress others and yourself because they need you."

Robin Kurian


Boss Women in Tech panel
There was a workshop by Rosezena J. Pierce where we learned about copyright, patent, trade secrets and trademarks and the importance of building a brand and building a foundation and last trademark ownership .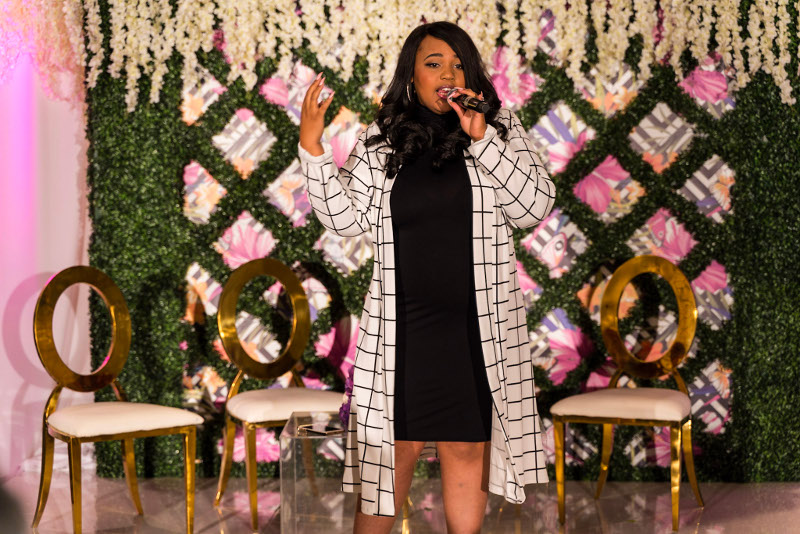 The last panel of the evening was Boss Women Trailblazers, featuring women in different industries who are at the top of their game. The two things I was left with from this panel were, "A core friend group is key" and "ALWAYS MAKE A WAY."
Activate your vision was a short workshop presented by Lucinda Cross, Author of The BIG Ask. Being a great starter and a great finisher and to always dance to your own drum were things we were presented with, and to also make sure people get the best of you, not the rest of you, and lastly, get your ask together. We also saw an up close and personal Boss Tank with Mahisha Dellinger, ('Mind Your Business with Mahisha Dellinger' on OWN TV). Vendors from the event experienced a live demo of Shark Tank with Mahisha. They received critiques and things they needed to improve on within their brands. Mahisha is also the creator of Black Girls Making Millions Academy and she left us with three R's: "Recognize, Remember and React.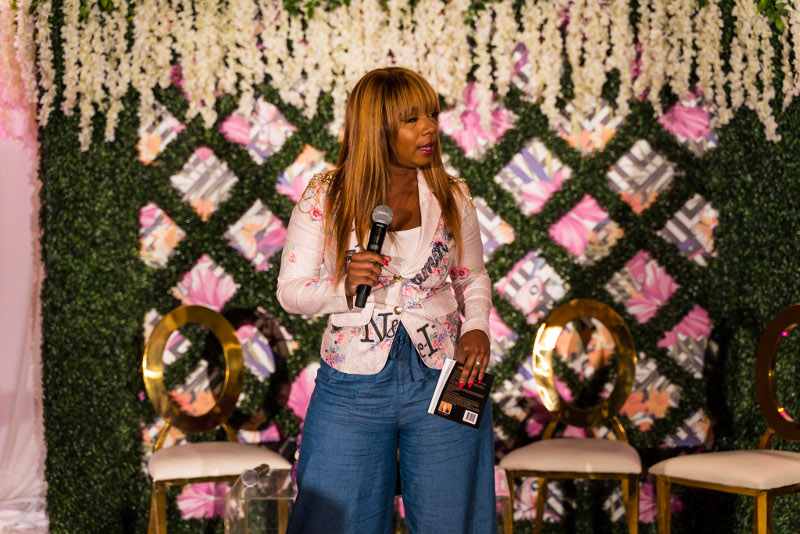 Mahisha Dellinger


Boss Tank segment with Mahisha Dellinger
The Essence of a Boss Conference was an amazing experience for me. I was so motivated and inspired to be surrounded by women in positions that I am working my way towards. It instilled meaningful gems into me. It was a very powerful experience and the connections I made and the tools I received from the entire day will forever stay with me.
Event sponsors included:
Media Partners: Black Enterprise, The Visit with Dr. Arabia Mollette, Bronze Magazine, Industry Rules Magazine and New York Style Guide.
Official Champagne & Wine Partner: Blue Nun
Official Beverage Partner: Sparkling Ice
Official Dessert Sponsor: Mikey Likes It Ice Cream
Official Beauty Lounge Sponsor: Skin & Body Klinic
VIP Gifting Sponsors: Curls, Margeaux Priestly, Urban Hydration, Izzy & Liv, November Rain, freshie, WOW Skin Science, Pharaoun Cocktail Rings, Laurent & Altieri, Negris LeBrum, Waist Snatchers, Glamazon Beauty by Kim Baker, Pooka Pure & Simple, Palmers, Cemeli, Brode Electrolyte Vitamin, I.E. Green Tea, Skin & Body Klinic, Yukie Nail New York, Sundays, and a special giveaway by Spiritú.
Vendors: Sovereignty Beauty, I Refined Beauty and eLo Vegan Lifestyle.
​