There are a multitude of products out there today that cater to women's hair, but very few are made specifically for African American women; that's not surprising considering how very few African American-owned beauty companies there are in existence. That's why I was so excited to recently try Dudley Beauty Corp's moisturizing shampoo and conditioner along with their hair and scalp oil . I remember the Dudley name while growing up; they were and still are today an African American family owned beauty company with well-respected products distributed to salons and stores throughout the country. Here's my take on their products:
Product Claims:
(Moisturizing Shampoo)
Restores moisture while it cleanses
Contains natural botanical extracts
Sweet, fruity fragrance
(Moisturizing Conditioner)
Restores moisture while it conditions
Leaves hair soft and tangle free
Sweet, fruity fragrance
Enhances sheen
Adds body
My Findings:
These two products do exactly as they claim.  Once I opened both bottles I was immediately impressed with their pleasant fruity fragrance; not too strong, and not too sweet, it was just right.   Their liquid textures were very smooth and silky which made me think that my hair would respond; and it did because as I washed my hair, I could feel it softening.  The conditioner added even more to the softening process. I let it sit on my hair for about five minutes, rinsed it out, and afterwards my hair was so soft and silky that I could comb right through it easily while still wet. Now ladies this is very important for me to share with you- my hair is in its natural state and has been for years. I wear lots of weave styles though and one of my rituals in between styles is to give my own natural hair a good washing followed by a deep conditioning. So my point is, if this product worked so well on my natural hair, just imagine how it works on relaxed hair. Therefore, I definitely recommend for you to try!
Product Claim:
(Scalp Special-Hair & Scalp Oil)
Controls itchy scalp
Controls falling hair and thinning temples
Contains lanolin and mineral oils
Produces a glossy sheen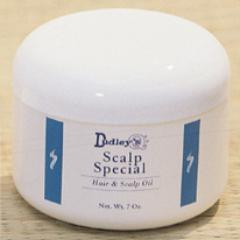 My Findings:
The scalp oil  felt lightweight as I put it onto my hair/scalp and I was happy that it didn't feel greasy.  The odorless formula also gave my natural hair a light sheen. I mainly tried this product for the benefits of controlling dry itchy scalp, and after using it for about a week, I was pleased with the results; my scalp remained moisturized and I even felt a slight tingling (can't say that you will feel the same) after applying which made me think the itchy scalp formula was working.  I do wish though that it was available in a liquid form so that I could also use it with my weave styles. For those of you who are curious about using the scalp oil to help control falling hair and thinning temples, I would definitely advise trying since the other aspects of this product worked so well.