by Shawn Chavis, Editor in Chief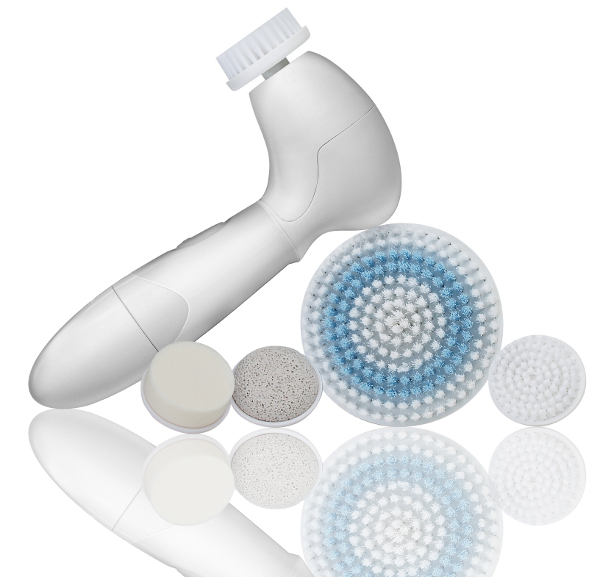 What is Spa Sonic?
In a nutshell, it's a full duty, mini full body spa in a box. This professional kit comes with 7 pieces:
The main device- face and body polisher

One large body brush

Two small facial brushes

One facial buffer

One Pumice stone

One four pack of AA batteries 
Who is Spa Sonic for?
Although it can be used by anyone- women and men, Spa Sonic is especially beneficial for those who want to incorporate a more consistent regimen into their daily skin care routine. The 40+ woman will also find this as a great product for reducing the appearance of fine lines.

What does Spa Sonic do?
The answer is plenty! each of the attachment pieces has its own unique function: the small facial brush deep cleanses and reduces the pores in your face, while the facial buffer polishes up your face when paired with your favorite toner and/or moisturizer. The pumice stone smooths out rough areas on your elbows, knees and even the heels of your feet. Finally, the large body brush takes care of everything else.
My own personal experience with Spa Sonic…Â 
On a daily basis I've always used a basic facial foam cleanser followed by a toner and moisturizer. This regimen has always worked for me, but when I found out I'd have the opportunity to test out Spa Sonic, I was excited. I even set aside some mini spa time so that I could test drive each of the attachments. In the shower I applied my daily foam cleanser to my face and used the small facial brush to deep cleanse. I couldn't believe how invigorating the soft bristles felt on my face. And since I was in the shower my pores were opened and exposed, therefore I could feel every nook and cranny of my face being massaged. I followed suit with the larger body brush and some of my favorite body wash. The experience was like using a large, rotating part-loofah, part-sponge on my skin, which felt so unbelievably soft all over after my shower. The last part of my mini spa time was to use the facial buffer. It was now time to apply my favorite toner and moisturizer. First I sprayed (pump spray) a little toner onto the buffer and applied it to my face. All I can say is wow! the toner buffed my skin to a serious glow. I followed it with an application of moisturizer to seal in the glow left by the toner. I just couldn't get over how soft my skin felt to the touch. 
Benefits of Spa Sonic

This spa luxury in a box not only offers up quick results and is a great addition to your daily skin care routine, it is also waterproof and has been recommended by dermatologists for safe use on skin. I also liked the fact that they included batteries with the unit to get you started.
Pitfalls of Spa Sonic
This is not so much as a pitfall as it is something to be aware of. When opening the device to place the batteries, make sure you use minimal pressure while pulling off the cap. This will ensure that the cap is more easily pulled off. I bring this up because it happened to me and after referring back to the instructions I was able to get the cap off.

Final thoughts and where to purchase
I definitely give the Spa Sonic a thumbs up and 5 out of 5 stars. I think it makes for a good investment in your total skin care. It is now available on sale for $49.99 at Drugstore.com 
You can also find them on Twitter and Facebook