By Shawn Stuldivant, Editor in Chief
Photos courtesy of Naked Nutrition
Hey Bronze beauties! I hope you are all staying well during this National Wellness Month.
First, I just want to let you know that this post is in partnership with Naked Nutrition and I have received some of their product for this review.
Next, I am not a healthcare professional, licensed or otherwise, so please be sure to consult your physician or dietician before trying any kind of foods that will affect your diet.
This review is solely for informational and entertainment purposes to share my experience with you on trying Naked Shake Chocolate Vegan Protein Powder.
Who/What is Naked Nutrition?
I was aware of Naked Nutrition prior to this review, but I've never tried any of their products. Their story began back in 2014 when their founder, former cross country and track All-American Stephen Zieminski noticed many supplements included numerous ingredients of little nutritional value.
So, Zieminski decided to take matters into his own hands by starting Naked Nutrition with five single ingredient supplements including their now best-selling Naked Whey from grass-fed California cows and Naked Pea from raw yellow peas grown in the USA and Canada.
What's in it?
Naked Shake Protein Powder is considered healthy because it contains the purest ingredients you need. It's vegan and certified gluten free, it's GMO and Soy free, and there are no artificial sweeteners, flavors, or colors.
Why did I try it?
I decided to try this product because I have been making small lifestyle changes in my diet starting by lowering my carbohydrate and sugar intake over the past few months. During this time, I found these two culprits as the keys to weight loss for me.
It's been hard because I love breads, pastas, and sweets but I don't love the extra pounds they put on me. So, when Naked Nutrition reached out to me about trying their products, I decided on their Naked Shake for the very reasons I just described.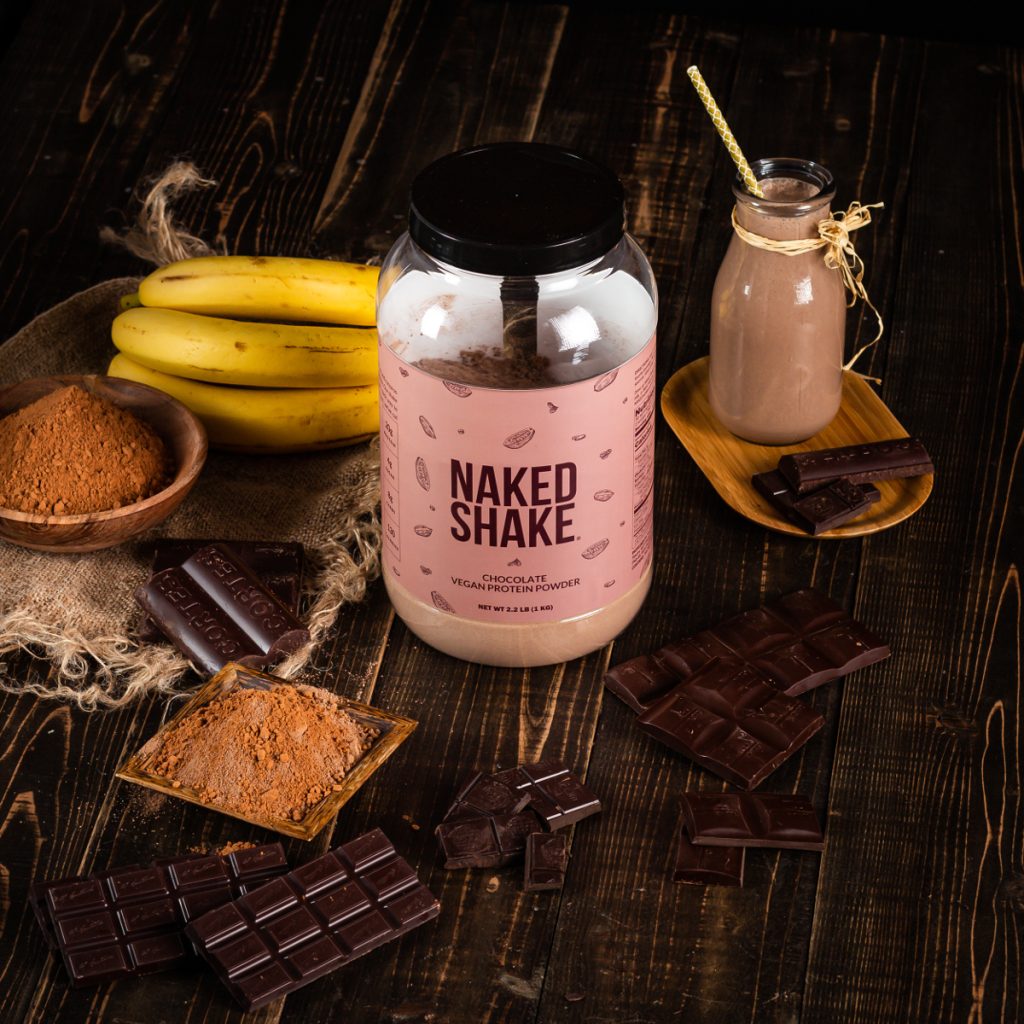 What flavors does it come in?
The shake powder comes in 5 different flavors: strawberry banana, chocolate, vanilla, pumpkin spice, and peanut butter blueberry. I decided to try the chocolate flavor, which to my surprise smells just like cocoa. It didn't exactly taste like cocoa though, which was also a surprise to me, but that's probably because there is little to no sugar included, which is a good thing. It did not taste powdery or chalky, which is common among protein powders, so that's a good thing as well.
Optional Mix ins:
For a slightly more chocolatey taste, at times I added a bit of unsweetened cocoa powder or even some chocolate peptides to my Naked Nutrition Chocolate Protein Shake mix. Also, instead of using water I substituted it with coconut milk for a smoother, creamier blend. These do not add any added sugars to my drink, but they do lend a more enhanced rich chocolate flavor. And of course, if you are a fruit or veggie lover, these can be mixed in as well.
Final thoughts:
Other than the protein shake, Naked Nutrition has an amazing variety of protein and supplement products to choose from to tailor towards your lifestyle. They even have a section on their website where you can shop according to your lifestyle goals and a section with delicious recipe ideas.
The container is large and holds 2.1lb of powder mix, currently retailing at $41.99 which might sound a little on the pricey side but when you consider your getting 30 servings that's a month's worth of shakes at about $1.40 per serving.
Overall, I feel that Naked Shake is a keeper. It's nutritious in keeping carbs and sugar low while providing sufficient proteins, which supports my weight loss goals so I plan to continue to drink it as part of my daily meal plan.