By Shawn Stuldivant, Editor in Chief
Hello Bronze Beauties! I'm back again, this time to talk about my experience using a new deodorant by CRYSTAL™, a brand that has been around since the 1980s. Their new line of invisible solid sticks come packaged in these really bright, girly colors with fragrances such as Unscented, Lavender & White Tea, Vanilla Jasmine and Chamomile & Green Tea. I've been a loyal user of another name brand deodorant for years but when I was asked to try it I figured I would so that I could report my experience with it to you lovelies in case you are looking for something new to try.
CRYSTAL's new solid stick format promises to deliver a superior experience with reliable 24-hour odor protection, an invigorating odor for up to 24 hours and a comfortable non-flaky, friction free application. It's dermatologist-tested and hypoallergenic, each formulated without aluminum chloride, chlorohydrate, zirconium, or parabens, silicones, petrolatum, and artificial dyes. A bonus deliverable it promises is that it leaves no white marks on your skin or clothes!
I chose to try it recently during a busy weekend when I attended an evening wedding. I used the Vanilla Jasmine scented one on the morning of the wedding. When I opened it the stick had this wet dry look to it, if that makes any sense. At first I thought, oh no, I can't use this because I don't like wet roll on deodorants, but when I ran my finger over it it and rubbed it against my other finger, it had this dry matte type of feeling. It rolled on dry under my arms and I was totally okay with that! Although it was scented, the fragrance was very faint and indistinct.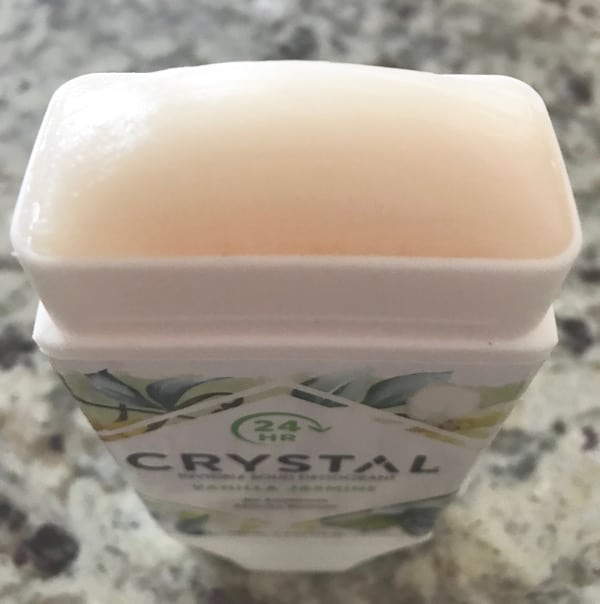 So I ran around all day shopping at the mall, which happened to feel very warm on that particular day. Later in the day and about an hour prior to the wedding, I did a sniff and feel test under my arms. First, I could still smell the faint odor of the deodorant and no body odor. Second, I didn't feel any perspiration from the days activities. I took my shower and put it on again afterwards. As I was putting on the navy top to my evening outfit the outside of the top rubbed against my underarms. I began to panic at first but then remembered that this deodorant promised no white marks. As I continued to adjust my top by pulling it down from under my arms,  I looked down to both sides and there was not one white mark or even a wet mark on my top! I was so happy!
Needless to say, I drank, dined and danced at the wedding and afterwards I still felt fresh. As far as I was concerned CRYSTAL™ invisible solid deodorant did what it promised to do. The only thing I would change about it is the distinctiveness of its scents. I didn't feel that any of the fragrances smelled true to their names- for example, for the one I tried, vanilla jasmine, I really couldn't smell any hint of vanilla or jasmine. I really couldn't tell you what it did smell like, but it wasn't characteristic  of what I know to be the essence of the vanilla bean or the floral essence of jasmine. Perhaps it could be because the ingredients include extracts and oils. And perhaps having a stronger fragrance would produce more irritants for the skin. And this is truly my own opinion. What I would like to smell may not be what someone else wants to smell in their deodorant. Overall though I think CRYSTAL™ invisible solid deodorant is a really good product. It's also very affordable (MSRP: $5.79) and available around the world, including most of the popular health/drug chains and grocery stores.
This post was created in partnership with CRYSTAL™ Invisible Solid Deodorant. This review reflects the editor's own opinion