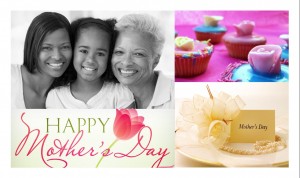 If ever there was ever a time to pause and celebrate the greatness of motherhood it is now.  Although it only comes around once every year, Mother's Day should truly be an everyday event. After all, a mother's work is never done.  The amazing and wondrous thing about motherhood is that mothers come in so many different packages.  We are all well aware of the existence of the traditional birth mother; however, there are also those mother figures who fulfill maternal roles as well such as: adoptive mother, grandmother, sister, aunt, cousin, friend, step-mother and yes even at times, father.  I acknowledge and applaud these individuals for their contribution to society and to mankind as a whole.  Motherhood is no easy task; it takes a whole lot of love, strength and determination to nurture a child.
There are two women that I admire the most in my life- my mother and my sister. My mother (may she rest in peace) was such a strong woman who sacrificed everything she had for her family, all so that her children could live good productive lives.  Her love and guidance was what kept me focused from my childhood through to my adult years, and although I never had children of my own, I adopted her same nurturing and loving spirit.  I admire my sister because she is one of the greatest moms that I know.  She too acquired that same nurturing and loving spirit as my mom.  She is a single mom raising a son, which is no easy feat; yet she manages to solely support herself and my 12 year old nephew, keep him on the right track and academically sound by putting him through a very well-renown private Christian school.  I truly admire her strength but clearly I am not surprised because we both had an excellent role model and teacher.
I celebrate the spirit of motherhood! I rejoice in the power that God has blessed women with to give the gift of life.  We should all give thanks to the beautiful women and individuals in our lives that have nurtured and cared for us. And if you are a mom/caregiver, then give yourself a pat on the back for a job well done.