By Aisha Powell
After the worldwide phenomenon of "What the Health," and other health-related documentaries that focus on food, eating healthier is back on the radar. For many, this type of programming sparks an active interest in eating healthier – you watch a show and soon after you swear off baked goods and fried foods from your life. But for many others, after a week the effect fades, you "find out" healthy food is more expensive and you revert back to your value menu ways and budget. However, eating healthy isn't as hard as it seems. You can make healthy meals that are simple and save money. In fact, you can spend $50-$70 a week on healthy groceries that can last you an entire week (and for some of the foods, the entire month)! Yes, it's true! Here is my guide to eating healthy on a budget!
Breakfast is the most important meal of the day for a reason. It is the first source of energy your body receives, can regulate your metabolism for the day and it can determine your eating patterns for the rest of the day.  ¹Your standard breakfast should be high in protein, fats and sugars, giving you enough nutrients and energy to sustain the day's activities. Eating a healthy breakfast is quite simple, even if you are on the go. These two quick meal options are easy to make, not time consuming and will cost you an average of $2-4!
Meal 1: A bowl of berry oatmeal which includes, oats, strawberries, ground cinnamon, almonds, dark chocolate and a banana.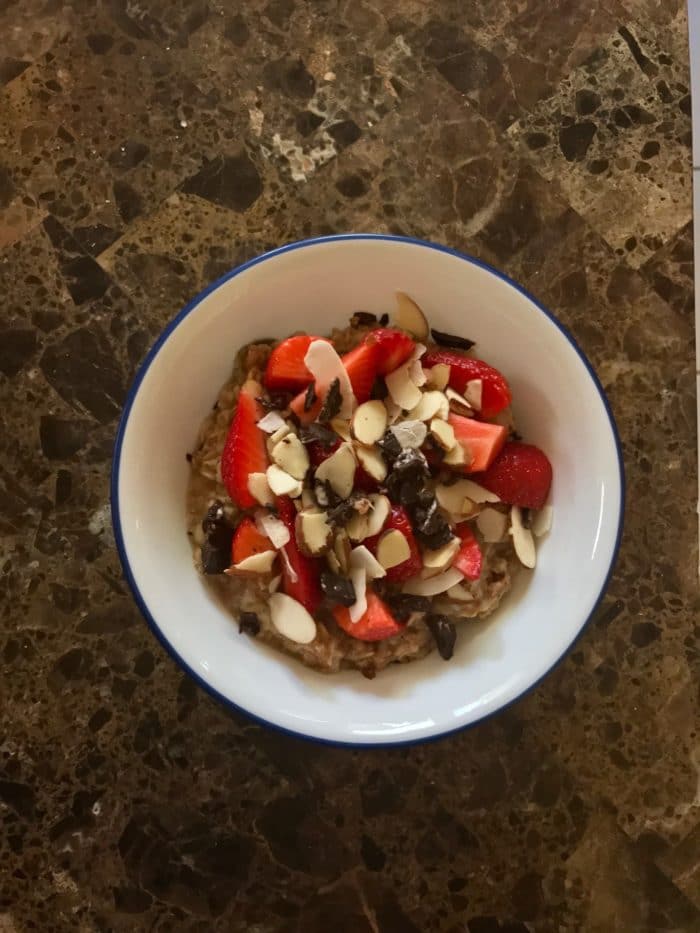 Meal 2: The second option is a quick meal that includes 2 whole wheat toast slices; each topped with half an avocado and scrambled eggs.
Grocery List:
Oatmeal ($4), Strawberries ($5), Ground Cinnamon ($2), Sliced Almonds ($5), Dark Chocolate ($10), Whole Wheat toast ($3), Eggs ($3), Avocado ($5)
The debate on how many meals to eat in a day varies according to your own personal goals. However, if you want to start eating healthier, having more frequent eating patterns can aid in that goal. Cleveland dietitian, Amy Jameison-Petonic, RD. says, "After about 3 hours without food, blood sugar begins to fall. And after 4 hours, your body has already digested whatever you sent down earlier."  ²She also explains that after not eating for 5 hours, your blood sugar plummets and that's usually when people tend to eat "badly" or more calorie dense fatty foods. With that in mind, my guide moves on to the next 2-4 meals. They should consist of smaller meals that have a ratio of carbs: protein: fat with carbs being the highest proportion and fat as the lowest. For these meals we will look at a salad, pasta dish and a sandwich ranging from $3-$7 a day!
Meal 3: Make a salad! Add grilled chicken to on top of raw spinach, slice strawberries, avocado and red onion on top. Add feta a drizzle with olive oil and vinegar.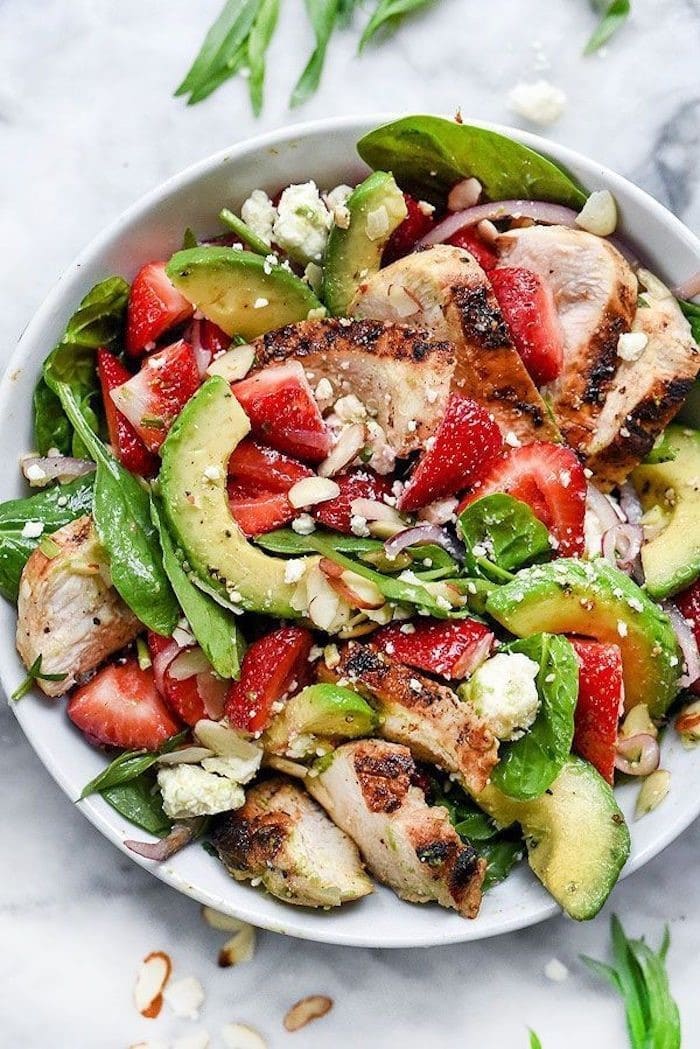 Meal 4: Yogurt parfait. Add blueberries on bottom of bowl, top with yogurt and mix in honey for added sweetness. Mash your favorite granola bar on top and mix.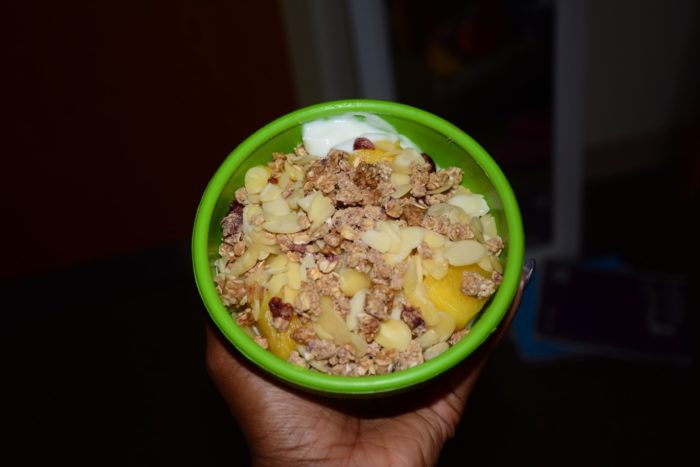 Meal 5: Cook ground turkey in a pan and add to whole wheat pasta. Mix in tomato puree, spinach, peppers, spinach and mushrooms. Top with parmesan cheese.
Grocery List:
Raw spinach ($4), strawberries ($6), red onion ($2), grilled chicken breast ($14), feta cheese ($5), avocado ($8), olive oil ($15), apple cider vinegar ($3), Chobani plain yogurt ($7), Cliff crunch granola bars ($4), blueberries ($5), honey ($3), Whole wheat pasta ($3) ground turkey ($6), pureed tomatoes ($3), mushrooms ($3), red bell peppers ($3), parmesan cheese ($5)
Lastly is your dinner! Dinner should be one of the lighter meals of the day because you will be headed to sleep soon. Professor Carl Johnson, of Vanderbilt University in Nashville, carefully measured levels of insulin – a hormone that plays a key role in the conversion of the sugar in our food into energy. "If you metabolize food during the day, when you are active, you tend not to convert so much of that to fat.  Whereas food eaten during the night or late evening is more likely to be converted into fat."  ³For this meal idea we are looking at fish, which ends the day at $11.
Meal 6: Grill or bake salmon to your liking. Sauté asparagus in olive oil and add salmon and asparagus to brown rice.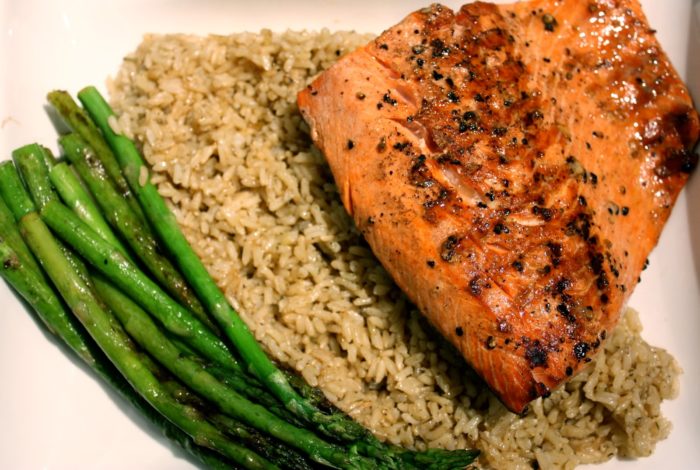 Grocery List: Salmon ($15), brown rice ($2), asparagus ($6), seasonings (vary)
With my guide, you can eat 5 meals a day for under $20! And when you buy certain groceries in bulk like rice, oatmeal, olive oil, apple cider vinegar, bread, eggs, cinnamon and nuts, they can last you up to 2 weeks or even a month! Getting healthy is easier than you think, and it doesn't require a lot of money. Try my guide and save money today!