By Patrice Rivers
Bev Johnson is more than a Gospel Artist, yet she's very clear on her calling, which is to worship through her music.  Her musical resume is impressive, including providing background vocals to BET famed, Bobby Jones. Alongside with Bobby Jones, Bev provides vocals for Multi-Stellar Award Winner Isaiah Williams and Elements of Praise.
In 2011, Bev Johnson created the Bev Johnson My Praise, My Worship Music & Arts Scholarship for high school seniors who show commendable service and leadership to the Northern Virginia (NOVA) community. With all of her accomplishments, she is definitely a child of God. Here's what else we learned about the multi-talented artist during a recent interview: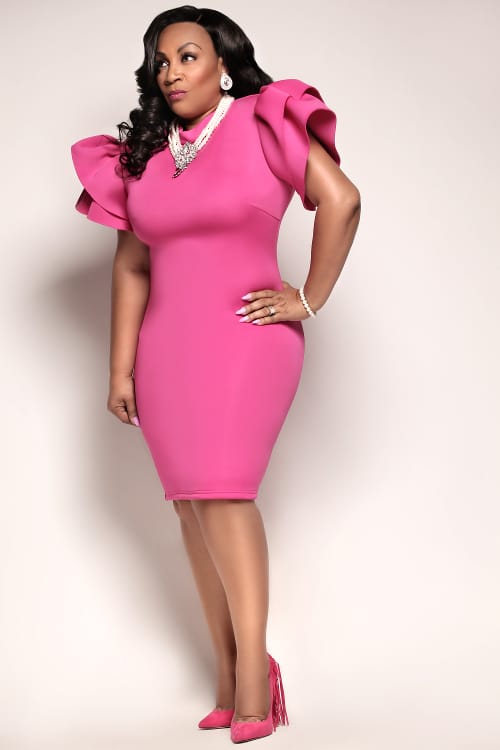 When did you discover that becoming a singer was what you wanted to pursue?
I was a church girl. I've been singing the gospel ever since I was five years old.
Does your family have a history of singing as well? Did you participate in the church choir?
On my grandfather's side of the family, we come from a background of preaches teachers, singers and musicians. Yes, I started out at an early age singing in the church choir.
Tell us about your first stage performance.
My first stage performance was in elementary school. I was one of the lead singers at our spring concert. I sang numerous times alone at my home church as a small child. I've never had a fear of singing on stage.
As a singer, what challenges have you faced? How did you resolve such challenges?
Stepping out beyond the walls of the church to pursue growth and other opportunities to grow my gift and to spread the gospel of Jesus Christ, beyond the walls of the church. I didn't Initially get the support from the people I thought I should have.  At times it was very hurtful. I wanted so much to get approval from those I looked up too. I wanted them to see what God saw in me. Once I realized I wasn't going to get the support, I put my mind and energy in the person that created me and gave me my gift, which was my Lord, God and Savior Jesus Christ. He gave me everything I needed to pursue ministry beyond the walls. He sent the right people and the right opportunities. I found success in trusting in God.
How long does it normally take you to record a song? What's the process like?
With technology it really doesn't take long at all, it just depends on what you want to put into it. You can record a song in a couple of hours. However, to have top-notch quality, you initially need a good music producer to create beautiful music, a good vocal producer to make sure your vocals are up to par and ready to record. And most Importantly, you need a good engineer to mix and master your songs/music.  So, there is a process.
Are there any events you've performed at? What was the experience like?
I had the wonderful opportunity to perform on a cruise ship with my home church mass choir. I was one of the lead singers. That was pretty awesome. It was something different and out norm.  I also most recently had the opportunity to sing at the 2018 Pre-Stellar Awards in Las Vegas with Minister Isaiah D. Thomas. Awesome experience!  I am blessed as a Gospel Artist to have many wonderful opportunities to sing.
If not already, what other music artists would you love to share the stage with or open for?
I love Anita Wilson, I would love to share the stage with her. I am a Great fan of Dr. Judy McAllister, Donald Lawrence, Richard Smallwood and Kirk Franklin. Just to be in their midst is so rewarding. Awesome teachers, producers and composers. To be an artist/singer is one thing, but being a creator, composer, writer is another level.
I put my mind and energy in the person that created me and gave me my gift, which was my Lord, God and Savior Jesus Christ.
Are you currently working on an album? If so, what is the anticipation date?
I just finished my sophomore contemporary gospel album entitled "It's in You." The release date was September 9, 2018.
Do you feel that gospel music in the new generation is changing? 
Very much so. Everything is so computer generated these days. I very much like authentic music with real instruments.
 Back in school, were you the type to participate in talent shows?
Yes indeed. I would sing and dance.
Do you find singing to be therapeutic?
Absolutely. good healing for the soul.
With all the talented gospel artists out, who are some of your favorites?
Anita Wilson, Tamala Mann, Kim Burrell and Tasha Cobbs.
A lot of people write songs or sing songs about love, pain or trials and tribulations.  Do a lot of your songs relate to that?
Majority of my songs relate to Love, Joy, Peace and Happiness.
What keeps you humble and motivated?
Trying to live the life I sing about. Keeps me very humbled and motivated.
How can people connect with you? Social media links? Website?
Website: www.bevjohnsonmypraise.com
Facebook: Beverly A Johnson

Instagram @BevJohnsonmpmw

Twitter: @BevJohnsonmpmw