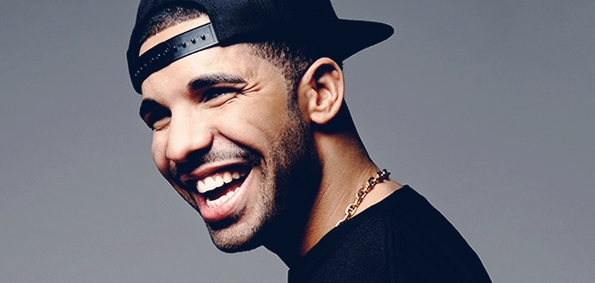 Back in 2013, Grammy-winning rapper Drake (real name Aubrey Graham) generously donated $75,000 of his own money to help build a brand new recording studio at Strawberry Mansion High School (located in Philadelphia). Drake, a 28-year-old Toronto native, first became involved after ABC News aired the special "Hidden America," focusing on the daily lives and challenges faced by the Philadelphia students. Drake stated that he was deeply affected by the news report. When Drake came to Philadelphia during a concert tour six months later, he invited members of the school community to a private meet-and-greet before the show. There, he shocked and delighted them by announcing the gift. "This is about you. This is about your principal. This is about your future," Drake said as his guests screamed with joy. "I love you. I care about you. I want to see you succeed." Drake has yet to speak publicly about the donation.
Even though members of Drake's crew put the finishing touches on the studio last summer, Principal Linda Cliatt-Wayman told ABC News that budget issues and the school's violent history made it difficult to find a suitable music teacher. Finally, Ben Diamond arrived in February to take on the role as a part-time music instructor who would teach studio production, but even then, Principal Wayman said student interest was minimal at first. The studio includes state-of-the-art professional soundproofing, keyboards, computers, and additional equipment. Still the studio went mostly unused for nearly a year, because many in the student population doubted the equipment's existence after being unable to use any of it for so long. Thankfully, a song composed by three students was played over the school's PA system, and signups for classes increased dramatically.
Located in a low-income Philadelphia neighborhood with a high crime rate, Strawberry Mansion is a school afflicted by violence. It spent six years on the state of Pennsylvania's "Persistently Dangerous Schools" list. "Music has a way of bringing people together," Wayman told ABC News via email. "That is what I want the music to do for my kids, bring them all together to find the special gifts that lay dormant inside of them. I want them to get distracted on their positive attributes to help them create within and around them. They all love music. That is the one thing they all have in common." "For me, the opening of the studio is more than about music," Wayman added. "It is about making and keeping a promise to students who are constantly disappointed, pleasing them, making them happy and getting them to see that they must finish what they start [and] work hard to bring dreams into reality." In addition to Drake, other viewers donated money to the school after the 2013 specials aired. Their generosity helped to pay for: school uniforms, jackets for the school's first football team, warm-up suits for the basketball team, school trips, PSAT and ACT prep classes, as well as scholarships for seniors heading off to college. The funds also helped provide basic learning necessities such as books, notebooks and calculators. Strawberry Mansion High School is located in one of the most dangerous neighborhoods in North Philadelphia, and in dire need of creative outlets to help keep teenagers off of the streets.
by Farren Washington